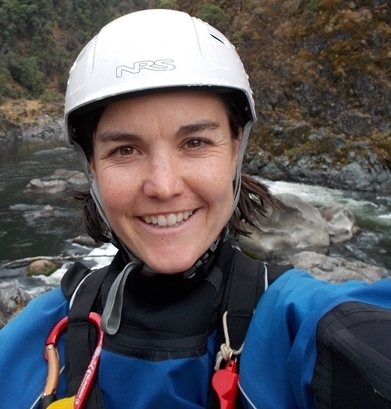 Alicia 'Lish' Riley
Rental Shop Manager
Alicia 'Lish' Riley joined the Outdoor Program as the Rental Shop Manager in January of 2008. Lish hails from the east coast, where she attended college in central Pennsylvania, and was highly involved in the Quest Outdoor Adventure program there as Staffing Coordinator and also as a Trip Leader. Her love for the outdoors was given an outlet for further development as the Quest program was instrumental in her growth and development as an outdoor leader.

Since that time, Lish has worked in Montana as a Trail Crew Leader, and for the Outdoor Program at Fort Lewis College in Durango, Colorado. She has lead trips in a variety of course areas including winter ascents up Mt. Washington in New Hampshire, a coast to coast mountain bike trip across Costa Rica, and a week long mountain bike trip through Canyonlands in Utah. In 2007, she completed a month-long NOLS outdoor educator course in mountaineering and rock climbing in the North Cascades. Most recently, she led a 10 day multi activity trip on the Big Island of Hawaii for Whitman students.
In her personal life, she is an avid mountain and road biker, whitewater kayaker, and telemark skier. She has been a whitewater kayaker for over a decade, and has paddled in the northeast, Canada, and has been exploring the paddling opportunities in the Pacific Northwest since she arrived. She is a Wilderness First Responder, ACA Whitewater Kayak Instructor, and has her AIARE Level 2 Avalanche certification.
As the Rental Shop Manager, she oversees all rental shop operations, serves as advisor to the Whitewater Club, manages gear and food organization for the Scrambles Program, and oversees special events such as the Banff Film Festival showing. She also teaches Beginning Whitewater Kayaking, Intermediate Whitewater Kayaking, Beginning Outdoor Rock Climbing, and oversees all Ski and Snowboard classes for the SSRA Department . She is passionate about using outdoor adventure and personal challenge as a means to build confident and thoughtful leaders and stronger communities. Lish loves her position as rental shop manager, and looks forward to more trip leading and teaching opportunities.