After Whitman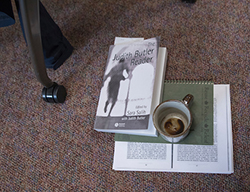 Through the study of philosophy, you will develop the ability to think rigorously and to communicate clearly and concisely. These skills will be invaluable to you throughout the rest of your life, whether your future includes parenthood, a career in environmental activism, investment banking, business management, or any number of other opportunities you haven't yet considered.
Below you'll find just a few of the careers and graduate programs Whitman alumni have pursued in the past several years.
Careers
It's difficult to find a field in which Whitman philosophy graduates are not working—both in the United States and throughout the world. Microsoft, Expedia and Goldman Sachs are just a few of the international companies our alumni work for. Here are some of the positions philosophy graduates have taken on:
Enviroissues
Web developer
Andrews McMeel Universal
Editorial assistant
Colorado Aquaponic
Greenhouse operations assistant
Consejo Counseling & Referral Service
Mental health therapist
Organic Products Trading
General manager and director of trade
InterVarsity Christian Fellowship
Campus minister
NBC Universal
Software development engineer
Brooks Automation
Director of strategic accounts
SwiftKey
Director of community engagement
Fresno Housing Authority
Community development coordinator
Earthjustice
Managing attorney, international programs

PSG Films
Video editor
Self-Employed/Freelance
Science journalist
Technology investor
Wellness coach
Writing consultant
Film director
Booking.com
User experience designer
Goldman Sachs
Investment banking division analyst
St. Louis University
Professor in health care ethics

Expedia
Senior director, legal
Essex Street Academy
English teacher
Cascade Insights
Research analyst
Fresno Housing Authority
Community development coordinator

King Count District Court
Judge
Microsoft
Business development manager
Stanford-Kaiser Emergency Medicine
Resident physician
U.S. Office of Management and Budget
Policy analyst
Deep Vision
CEO and cofounder
Revelry Vintners
Winemaker and owner
90 Monkeys
Media and curriculum manager
Graduate Studies
61%of alumni recently surveyed had earned an advanced degree and 50% were enrolled in graduate programs
Philosophy alumni also pursue graduate degrees in many different fields, from literature and law to medicine and theology. Here are a few of the programs our graduates have completed:
Columbia University
M.F.A. in nonfiction writing
Emory University
M.A. in philosophy
Humboldt-Universität zu Berlin
M.A. in American studies

La Sierra University
Master of theological studies
University of Chicago
M.A. in comparative literature
University of Kentucky
Ph.D. in philosophy
University of North Carolina
Ph.D. in philosophy
University of Texas at Austin
Ph.D. in materials science
Ph.D. in philosophy
University of Washington
J.D.
Vanderbilt University
Ph.D. in philosophy
Willamette University
MBA