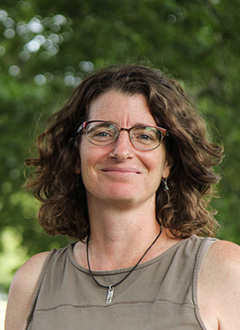 Rebecca Hanrahan
Associate Professor of Philosophy
Olin Hall 263

509-527-4956
Rebecca's primary research area centers around the question "How do we know what is possible?" You are reading this text right now, but you could have chosen to go biking or dancing or rock climbing. How do you know that you could have been engaging in these activities instead? This question in essence defines the field of modal epistemology and it is in this field that Rebecca has published a series of articles, including:
"Getting God Out of Our (Modal) Business," Sophia, vol. 48, October, 2009.
"Problems for a Modal Epistemology," Auslegung, vol. 29, no. 2, Fall/Winter 2008.
"Imagination and Possibility," Philosophical Forum, vol. XXXVIII, no. 2, Summer 2007.
"Epistemology and Possibility," Dialogue, vol. XLIV, no. 4, Fall 2005.
She also has a teaching and research interest in the philosophy of mind, specifically the nature of consciousness. Her publications in this field include:
"Consciousness and Modal Empiricism," Philosophia: Philosophical Quarterly of Israel, vol. 37, no. 2, 2008.
"The Problem with Zombies," Philosophy Now, vol. 67, May/June 2008.
Finally, Rebecca loves dogs. She has even published an article on dogs: "Dog Duty", Animals and Society, vol. 15, no. 4, Fall 2007.Rebecca also loves to hike. And she really, really, really loves to hike with dogs.
B.A. Smith College, 1989
M.A., Ph.D. UNC 1998