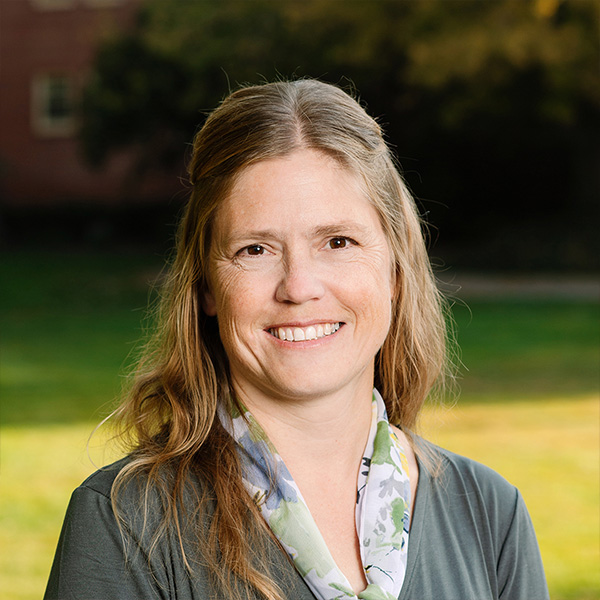 Amy Dodds
Senior Lecturer of Music, Director of Strings Area
Hall of Music 117

509-526-4787
Amy Dodds joined the music faculty at Whitman College in 2001. She received her M.A. in music and D.M.A. in violin performance from Claremont Graduate University, where she studied violin and viola with Rachel Vetter Huang. Other violin teachers have included Susan Pickett, Anke Leibrecht, and Kathryn Gray. A recipient of two major fellowships while in graduate school, Dodds also won local and national recital competitions as a doctoral student and aired several recitals on public television.
While at Claremont, Dodds was granted exclusive use of a violin made in 1672 by Andrea Guarneri, which informed her years-long search for a violin culminating in her current instrument, made by Claude Pierray in Paris in 1714. A former member of the music faculties of Scripps College and the University of La Verne, Dr. Dodds is also a pianist, having studied with Marianne Gienger, Dorothy Fahlman, Leonard Richter, and Hao Huang.
Dodds' research interests include pedagogical methodologies in music theory, as well as the music of several British women composers, and she spends frequent summer stints in the British Library, London, and the Bodleian Library, Oxford. She has published book reviews on emerging sources of women composers and performers, and was an editor of a musical encyclopedia for children published in Great Britain. Dodds also pursues continuing education in mentally and physically healthy, efficient practice methods for today's college students.
Dodds' dedication to her students' growth is a significant part of her teaching philosophy. Many of her students have won the Whitman College Concerto/Aria competition, and many others have performed for retirement homes and other community organizations. Past graduates have gone on to graduate school in Colorado, Wisconsin, New York, and the Royal Conservatory in Dublin, Ireland. Many more students have successfully utilized their skills learned in musical training as freelancers, or in a variety of other careers such as architecture, medicine, education, law, business, etc.
All levels of string players are welcome in the studio, from beginning to very advanced, and Dodds maintains a group studio class where students can perform for their peers and exchange feedback and constructive criticism in a supportive environment. Students also frequently have the opportunity to premiere the original work of their classmates in composition, showcased at an exciting concert each year. Dodds has organized recent master classes for her students with renowned artists such as Rachel Barton Pine and others, and makes a priority of assigning works by underrepresented voices.
Dodds has broad orchestral experience, from the Portland Youth Philharmonic to the Walla Walla Symphony, where she is currently the Principal Second Violinist. She enjoys collaborating with other local music organizations such as the Walla Walla Choral Society, St. Paul's First Thursday concert series, the WWS Summer Concerts in the Park, and various other outreach and fundraising concerts. In addition, Dodds has performed as recitalist and orchestral soloist, and adjudicates regionally throughout the Pacific Northwest.
Other noteworthy projects include Dodds' work in establishing the Pickett Performing Scholar Series, an endowed lecture-recital series at Whitman College honoring the work of Dr. Susan Pickett, professor emerita. Dodds has also worked with Artists for Human Rights leaders on a program raising awareness of human trafficking. Dodds' commitment to community service is also demonstrated by her involvement in local organizations such as the Walla Walla Piano Group, of which she is the immediate past president.
Dr. Dodds currently teaches violin, viola, chamber music, and music theory, as well as a course on women composers at Whitman College. She is married to Gregory Dodds, Professor of History at Walla Walla University, with whom she has two daughters, Emma and Nell. She enjoys travel, gardening, reading, and outdoor activities.