A HARMONIOUS BLEND OF THE EXCEPTIONAL
Join a vibrant and inclusive music community.
At Whitman College, the Music major can help you unlock your full potential and connect your passion for music through courses in composition, history, theory, performance and production. Our supportive environment meets students—music majors and all our music students—where they are but also challenges them to surpass their own expectations as they perform, create, critically examine and advocate for the music that matters to them. With performance halls, rehearsal spaces, a listening center, a music technology studio, 14 teaching studios, 25 practice rooms—and the guidance of talented and specialized music faculty—the Whitman Music program has the resources to help students fulfill their musical aspirations.
3 Reasons to Study Music at Whitman
Interested in Music?
We'd love to send you information, including more on academic majors and student life at our beautiful campus in Walla Walla, Washington.
Bethany H., Music Performance and Psychology major
"I was intrigued by the liberal arts Music degree in which I'd be able to engage in a more holistic and intersectional study of the discipline. I wanted to be able to engage in music collaboration especially, which I've been able to do through participation in the Orchestra and Chamber Music program. I also wanted to find a place where I could form close and lasting relationships with professors and faculty."
Our Whitman Student Voices Blog
Courses in Music
See just a few of the fascinating courses you might take.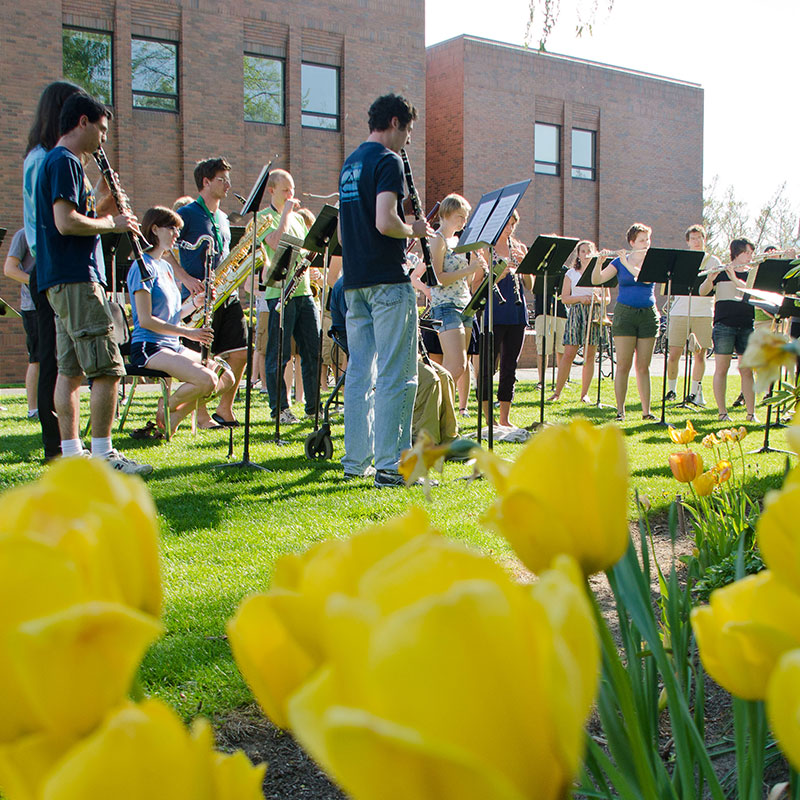 Amazing Experiences You Can Pursue
Create and collaborate globally. Take your study of music abroad with Whitman's off-campus studies program. Work with international musicians, explore local music scenes, do ethnomusicology research or attend performances in music-rich cities like Amsterdam, Milan or Vienna.
Experience artistic community. Want to develop deep friendships with other artistically minded students? Check out Whitman's Fine Arts House, where students live and work together to promote studio art, theatre and music on campus.
Share the spotlight. Whitman Music majors perform regularly on and off campus. Audition for the Wind Ensemble, Jazz Ensembles, Orchestra, Chamber Music ensembles, Chorale or Opera Workshop. Star in a campus musical. Or work with the Walla Walla Youth Symphony.
Studying music at the college level can prepare you for a career in music, for additional study at top graduate schools and for a lifelong enjoyment of music. You'll learn to perform proficiently, to understand the history and theory behind the music that moves you, to create and collaborate with other artists, and to discuss and write about music meaningfully. If you dream of a life filled with music, this is the major for you.
Studying Music can prepare you for a vast range of career opportunities in the music industry, such as performance, teaching, composing, producing, music therapy and more. A bachelor of Music can also prepare you for advanced study at a graduate school or conservatory. And the skills you learn—like critical thinking, research, collaboration, and cross-cultural literacy—can lead to opportunities in fields like education, business, marketing, public relations, healthcare and law.
The Music major offers a vibrant social experience. Collaborating and creating music together provides opportunities for close friendships and a sense of community to develop. Musical theater and other performance groups draw students together from a wide variety of majors. And attending concerts and performances hosted by the Music Department and in the wider community allows students to socialize and connect with a diverse range of musicians and music lovers at Whitman and beyond.