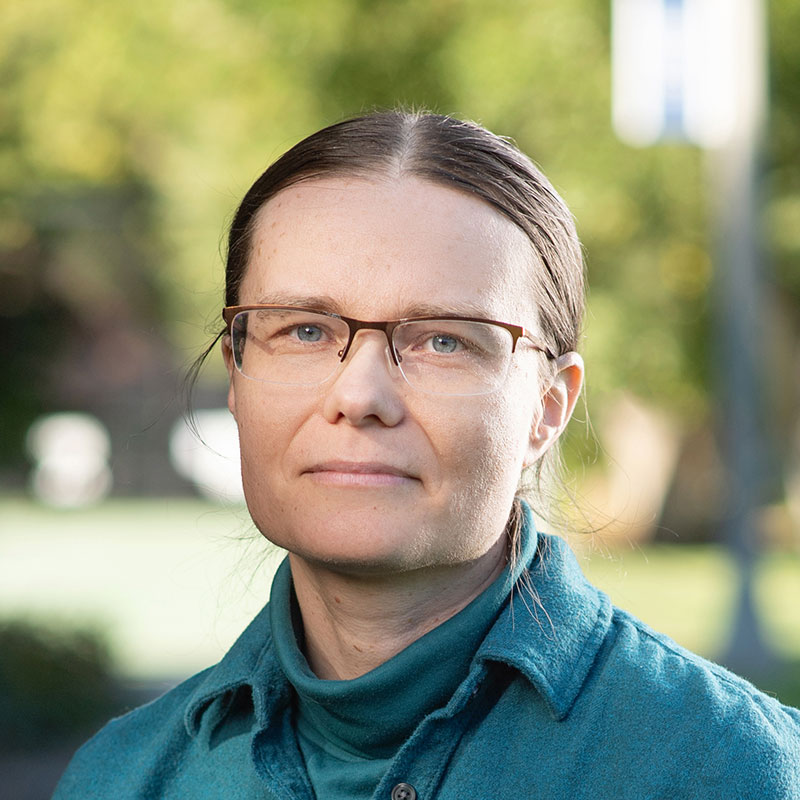 Jakobina Arch
Associate Professor of History, Chair
Maxey Hall 218

509-527-5057
Ph.D. History and East Asian Languages
Harvard University
2014
M.A. Regional Studies, East Asia
Harvard University
2008
M.Sc. Biology
Dalhousie University
2000
B.A. Biological Sciences and Medieval/Renaissance Studies
Wellesley College
1998
• Marine environmental history
• Early modern and modern Japanese history (1600-present)
• History of Science, Animal history (particularly whales)
HIST 109 - Historical Roots of East Asia
HIST 155 - Animal, Vegetable, and Mineral: Natural Resources in Global Environmental History
HIST 205 - East Asian Environmental History
HIST 231 - Oceans Past and Future: Introduction to Marine Environmental History
HIST 232 - Changing Landscapes: Introduction to Terrestrial Environmental History
HIST 241 - Early Japanese History
HIST 243 - Japan's Modern Empire
HIST 299 - Historical Methodology
HIST 307/ENVS 307 - Beastly Modernity: 19th Century Animal History
HIST 348 - Horseriders and Samurai (co-taught with Brian Dott)
HIST 355 - Pacific Whaling History
HIST 398: Japan's Natural Disasters
GENS 175: Asking Complex Questions - Animals
GENS 175: Asking Complex Questions - Climate: Optimism, Action, Creating Futures
GENS-145,146 - Encounters: The First-Year Experience
Book
Bringing Whales Ashore: Oceans and the Environment of Early Modern Japan. Weyerhaeuser Environmental Series. Seattle: University of Washington Press, 2018.
Peer Reviewed Articles and Chapters
"Birth of a Pelagic Empire: Japanese Whaling and Early Territorial Expansions in the Pacific." Chapter 5 in Ryan Tucker Jones and Angela Wanhalla, eds. Across Species and Cultures: New Histories of Pacific Whaling. Honolulu: University of Hawai'i Press, 2022, p 93-110.
"Coastal Whaling and Its Impact on Early Modern Japan." Chapter 11 in Gary Leupp and De-min Tao, eds. The Tokugawa World. London: Routledge, 2022, p 200-212.
"Heroic Whalers Hunting Whale-Mothers: Gender in the Early-Modern Japanese Whaling Industry," Coriolis: The Interdisciplinary Journal of Maritime Studies 10:1 (2020) 48-69. https://ijms.nmdl.org/article/view/20963
"Whale Meat in Early Postwar Japan: Natural Resources and Food Culture." Environmental History. 21:3 Advance Access published April 13, 2016, doi:10.1093/envhis/emw004. Reprinted in OUP History Journals' History of Food Collection, August 1, 2018, https://academic.oup.com/ahr/pages/history_of_food_collection
"Whale Oil Pesticide: Natural History, Animal Resources, and Agriculture in Early Modern Japan." Chapter 6 in Denise Phillips and Sharon Kingsland, eds. New Perspectives on the History of Life Sciences and Agriculture. Archimedes 40 New Studies in the History and Philosophy of Science and Technology. Cham: Springer International Publishing, 2015, p 93-111.
"From Meat to Machine Oil: The Nineteenth-century Development of Whaling in Wakayama." Chapter 2 in Ian Miller, Julia Thomas, and Brett Walker, eds. Japan at Nature's Edge: The Environmental Context of a Global Power. Honolulu: University of Hawaii Press, 2013, p 39-54.
Others
Book Review: Tagliacozzo, Eric, In Asian Waters: Oceanic Worlds from Yemen to Yokohama. H-Environment, H-Net Reviews. July, 2022. https://www.h-net.org/reviews/showrev.php?id=57816
Response for Arch, "Bringing Whales Ashore: Oceans and the Environment of Early Modern Japan" Roundtable. H-Environment Roundtable Reviews, Vol. 10, No. 5 (2020) 16-18 https://networks.h-net.org/system/files/contributed-files/environmentalroundtable-10-5.pdf
"Nineteenth-Century Japanese Whaling and Early Territorial Expansion in the Pacific." In Ryan Tucker Jones and Angela Wanhalla, eds. "New Histories of Pacific Whaling," RCC Perspectives: Transformations in Environment and Society 2019, no. 5, p. 57-63. doi.org/10.5282/rcc/8954
Book review: Orca: How We Came to Know and Love the Ocean's Greatest Predator. By Jason M. Colby. Environmental History 24:2 (April 2019) 383–385, https://doi.org/10.1093/envhis/emy143
"Amerika kara mita hogei bunka [Whaling culture viewed from America]," Kumanoshi 57 (October 25, 2010): 128-137. [In Japanese]