French & Francophone Studies
BE A GLOBAL CITIZEN
Make the French connection.
When you study French and Francophone Studies at Whitman College, you don't just learn a language. You discover the depth and influence of the French-speaking world on global literature, history, technology, environment and culture. As a French major, you'll learn to express complex ideas clearly in both French and English. Whitman's classes are small and highly interactive, so you'll get personal attention from professors and make meaningful connections with peers. Whitman French majors leave college with a versatile skill set that can lead to careers in creative writing, education, international relations, business, communications, social work, the arts and much more.
3 Reasons to Study French & Francophone Studies at Whitman
Interested in French & Francophone Studies?
We'd love to send you information, including more on academic majors and student life at our beautiful campus in Walla Walla, Washington.
Merry C., French and Francophone studies major
"It's so fun! There is such a vibrant community of French speakers at Whitman. It's the perfect way to meet new people, develop a second language and learn about the world."
Our Whitman Student Voices Blog
Courses in French & Francophone Studies
See just a few of the fascinating courses you might take.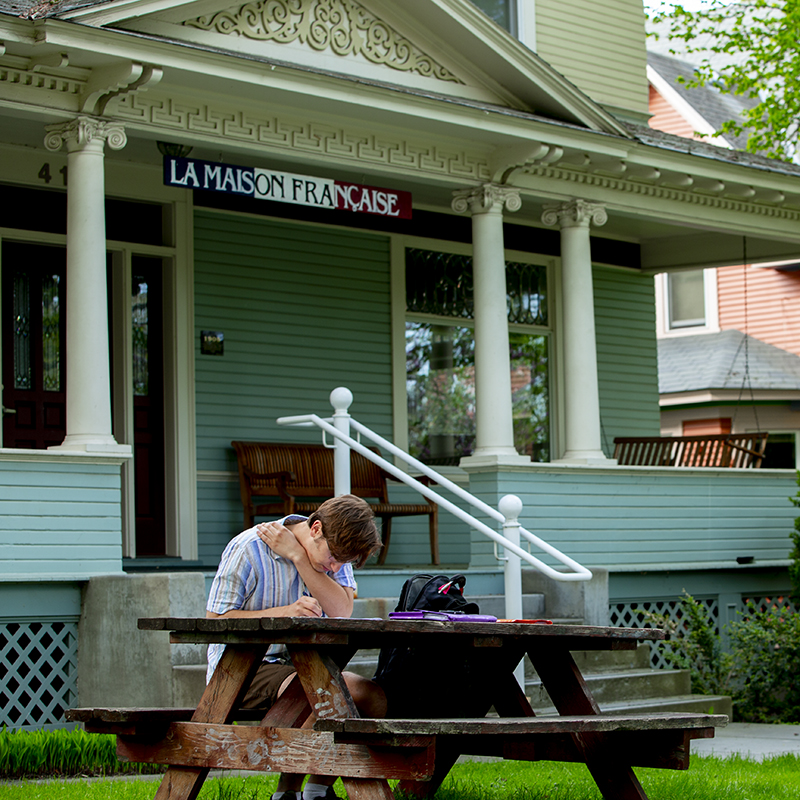 Amazing Experiences You Can Pursue
Explore your world. Through Whitman's off-campus studies program, you could be a teaching assistant in France, study economics in Switzerland, or explore the French diaspora in places like Morocco or Cameroon. Many programs offer international internship opportunities that can give you an edge as you prepare to launch your career.
Get relevant work-study experience. French and Francophone Studies majors have worked in local public schools teaching French language and Francophone culture to students in after-school programs. They've been French tutors for the Academic Resource Center. And they've contributed to on-campus inclusion efforts through the Intercultural Center.
Immerse yourself on campus. Get together with other French majors and professors every Friday for lunchtime conversation practice. Live in La Maison with French students and a native French speaker. Or just enjoy La Maison's calendar of fun events all year long, like French film screenings and off-campus study info sessions.
French and Francophone Studies majors gain in-depth knowledge of the French language as well as learning about the history, literature, art and culture of the Francophone (French-speaking) world. More than just learning a language, a bachelor's degree in French and Francophone Studies prepares you to understand the links between diverse cultures connected by a common language, as well as how language itself shapes our perspective on the world.
A degree in French is very versatile. It can prepare you for jobs in education, business, diplomacy, translation, nonprofits, science or the arts, for instance. Speaking a second language is also a valuable skill to have if you want to work internationally. And whatever career you pursue, a French major can teach you in-demand skills like writing, speaking, problem solving and cultural competency.