EXPAND YOUR PERSPECTIVE
Learn the art of looking deeply.
Are you fascinated by the stories and ideas behind the art and architecture of diverse cultures throughout history? The Art History undergraduate program at Whitman College will teach you to think deeply about the images, objects and built environments that capture our imagination and shape our lives. At Whitman, you'll study Art History with fantastic faculty—in museums, galleries, studios and everyday life. The versatile skills you gain through researching, thinking and writing critically about art will prepare you for any number of possible careers in libraries, museums, galleries, auction houses, arts organizations and much more.
3 Reasons to Study Art History at Whitman
Interested in Art History?
We'd love to send you information, including more on academic majors and student life at our beautiful campus in Walla Walla, Washington.
Rachel G., Art History major
"I took my first Art History class and found myself engrossed in discussions around meaning making in art and visual media. The faculty is phenomenal, and I have enjoyed all the classes I've taken."





Student Voices
Courses in Art History
See just a few of the fascinating courses you might take.
Art History Major Career Options?
The skills you learn in your art history courses will help prepare you for fascinating and countless jobs.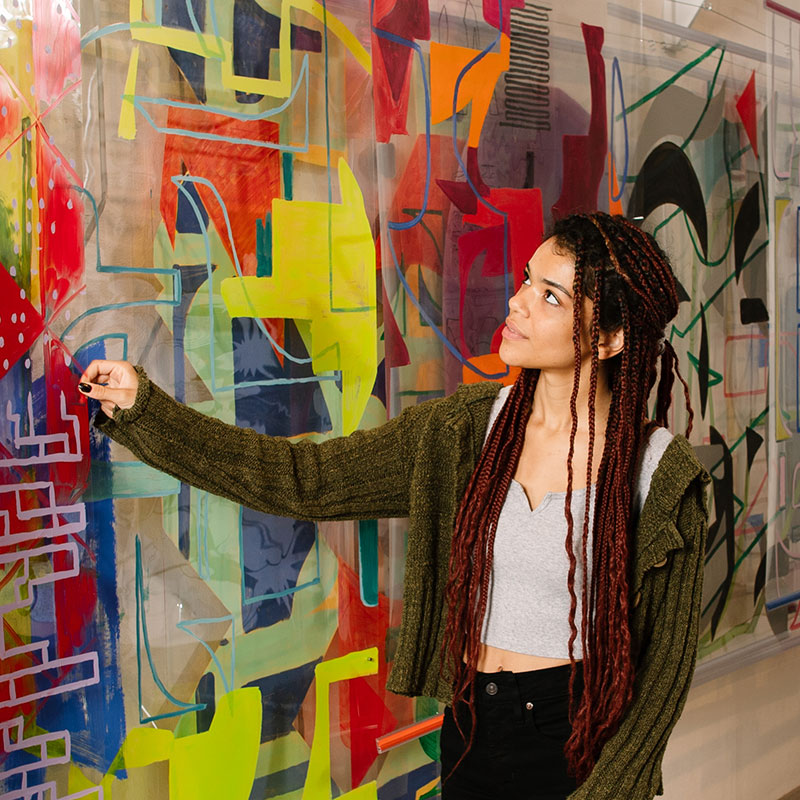 Amazing Experiences You Can Pursue
Work with art on and off campus. Apply what you learn in class directly to local exhibitions and collections at places like the Maxey Museum, the Sheehan Gallery, Stevens Gallery, ArtWalla, the Walla Walla Foundry and Kirkman House. Students frequently contribute by researching, helping arrange exhibits and leading tours.
Study art where it lives. Whitman's location in a thriving art community makes it one of the best colleges for Art History majors. Seniors also take a trip to an American art mecca, such as Los Angeles, New York or Seattle. And you'll have the chance to explore off-campus study in places like Florence, Vienna and Cape Town.
Get ready for the world after college. As an Art History major, you can gain resume-boosting experience through numerous internship opportunities. Whitman Art History students help organize and co-curate exhibitions on campus and in Walla Walla, and do internships with arts organizations and museums around the country.
In Art History, you study a society's visual culture: all of its images, objects and buildings. By studying visual culture, we learn to understand those societies more deeply and to see how art shapes our way of seeing the world. As those who study Art History can tell you, knowing how to see and interpret art not only amps up your critical thinking skills—it's also a lot of fun.
As an Art History major, you'll increase your visual literacy and analytical skills. You'll understand how to engage with different viewpoints. You'll learn to be an effective researcher and communicator. And you'll develop strong interpersonal and cross-cultural abilities.
Art History majors can find fulfilling careers in museums, galleries, libraries, auction houses and arts organizations. But Art History career paths don't stop there. Art History majors go on to be doctors, lawyers, architects, teachers and entrepreneurs. They work in tech, education, marketing, tourism and nonprofits. The Art History major gives you a way of seeing and engaging with the world that can lead to a meaningful career—and life—no matter what you decide to do.