Threats to Water Quality in the Deep Basalt Aquifer, City of Walla Walla, Washington
By Mary Jane Coombs1



A thesis in partial fulfillment of a Bachelor of Arts degree in Geology/Environmental Studies

Whitman College

2000*
1 Dept. of Geological Sciences, University of California, Santa Barbara, Calif. 93106-9630
coombs@umail.ucsb.edu
* published April 2002
Abstract
The quality of water in the deep basalt aquifer, the source of municipal well water for the City of Walla Walla, Washington, is currently excellent. Given a growing population and intensive agricultural practices, city officials worry that the quality of water may suffer in the future. The major contaminant threatening water quality is nitrate, which can cause major health problems such as infant death. The most probable manner in which nitrate and other contaminants might enter the deep basalt aquifer is through improperly sealed and/or old wellheads; however, little research has been conducted regarding hydraulic continuity among the deep basalt aquifer, the shallow gravel aquifer, and surface streams, as well as groundwater flow within each of the aquifers. It is recommended that, until more is known about the hydrogeology of the deep basalt aquifer, the city expand its wellhead protection program to include inspection to ensure the quality of this relatively pristine water source.
This report provides necessary scientific background on the hydrogeology of the Walla Walla River basin, chemical and physical characteristics of groundwater in the Columbia River Basalt Group, and health risks associated with high levels of certain chemical elements and compounds in drinking water. It also gives historical background on the municipal water supply in the city of Walla Walla and legal background on federal water-quality regulations. This information is provided to allow the reader to understand better the issues involved in assessing the threats to water quality in the deep basalt aquifer.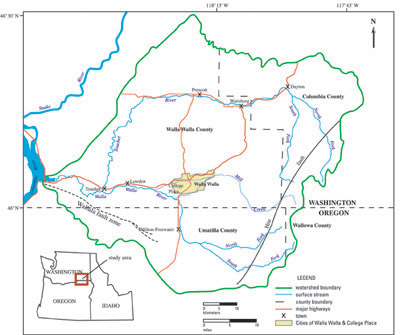 Map of the Walla Walla River basin
Contents
This publication contains a Portable Document Format (PDF) file that contains 27 pages with six figures, six tables, and two appendixes.

This report was written in cooperation with Whitman College and the Water Division of the Department of Public Works, City of Walla Walla, Wash.
---

View the report as a PDF
The report is provided as a PDF file for which you will need Adobe Acrobat Reader to view. You can download a copy of the latest version (5.0 at the time of this publication) by clicking the button above.

Click here to view the PDF file (coombs2000.pdf) (648 KB).
Tables as .xls files
This report (coombs2000.pdf, above) includes six tables and a six-page appendix that shows the complete data set of inorganic compounds and physical parameters. Click here to browse the tables directory where you can download these as .xls (Microsoft Excel) files for use in your spreadsheet program.
---
To contact the author, email Mary Jane Coombs (coombs@umail.ucsb.edu).
Created: 06/19/2001
modified: 11/02/2002 (mjc)