History professor examines American foreign policy in Scowcroft biography
David Schmitz, Robert Allen Skotheim chair of history, has spent the last two years studying history through another man's eyes.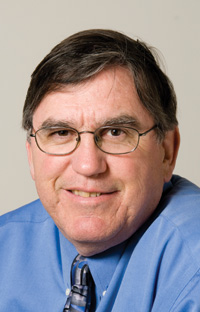 "(Scowcroft) was very much what I expected him to be ... thoughtful and moderate. The records offer a fairly accurate reflection of him."
— David Schmitz
Robert Allen Skotheim chair of history
It is Brent Scowcroft, two-time national security adviser, who has been the center of Schmitz's research since 2008. After both tracing Scowcroft's written legacy in archives around the country and speaking with him in person, Schmitz has produced a 256-page volume, titled "Brent Scowcroft: Internationalism and Post-Vietnam War American Foreign Policy." The book will be published this spring by Rowman & Littlefield Inc.
Schmitz was drawn to study Scowcroft because of his unique involvement with American foreign policy-making over the last half-century. Scowcroft is the only person to have served as national security adviser under two presidents: Gerald Ford, from 1975 to 1977, and George H.W. Bush, from 1989 to 1993.
"This deeply researched book ... offers much more than biography," writes Mark Lawrence, assistant professor of history at the University of Texas at Austin. "Through the lens of Brent Scowcroft's long career, Schmitz deftly analyzes the development of U.S. foreign policy since the Vietnam War."
Scowcroft served his country during "two critical junctures, the Vietnam War and the end of the Cold War," Schmitz said. It is these periods that Schmitz views as "the two pivotal moments" in American foreign policy since World War II. For Schmitz, who is fascinated by "continuity and long sweeps," the consistency of Scowcroft's dedication to internationalism is particularly appealing.
"The Vietnam War shattered foreign policy consensus around containment," Schmitz said. "Scowcroft tried to hold together that internationalist understanding in the face of the challenges that emerged after the Vietnam War — challenges from Jimmy Carter about human rights, and later, from neo-conservatives' policies of preemptive war and regime change."
For Scowcroft, internationalism meant "protecting the nation from aggression, providing international stability, controlling arms and shaping an international environment that was conducive to America's goals and needs," Schmitz wrote.
Schmitz has been aided in his research by a Perry Summer Research Award that allowed a student assistant, Destiny Cowdin-Lynch '10, to work with the professor at two presidential libraries in the summers of 2008 and 2009, as well as former ambassador Ryan Crocker '71, who helped Schmitz set up an interview with Scowcroft.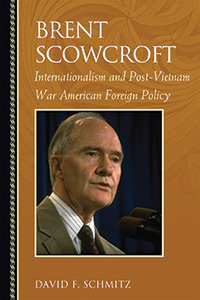 The interview "gave me a sense of Scowcroft personally," said Schmitz. "He was very much what I expected him to be ... thoughtful and moderate. The records offer a fairly accurate reflection of him."
Schmitz's work also is informed by a personal interview with former Secretary of State Condoleezza Rice, a protégé of Scowcroft, and also by several presentations that Schmitz gave throughout his research process. Schmitz has spoken to both Whitman faculty and outside professional groups, including a talk at Rutgers University in 2009, and a March 2010 presentation in New York to Whitman Garrett and Sherwood scholars and alumni.
Although the book looks to the past, Schmitz argues that an understanding of Scowcroft can inform our perception of contemporary events.
"I hope that people look to Scowcroft as an important voice for understanding how American foreign policy should be made in the face of the challenges of terrorism," said Schmitz, who emphasizes Scowcroft's "moderate approach to the first Gulf War and decision not to invade Iraq at that time.
"We can see in Scowcroft's thinking ideas about how to best deal with the challenges presented by al-Qaida, 9-11 and terrorism," Schmitz said.
— Eleanor Ellis '13
David Schmitz has taught history at Whitman since 1985. He is the author of numerous books, most recently "The Triumph of Internationalism: Franklin D. Roosevelt and a World in Crisis, 1933-1941." His new book is available at the Whitman Bookstore at (509) 527-5274 or online.
IN THE NEWS
Professor Schmitz found himself in demand by the media in February for comments about disparate topics — Egypt and former President Ronald Reagan. Scott Shane of The New York Times interviewed Schmitz about the events in Egypt for a story in the Feb. 5, 2011, "Week in Review" section. Schmitz's books on the United States and right-wing dictatorships ("Thank God They're on Our Side: The United States and Right-Wing Dictatorships, 1921-1965" and "The United States and Right-Wing Dictatorships, 1965-1989") led the reporter to him. Schmitz was asked for his thoughts on the history of U.S. support for authoritarian regimes, any lessons we can draw and how the current events in Egypt compare with earlier examples. Also, Justin Elliot of Salon.com magazine contacted Schmitz to comment on Reagan's support of the apartheid government in South Africa.