Watson Winner to Dance Across Four Continents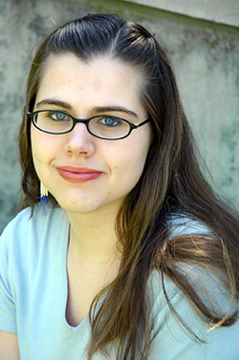 WALLA WALLA, Wash. – As a high school exchange student living in Argentina, Jena Marie Griswold discovered her love of dance and grew to appreciate its capacity to facilitate cross-cultural understanding.
Later, as a junior at Whitman College, Griswold spent a study abroad semester in Botswana, once again turning to dance as a way to connect with the local Tswana culture.
Through it all, whenever she returned home to Estes Park, Colo., she found that dance was her cultural passport into the lives of Latin American immigrants she met at parties.
Now, a few months shy of graduating from Whitman, Griswold is poised to incorporate dance as an imaginative prelude to her plans for a legal career in the realm of social justice.
As one of 50 graduating seniors from around the country recently selected for a prestigious Thomas J. Watson fellowship, Griswold will spend the next year dancing her way across four continents. The fellowship includes a $25,000 stipend to finance her 12-month travel and study project, which she titles "Salsa: Spicing Up the International Dance Scene."
Based in Providence, R.I., and founded in 1968 to honor IBM founder Thomas J. Watson, Jr., the Watson fellowship program seeks to reward and empower "seriously creative" students. Applicants at 50 of the nation's top liberal arts & sciences colleges are encouraged to devise travel/study projects that allow them to explore specific interests and concerns, test their aspirations and abilities, view their lives and American society in greater perspective, and develop a more informed sense of international concerns.
Griswold's project takes inquisitive aim at the globalization of salsa, a dance created by disenfranchised Puerto Ricans, in consort with African and Jewish Americans, in New York City during the 1960s. The new dance was equated with poniendo salsita a la vida, or "spicing it up," and was officially dubbed "salsa."
Fueled by migration and the music industry, the dance quickly spread, with numerous cultural variations, around the world. While Venezuela, Colombia, Puerto Rico and Cuba have emerged as international salsa hubs, Griswold plans to step off the genre's beaten path, studying the ways in which the physical dance steps and social conceptions of salsa have mutated in Panama, England, South Africa and Japan.
Following completion of her Watson studies, Griswold plans to pursue a law career focused on labor, immigration or international human rights law. Her interest in helping disenfranchised people of all nationalities pursue social justice was sparked by the empathy she developed for Latin American immigrants she met as a high school student in her hometown.
"As I befriended immigrants at dance parties, the increased awareness that many of them encountered daily hardships significantly affected me," Griswold says. "Risking one's life by crossing the desert to enter the United States, human rights violations at the U.S.-Mexico border, mistreatment by bosses, separation from family, and fear of deportation were topics of daily conversation."
Griswold says concern for her new friends transformed her own life, instilling in her an urgency to continue her study of the Spanish language as a way of better communicating with them, and to attend college to gain the professional skills necessary to help people in lower socio-economic classes. "Thus, in pursuit of dance, I came to understand a previously unknown reality of my community and discovered a passion for social justice."
Spending the next year learning about new cultures through dance will lay a strong foundation for her futures studies and career in law, Griswold says. "The skills I will gain from negotiating and understanding cultural differences during my Watson year abroad will be priceless for my success in law. As a lawyer, I will undoubtedly work with diverse situations that require cultural consideration and finesse."
The specifics of her salsa studies will center on how the dance is physically reinvented and socially reinterpreted during geographical and cultural relocation. After salsa sprang to life in New York, lower classes in Latin America quickly adopted the dance as a way to unite themselves politically and socially with Nuyoricans (New York Puerto Ricans), and because they identified with salsa's lyrical protest against marginalization.
Before long, however, the Colombian elite added a new style, salsa romantica, that favored songs of romance over lyrical social protest, and that reconfigured dance steps to fit the new, tranquil music. It is one example of how salsa expresses itself in different ways along socio-economic as well as cultural lines.
During her travels, Griswold plans to compare how both salsa and hip-hop are modified within the same locales. That comparison, she says, will allow her to "more readily see how host cultures specifically affect salsa."
Her studies will begin in July in Panama, where she plans to investigate how urban and rural settings within the same country impact salsa interpretation. In October, she moves to England, a country known internationally for its salsa craze, and where she will observe how salsa affects European and Latin American immigrant interaction.
Her third stop begins in January in South Africa, where she plans to investigate the "re-Africanization" of salsa music and dance. "Although the musical roots of the genre originated in western Africa, the African beats and rhythms incorporated into salsa can also be found in southern African music," she says.
Japan, the final leg on her trip, will include stops in Tokyo, home to more than 30 salsa venues, and two other cities. "I am particularly curious to study if salsa in Japan is a spectator or participatory activity and to hear Japan's salsa bands, whose very existence fuels debate about salsa's Latin American authenticity."
Griswold has already contacted salsa instructors in each of the four countries on her itinerary. They will help her learn modified dance steps in each area and provide contacts with the local salsa community.
Griswold, who is majoring in politics and Spanish at Whitman, has performed with a meringue troupe for the past four years. Calling itself the "The Whitman Merengueros," the troupe artistically combines meringue, salsa, cumbia and hip-hop to produce unique dance routines for the Whitman and local communities.
Griswold, a graduate of Estes Park (Colo.) High School, is the daughter of Reva Levey of Estes Park, and Michael Griswold of Lyons, Colo.
Photographer: Asiya Khaki '09