Whitman Art Faculty Present Year's First Exhibit at Sheehan
WHITMAN'S SHEEHAN GALLERY HIGHLIGHTS
FACULTY ART IN FIRST EXHIBITION OF 2004-2005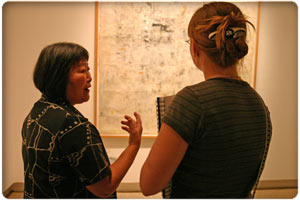 Keiko Hara discusses art show with
one of the guests at the show's opening.
 WALLA WALLA, Wash.-- Whitman College's Sheehan Art Gallery opened the 2004-2005 academic year with a "Studio Art Faculty Exhibition" featuring the works of nine faculty members. The show, which opened Friday, Aug. 27, will run through Thursday, Oct. 7. Gallery hours are Tuesday through Friday from noon to 5 p.m.; Saturday and Sunday from noon to 4 p.m. For more information, please call Ian Boyden, gallery director, at (509) 527-5249.
    The exhibit includes photographs, paintings, etchings and installations as varied as the artists themselves: Charly Bloomquist, Chip Duyck, Trygve Faste, Keiko Hara, Kevin Johnson, Mathew Kelly, Ruth Lingen, Jessica Berg Swanson, and Charles Timm-Ballard.
    Bloomquist was born in upstate New York. He received his bachelor in fine arts (BFA) from Alfred University in Alfred, New York, in 1974. At the California Institute of Arts in Valencia he received a BFA in photography. He obtained his master in fine arts (MFA) in photography in 1992 from the California Institute of the Arts. The images he has on exhibit at the Sheehan Gallery are the result of his experimentation with processes introduced to him by Christopher James at a workshop at the Anderson Ranch Arts Center in Colorado.
    Duyck earned his BFA in 1977 from the Parsons School of Art and Design in New York City. He has taught for the New York City Department of Education as well as the Parsons School and the School of Visual Arts, both also in New York City. His work has been shown in solo and group exhibitions in New York City, and has been in publications such as "The NewYorker" and "The New York Times." He has also worked in related fields, including working in "digital support" services for Showtime and HBO.
    Faste earned a bachelor of arts (BA) in studio art and mathematics/computer science from Whitman College in 1997 and an MFA in painting from the Cranbrook Academy of Art, Bloomfield Hills, Michigan, in 2004. His work has been displayed in exhibits at the Yerba Buena Center for the Arts, San Francisco; Cranbrook Museum, Bloomfield Hills, Michigan; and the Lemberg Gallery, Ferndale, Michigan. Faste's work explores how technology and culture co-evolve to create an actively changing environment. "My work strives to direct focus into the systems of technology embedded in our constructed surroundings that combine to shape and support our way of life."
    Hara, who has taught painting, printmaking and drawing at Whitman since 1985, has studied in both Japan and the United States. Hara is a celebrated artist who exhibits her work regularly in Chicago, Seattle and Portland, and whose works can be found at The Chicago Institute of Art, Tacoma Art Museum, Muskegon Art Museum, Microsoft Corporation, and other public and private collections. In 1999 Hara represented the United States in "The Graphics Creative International Print Triennial" in Finland, and her work was included in the 1997 book "Contemporary Printmaking in the Northwest." Hara earned her MFA in printmaking from the Cranbrook Academy of Art, Michigan, as well as a master's in painting from the University of Wisconsin-Milwaukee. She received three BFA degrees: from the Mississippi State University for Women in painting; from the Oita-Kenritsu Art College, Oita, Japan, in painting; and from the Gendai Art School, Tokyo, Japan, in painting and drawing.
    Johnson's contribution to the Sheehan show is excerpted from a piece originally commissioned by the Seattle Arts Commission in 2001 as part of its public art program "Salmon in the City." The program utilized a series of art works, installations, performances and public lectures to raise awareness about Puget Sound's unique population of Chinook salmon being placed on the threatened species list. Johnson received his MFA in sculpture/environmental design from the Minneapolis College of Art and Design in 2001 and his BFA from the University of Minnesota in 1997.
    Kelly is a native of New Hampshire who earned a BFA in printmaking from the University of New Hampshire in 1991 and earned his MFA in printmaking from Syracuse University, New York, in 1994. His specialty is intaglio printmaking and drawing and he has exhibited his work nationally. Before arriving at Whitman, Kelly taught at Syracuse University and Cayuga Community College. He currently teaches courses such as introduction to studio and design, beginning drawing and printmaking.
    Lingen, who earned an MFA from the University of Madison, Wisconsin, in 1984 and her BFA at the University of South Dakota, is a master printer associated with Pace Editions in New York City. She is also the proprietor of Poote Press, publishing limited edition books with artists using both traditional and innovative letter press, papermaking and bookbinding techniques. Swanson graduated from Whitman in 1996, earning a BA in studio art with a ceramics thesis. She earned her MFA in sculpture from the School of the Art Institute of Chicago, Illinois, and has exhibited her work in solo and group exhibitions locally and nationally. Throughout her education and career she has balanced training as an artist with learning how to cultivate the artist in each of her students. She currently teaches ceramics and drawing classes at Whitman.
    Timm-Ballard is a practicing artist with a thorough knowledge of ceramics, sculpture, art history, and contemporary art. He received his BFA from the University of Wisconsin at Milwaukee and his MFA from the University of Nebraska at Lincoln. Before teaching at Whitman, Timm-Ballard taught at Pomona College, Lawrence University, and the University of Nebraska. He has exhibited internationally, held a residency at the Europees Keramisch Werkcentrum and is the winner of numerous awards.
-30-
CONTACT: Lenel Parish, Whitman College News Service, (509) 527-5156 Email: parishlj@whitman.edu
Published on Sep 14, 2004