Whit Skiers Picked for Winter World Games
WALLA WALLA, Wash. -- Hannes Zirknitzer and Rachel Walker, two members of the Whitman College alpine ski team, will represent their home countries at the 22nd Winter World University Games, set to begin Jan. 12 in Innsbruck, Austria.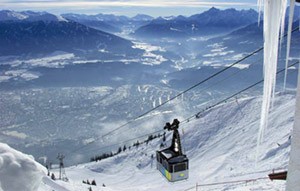 Ski slopes near Innsbruck, Austria
Zirknitzer, a junior majoring in art history and visual culture studies, will ski for his native Australia. Walker, a sophomore planning to major in psychology, was named last week to the Canadian national team.
Zirknitzer, who came to Whitman from Bright, Victoria, Australia, will compete in the World University Games for the second time in three years. He also competed for Australia at the 2003 games in Tarvisio, Italy.
Zirknitzer, who has dual citizenship in Austria, is completing a study abroad semester this week in Vienna, Austria. He plans to remain in Austria, training, until the university games begin.
Walker, a resident of Whistler, British Columbia, will fly to Austria on Jan. 10, after competing in Whitman's first two NCAA races Jan. 5-6 in Park City, Utah. Zirknitzer will miss those races. While competing in the university games, both Walker and Zirknitzer will miss two NCAA races slated for Jan. 13-14 in Jackson, Wyo.
Instead of having 10 races to score enough points to qualify for the NCAA championships in March, Walker will have eight and Zirknitzer six. "Missing some of the qualifying races definitely makes it tougher for Rachel and Hannes," Whitman ski coach Tom Olson says. "They both have the talent to make it work, though."
Both Whitman skiers qualified for last year's NCAA championships. Zirknitzer, who qualified for the second time in his two college seasons, earned All-American honors by placing 10th in the slalom at last winter's national championships.
Olson expects Walker and Zirknitzer to compete in three events each at the university games. "I doubt that either will do the downhill, but my guess is that both will compete in the Super-G, giant slalom, and slalom."
This marks the second time in Olson's 15-year Whitman coaching tenure that two Missionary skiers will compete at the university games, which are held every two years and patterned after the Winter Olympics. Stephanie Palmer and Eric Carlson both represented the U.S. at the 1993 games in Poland.
Palmer was on the U.S. team again in 1995 in Jaca, Spain. Palmer was captain of the women's alpine team that year and served as one of the American contingent's flag bearers in the opening ceremonies. Olson was one of the U.S. alpine coaches in both 1993 and 1995.
Competing in January's university games means Zirknitzer and Walker will miss the first two weeks of spring semester classes at Whitman. The first day of classes is Tuesday, Jan. 18.
Whitman's Tobey McDonald competed for the U.S. in the 1991 University games in Japan.
The Winter University Games are open to competitors between the ages of 17 and 28 who are current students, or who have graduated from a college or university within the previous year. About 1,500 athletes from 48 countries will compete at this year's event. In addition to alpine and nordic skiing, the winter games feature such sports as ice hockey, ski jumping, speed skating, figure skating and snowboarding.
CONTACT:
Dave Holden, Whitman Sports Information,
(509) 527-5902;
holden@whitman.edu
Published on Dec 21, 2004