Summer Ballet: Whitman Students Join Dance Instructor in Perugia, Italy
WALLA WALLA, Wash. – It isn't too surprising that a handful of Whitman dance students join Idalee Hutson-Fish each summer for a five-week ballet class. Not when the sponsoring program is based in a 13th-century palace perched in the small, hilltop city of Perugia, Italy.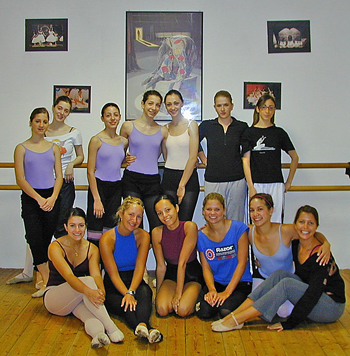 Five Whitman students were part of the ballet class taught this summer by Whitman dance instructor Idalee Hutson-Fish in Perugia, Italy. Whitman students in the front row are Suraya Dudley and Margot Hull (far left) and Ashley Velategui and Emily Talbot (fourth, fifth from the left). Whitman's Terra Parker is second from the right in the back row.
Hutson-Fish, a Whitman dance instructor since 1979, has taught an intermediate/advanced ballet class at Perugia's Umbra Institute for the past four summers.
The class, which concludes with a performance recital, typically attracts a number of students from other U.S. colleges as well as Italian students from the Perugia area.
Whitman students who tagged along this summer include Terra Parker, a graduating senior and studio art major who was making her second trip to Perugia in three years. Also on hand were Emily Talbot, Margot Hull and Suraya Dudley, all seniors-to-be at Whitman, and Ashley Velategui, who soon begins her junior year.
For Velategui, who has taken dance classes since age three, the opportunity to study ballet in Italy, where dance master Bergonzio di Botta arranged the first lavish Italian ballet dinner in 1489, was well worth the tuition and travel costs.
"I haven't yet stopped raving about my experience in Italy," Velategui says. "It was everything I dreamed it would be. We had a two-hour ballet class in the morning followed immediately by a three-hour rehearsal. On weekends we traveled to see the sights of Italy."
Studying ballet against the backdrop of Perugia's out-of-the-way location was a definite plus, Velategui says. "It wasn't very touristy at all," she says. Unlike the larger cities of Florence and Venice, where Americans find it relatively easy to communicate in English, few people in Perugia spoke anything but Italian. "It forced us to soak in all of the Italian culture around us."
Velategui, a mathematics major from Woodinville, Wash., was the only Whitman student who took the ballet class for college credit. Assuming she passed, she says with a smile, the class will help satisfy the fine arts portion of her Whitman degree requirements.
"Earning the credits involved more work," she says. For her mid-term report, she wrote a five-page research paper on Pierina Legnani (1868-1930), an Italian dancer remembered as the first ballerina to complete 32 consecutive leg-whipping fourette turns. She also researched other dancers for a final written examination.
Taking the ballet class in Italy doubles as an indelible history lesson for all students, Hutson-Fish says. "Italy is where ballet began," she notes. "The word ballet comes from the Italian word ballare, which means to dance. Ballet has its roots in the courts of the Medici in Florence."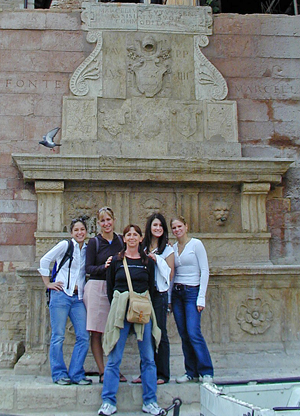 Standing in front of a Baroque fountain in Assisi, Italy, are Whitman's Emily Talbot, Margot Hull, Idalee Hutson-Fish, Suraya Dudley and Ashley Velategui. Whitman's Terra Parker took the photo.
Class members take one weekend field trip to Florence, where the landscape is littered with the historical landmarks and lore of the Medici family and the Renaissance. "This helps bring the history of dance to life," Hutson-Fish says. "At least I hope it does for the students. I know it does for me."
"Most people think ballet began in France in the courts of Louis XIV," Hutson-Fish says, because he founded the Royal Academy of Dance in 1661. But it was Catherine de Medici, the daughter of a powerful Florentine family, who brought ballet to Paris nearly a century earlier, when one of her sons was King of France. The Ballet Comique de la Reine, a five-hour spectacle, was staged in 1581 through the combined efforts of Catherine and her chief musician, an Italian named Balthasar de Beaujoyeulx (originally Belgiojoso).
This summer, Hutson-Fish had her students study a number of famous dancers, many of them from Italy. One example is Marie Taglioni, daughter of choreographer Filippo Taglioni, who made her debut in 1822 and is remembered as the first ballerina to dance on pointe.
While in Perugia, Whitman students had the chance to perform in 17th-century theaters, some of which still feature "raked" stages -- those that slope from back to front. During the Renaissance, raked stages were commonly used to improve the view from all seats in the audience.
For this summer's class, Hutson-Fish choreographed two dance pieces, one based on Etruscan (pre-Roman) history and one about a Mafia boss who was poisoned while in prison. The latter piece was set to a song sung in Italian. Both pieces "further immersed the students in Italian culture," she says. "The last piece involved six Italian dancers and three of the more advanced Whitties. So, they had the chance to dance alongside, converse with, and train with the Italians."
For Whitman's Emily Talbot, a biology-environmental studies major from Seattle, the trip to Italy gave inspiring balance to a life pointed toward a career in nursing. "Ballet is a fun hobby that definitely makes me think in different ways than my biology classes," she says. "I danced as a child and then stopped when I discovered sports in high school. I didn't dance the first semester (at Whitman), but after going to a recital, I realized just how much I missed it."
"Idalee is a great teacher," Talbot adds. "She's taught me how to enjoy dance, no matter what my level happens to be."
This summer marked the third consecutive year that five Whitman students accompanied Hutson-Fish to Italy. She first learned of the Umbra Institute's summer program through a friend, George Skipworth, a 1972 Whitman graduate and music major who later earned his doctoral degree in composing at UCLA. Following early international careers as a concert pianist and singer, Skipworth taught for two summers at the Umbra Institute, and he continues to work around the world as a composer and symphonic/operatic conductor. He currently lives in Portland, Ore., and is an assistant professor of music at Lewis & Clark College.
Hutson-Fish, who operates her own private studio in Walla Walla, teaches ballet, pointe, craft of choreography, and dance production at Whitman. In recent years, her Whitman classes have averaged over 70 students per semester.
Following studies at the Joffrey Ballet School, Juilliard School of the Performing Arts, and the University of Utah, Hutson-Fish came to Walla Walla in 1976 at the request of Charles Bennett, founder of the Summer Dance Lab (SDL), who helped open the Fort Walla Walla Amphitheater with a production of "Trails West." Hutson-Fish, the dance captain and a featured dancer in the production, was an apprentice in Bennett's First Chamber Dance Company. After attending early SDL sessions as a student, Hutson-Fish later served as one of the instructors.
Started in 1971 at the behest of the Washington State Arts Commission in 1971, the SDL has been located at Whitman since 1976. This summer, a total of 153 dancers ranging in age from 11 to 20 took part in SDL classes.
CONTACT:
Dave Holden. Whitman News Service
509 527-5902; holden@whitman.edu
Published on Aug 11, 2004