Semester in the West: Traveling Class Taking First-Hand Look at Environmental Issues
WALLA WALLA, Wash. – Phil Brick's environmental studies classroom stretches, literally, over thousands of miles.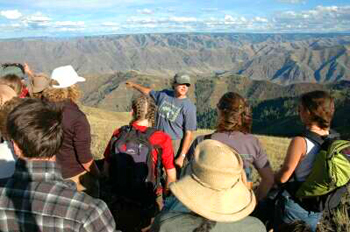 Ellen Morris Bishop, a geologist, photographer
and author, gives the class a few insights on
the Wallowa mountains and Hells Canyon.
Brick, an associate professor of politics at Whitman College, hit the road earlier this month with 20 students in two vans, towing a horse trailer converted into a high-tech mobile library, workstation and internet connection.
For the rest of the semester, Brick and his traveling classroom will meander from the Northwest through Montana, Utah and Colorado to New Mexico, Arizona and southern California, taking a first-hand and in-depth look at some of the environmental, social and political issues facing the western U.S.
Students in Brick's "Semester in the West" class are tackling a whole host of real-life concerns this fall. Issues range from environmental restoration efforts in the desert Southwest to grizzly bear and wolf reintroduction plans to the ecological impacts of the booming Las Vegas economy.
Along the way, camping and sleeping under the stars, Brick and his students are meeting with an eclectic mix of activists, writers, environmentalists, loggers, ranchers, miners, labor organizers, politicians, land managers, historians, political scientists, geographers, foresters, economists, farmers, biologists, ecologists, cowboys and Native Americans.
A key portion of the class revolves around a long reading list, a variety of written texts on the modern-day West and its environmental issues, in most cases focusing on specific areas the students will be visiting. As they absorb material, students face numerous writing assignments of their own.
After returning to Walla Walla in early December, students will spend their first week back "home" at Whitman's Johnston Wilderness Campus, a 26-acre facility located southeast of town on upper Mill Creek in Oregon. They devote that week to writing a required final paper on their experiences.
Students receive 16 credit hours for successful completion of the class. They earn four credits each in each of four academic disciplines – politics, environmental studies, biology, and rhetoric & film studies.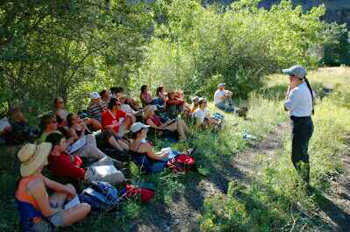 Angela Sondenaa, an ecologist with the Nez
Perce, talks about the "Precious Lands" on the
Oregon-Washington border.
"As far as I know, this course is unique," Brick says. "I'm relatively certain there is no other U.S. college or university offering this type of semester-long, integrated class on politics and the environment."
Regardless of their pre-existing views, students generally return from a Semester in the West with a much greater appreciation for the political and social complexities of environmental issues, Brick says.
"We meet with a variety of people who span the political spectrum." Brick says. "We meet with people who won't vote for President Bush because he isn't conservative enough. We also meet with no-holds-barred conservationists who make it clear they are more concerned with critters and plants than with people."
"By the time we return, students have a lot of questions and feel somewhat confused, all of which is good," Brick says. "They ask for answers that I don't have. The hope is that they continue to look for those answers."
While Brick is the only faculty member traveling with the class throughout the semester, four adjunct professors will meet the group at different points along the way.
The class will spend two weeks each with two ecologists and two environmental writers. The ecologists are Paul T. Arbetan, an assistant research professor, Natural Heritage Program, University of New Mexico, and Mary Hallie O'Brien, an activist in the Hell's Canyon National Recreation Area and contractor with Grand Canyon Trust. The writers are Ellen Meloy, whose collection of essays, "The Anthropology of Turquoise," was a finalist for the Pulitzer Prize in non-fiction, and Paul Hoornbeek, a former instructor in writing and general studies at Whitman.
During its time with Arbetan in November, the class will spend one week at a large ranch near Sonora, Mexico, just across the border from Douglas, Ariz., starting what Brick hopes will be a 10-year monitoring project for a swamp restoration effort. The ranch is one of many, situated on both sides of the border, owned by U.S. citizens Joe and Valer Austin. "They are trying to raise the water table through some very aggressive restoration techniques," Brick says. "Our role is to spend a week creating an ecological map of the ranch. Our map will show what vegetation is growing where. Our 10-year study should show changes in vegetation as the water table rises. As long as the Semester in the West program continues, and we hope to make this trip every two years, we can update the map and document changes over the course of the next decade."
Overgrazing by livestock is what caused the swamp to drain, Brick says. With little surface vegetation to absorb rain and moisture, runoffs came quickly, carving deep channels that led to a lowering of the water table. "What the Austins are trying to do is put structures in the deep channels to help them fill back in," Brick says. "As water levels in the channels rise, the water tables on the ranch should also rise."
The Austins are "very ecologically-minded ranchers," Brick says. "They're buying ranches, restoring them and trying to help create a large ecological zone spanning the border that includes working ranches but also has habitat for wild antelope, Mexican jaguars and wolves, thick-billed parrots, migrating waterfowl and other species. They are very interesting and exciting people to be working with."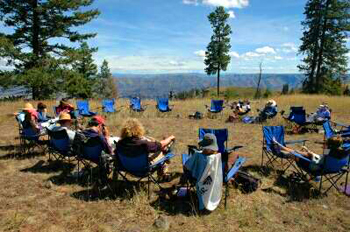 Wilderness classroom with a view.
While camping on the Mexican side of the border, the class will also examine the fascinating realm of border politics, Brick says. "There is nothing out there other than a barb wire fence that's probably been cut a thousand times. I'm sure we'll see people walking through the area, illegally migrating into the U.S. We'll spend a good deal of time talking about what this border means politically, ecologically and economically, and in human terms. There's an entire academic field called border studies, and we'll be drawing on that material."
In early October, the class will meet with Paul Hoornbeek for a two-week environmental writing course that will focus on the eastern Sierra Nevada mountains. One stop will be Mono Lake, the largest lake entirely within California, which lost half of its volume because of water diversions over a 40-year period. A 20-year battle culminated in the mid-1990s with new protections aimed at restoring the lake's water levels.
Hoornbeek's writing class will also visit the Mammoth Lakes, Calif., area, where proposals are pending for a new airport and new ski resort. "We'll meet with people on both sides of that issue," Brick says. "Paul wants students to write about these development issues, but he wants them to meet the people involved, treat them as texts, and then talk and write about it."
Another stop Hoornbeek has planned is the Owens River/Lake area. "The lake at this point is still a drybed, but because of clean air standards, L.A. Water & Power has to put water on the lake bed to keep alkaline dust from blowing into the air," Brick says. "We'll probably end the class visiting the Timbasha Shoshoni, who recently acquired a Native American homeland within the Death Valley National Park. A lot of Americans don't realize that many national parks were carved out of land that at one point had been set aside for Native Americans."
Following the writing class, Brick and his students will spend a few days in Las Vegas, the fastest-growing city in the country. Las Vegas also ranks as one of the most unionized cities in the U.S., and the class will meet with a representative of the local culinary union. Also scheduled is a bus tour of the Las Vegas basin with Hal Rothman, a history professor at the University of Las Vegas-Reno, whose book, "Neon Metropolis" provides a critically acclaimed social history and commentary of the city, and is a required reading for the class.
This fall's Semester in the West class began in early September with two weeks of ecology studies in northeast Oregon's Wallowa County and the nearby Hell's Canyon National Recreation Area. "Mary is very much a Hell's Canyon conservation activist," Brick says. "She mixes her politics and science in a way that can be controversial and is typical of conservation biologists. Later in the semester, when they study ecology with Paul Arbetan, they will see someone who is a more skeptical, traditional scientist. Mary and Paul represent two different factions of the scientific community when it comes to environmental issues and questions."
Later in September, the class moves east to Missoula, Mont., and then south to such locales as Yellowstone National Park and Dinosaur National Monument. While in the Yellowstone area, the class will meet with a recent Whitman environmental studies graduate, Andy Fischer, and his father, Hank Fischer, a field representative for Defenders of Wildlife. The elder Fischer's book, "Wolf Wars," chronicles wolf re-introduction efforts in Yellowstone and is on the class reading list.
Brick plans a five-day canoe trip down the Green River, near Moab, Utah, for mid-October as a mid-semester treat. "We'll float through the Canyonlands National Park on the Green River to the confluence of the Colorado River," he says. "It's all flat water, a very easy canoe trip. Lots of great hiking and ancient rock art and rock dwellings. It's a very magical place, a great place to slow down and reflect."
In late October, the class will meet with Ellen Meloy in Bluff, Utah, for two weeks of environmental writing in the "four corners area," the only point in the U.S. that is common to four states (Utah, Colorado, Arizona and New Mexico).
Published on Sep 22, 2004