"Moongate" Added to Whitman's Growing Collection of Outdoor Sculptures
WALLA WALLA, Wash.—A circular sculpture of burnished stainless steel by California artist Benbow Bullock is the newest addition to Whitman College's growing collection of outdoor sculpture.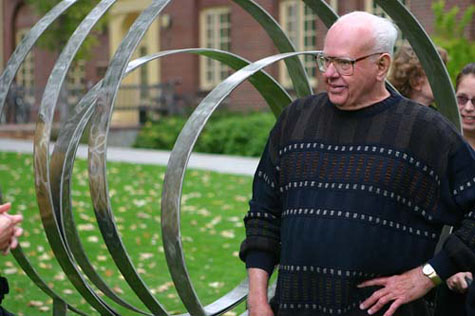 "Moongate" and its creator, who donated the piece to Whitman, were saluted in a dedication ceremony Saturday, Oct. 16, on Ankeny Field, in front of Lyman House, where the sculpture has been installed. "We welcome the Bullock family to campus and we accept with gratitude the gift of the Moongate sculpture. It's a great gift and we welcome it and you to the Whitman College family," said President Tom Cronin at the dedication, which was attended by Bullock and his wife and daughter. Also in attendance were Whitman alum John Peterson, '54, and his wife, Janet, friends of the sculptor and his family, and artist Micajah Bienvenu, '85, and his wife, Amy. Bienvenu, of Friday Harbor, Washington, is the sculptor of two recently acquired interactive outdoor sculptures; one sits in front of Harper Joy Theatre, and the other resides on the lawn between the Hall of Music and Hunter Conservatory.
"We are delighted to be here and delighted to have Moongate here," said Bullock, a graduate of Wesleyan College who majored in history and philosophy and enjoyed several careers, including one as an investment banker, before embarking 30 years ago on his current career as a sculptor.
In a talk to studio art majors on Friday, Bullock said "Sculpture is a tactile thing. A sculpture is a real object—take it as it is." Even, he added, if that means throwing a football through it. Bullock has a picture of himself entwined in the rings of the sculpture on his web site, artnut.com. A good part of the 75-year-old artist's talk to students revolved around the importance of maintaining a good website.
Bullock noted that to successfully show art on the Internet (which he said he believes is the wave of the future in showing art), the artist must provide a clear image of high resolution, make the page easily accessible and always have something on the site besides one's own art work that people are interested in accessing. Bullock's site, which he had projected on a screen for students to view, contains the "International Directory of Sculpture Parks." This listing of more than 500 sculpture gardens around the world includes the Whitman College campus.
At a reception following his talk, Bullock credited the kind of education he received at Wesleyan for his series of successful careers. "Wesleyan and colleges like it are where you learn to think. I majored in history and philosophy at Wesleyan, and for a time I was an investment banker. You know, you use the same creativity to close a financial deal as you do to make a sculpture."
CONTACT: Lenel Parish, Whitman College News Service, (509) 527-5156 Email: parishlj@whitman.edu
Published on Oct 21, 2004