Today is the 15th, and I think we need to review: On the 7th I was poisoned in Bergama. By the 8th, I was in Selcuk but was unaware that my internal organs were slowly dissolving. On the 9th I was photographing Ephesus and noticed that my innards were beginning to ooze from every obvious orifice. Not a pretty sight, but I am telling it like it was. With a schedule to keep, I cleaned up and moved on.
I finished my work in Selcuk (Ephesus) and on the 10th, drove to Pamukkale (about 3 hours) and learned more about Turkish driving traditions:
Question: how many lanes are there on a typical Turkish highway? Answer - depends on who is next to you. If it is you and a bus - you are on a two-lane road. If it is you, a tractor, and a Fiat - the road has become a three-lane highway. If it is you, a tractor, a Fiat, and there is a bus heading towards you while passing a fuel truck, the highway magically becomes a five-lane superhighway.
I should mention something here about "right of way." The Turkish have a clear understanding of who has the right of way where traffic is concerned. Big, fast, strong = "right of way." Small, slow, weak = "get out of way." Buses and trucks always have their way. Tractors, although big, are slow - so they must get out of the way of Fiats (same goes for horses and wagons). People are small, slow, and weak - they must always run when anything larger or faster charges them. When two vehicles of equal size and strength face off - he who knows where he is going and has determination always wins.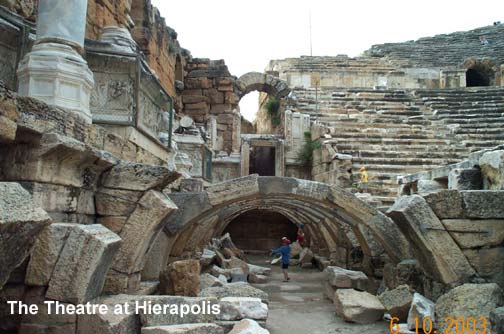 But, I digress. I arrived in Pamukkale, checked into my hotel (the Hotel Venus), was sick for a while, and I think I drove to Hieropolis and conducted research. I do not remember much about Hieropolis but I know I was there because I have several hundred photographs that someone took, and I vaguely remember seeing a camel.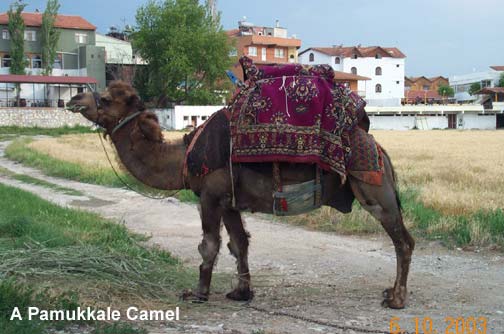 I returned to the hotel, took a cold bath, and became extremely ill - you name the symptom, I exhibited it. I drifted in and out of consciousness all evening and all night and the next day my kind host at the hotel offered to take me to the doctor and then drive me all the way to Kusadasi (about 4 hours). In a previous e-mail I recounted this kind act from Turkish strangers, and I am more than certain that it was the generous and appreciated gesture it appears to be. But, given that I have had a few days to reflect on the matter, let me try out another scenario: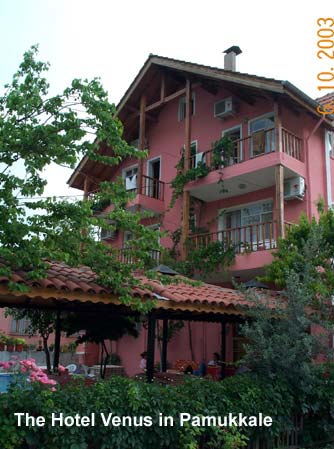 A small hotel whose business has been devastated by the Iraq war finally gets a customer - They are delighted to find that the customer is not only a rich professor, but also an American. Imagine the surprise when the rich American arrives and is obviously about to die. He will die in their hotel and what little business they had will completely vanish. What to do?
"Obviously we need to get him out of the hotel and as far away from Pamukkale as possible - someplace like Kusadasi. But what if he dies on route? We have no choice but to drive him - let us send our cousin Abraham, he is young and has no family of his own. If the diseased American infects him, he will be able to fight the illness and live." Being devout Muslims and unable to knowing harm a fellow human, they must first take the dying American to a doctor. Besides, Abraham said, "You aren't putting me in a car with a SARS victim for 4 hours - I want him checked out by the family doctor."

The doctor pronounced me well enough to go away and die elsewhere, so Abraham took me to Kusadasi and turned me over to the evil "Cruise Ship on Land" hotel.
The evil "Cruise Ship on Land" Hotel in Kusadasi: Imagine if you will, a hotel on the ocean designed and built by a corporation that studied the needs and wishes of tourists who take cruises. The corporation then proceeds to provide for the wishes of these fat tourists by using the cheapest methods possible. Cruise ship regulars apparently like copious amounts of food, many swimming pools, loud music, and big rooms.
"But, how can a hotel provide all these luxuries and still make money?" you ask.
1. They might consider designing an air-conditioning system that automatically shuts down when the tourists are at the feeding trough" (I am not making this up. The Air-conditioning system was timed to shut down each day from 11 to 2 and from 7 to 10).

2. They could make everything out of concrete, the walls, the floor, the furniture, (especially the mattresses).

3. They might consider hiring people to run the hotel who know nothing about hotels and give them no training. This way, if there is a problem, no one will waste time or money trying to find a solution. Example: "The air-conditioner in my room is not working. I am running a high fever and need cool air." Answer: "Maybe it is broken." Example 2: "I cannot eat your food, I am sick and need broth." Answer: "No broth, eat spicy lentil soup." Question: "I know you have watermelon, could I have watermelon?" Answer: "We only use watermelon to carve table decorations - nice statues of palm trees, Mickey Mouse and Bart Simpson - No watermelon for eating."

4. They could pump the smells of cooking food throughout the hotel - this brings the tourists out of their rooms so management can turn off their air-conditioners. They could pump loud music into the rooms to drive out those who remain so management can turn off their air-conditioners. And as a last resort, management can turn off the air-conditioners - this will drive out those who still refuse to leave.
I spent three nights at the "Grounded Cruise Ship Hotel." At one point I was hallucinating and thought, "I have died. - I have died and gone to Hell. My Hell is much worse than I could have possibly imagined - For eternity, I will be forced to exist in a 90 degree concrete room - I will be unable to open the windows because demons are forever grilling copious quantities of meat around the pools, and the smoke and nauseous smells permeate everything - I am separated from not only my family but from anyone who speaks English - there is no way to leave and I will be forever trapped in a foreign country surrounded by old, fat, hairy tourists who relish sunbathing in the nude. And, of course, I will be forever vomiting, sweating, and unable to eat."
I must credit the "Grand Tourist Buffet Hotel" for driving me out of my sickbed to do research however. Sick as I was, it was still preferable to drive to Greco/Roman theatres and photograph them than to stay at the hotel. During the three days at Kusadaisi, I photographed and researched Aphrodisias, Priene, and Miletus. I also got some shopping completed for gifts in the rare event that I should someday be allowed to return home.
On the third day, June 14, I was released from Hell. This was due, I am certain, to intervening prayers from Betty pleading for my soul. I drove to Izmir, returned my red Fiat, and flew to Istanbul and then flew to Antalya on Turkish Airlines (very nice, very well operated, and air-conditioned). Side note: I arranged my travel on Turkish Airlines in the States but did the actual purchasing of tickets in Istanbul. This saved me about 50 percent off the published airfare and was easy to do.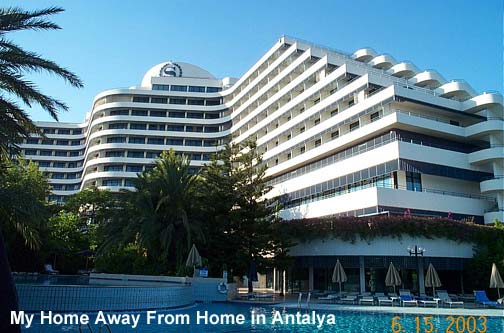 So, here it is the 15th of June. I am at a real hotel, the Sheraton Voyager in Antalya. I am now in Heaven - room service, soft music, opulent surroundings, young and hairless naked sunbathers, food that looks so good I wish I could eat it, and AIR-CONDITIONING on demand. My room is definitely a four star accommodation, and although the majority of the guests are still tourists, they are younger, more polite, and less fat.
Additional Note: For a fun as well as good website on other accomodations in Turkey, go to NewTravelAge.com.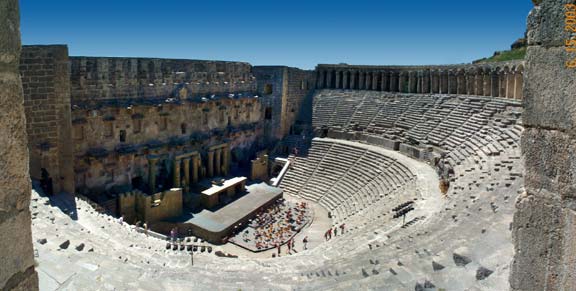 Today, the 15th, I drove to Aspendos and Side and photographed the theatres there (I now have a silver Fiat with a bigger engine). Verdi's Aida is currently performing at Aspendos as part of the Uluslararasi Opera Ve Bale Festivali, but the two performances were the night before I arrived and the night I depart so I will be unable to attend. I did manage to photograph their set however when I documented the theatre.
Tomorrow, I will drive to Perge and photograph my last theatre. When finised with Perge, I will have over 800 meg of photos (3000 or so). Since I have a wonderful computer in my room, I have been able to view, sort, and organize all the photographs taken to date - I am extremely pleased. This has been a very successful Trip.
Your still not up to full speed but working on it traveler,
Tom