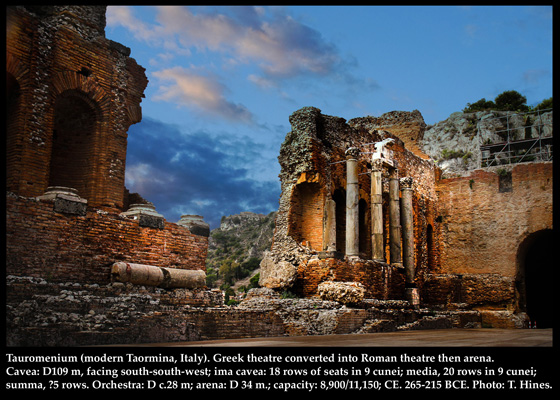 Location:

Modern Taormina, Sicily, Italy

Theatre Type:

Greco-Roman Theatre

Date of Construction:

265 BC

Renovation Dates:

Trajanic / Hadrianic period (98-138 AD), Turned into arena end 2nd/early 3rd cent. AD

GPS Coordinates::

37.85263, 15.29282 or N 37 51.158, E 15 17.569

Dimensions:

Cavea Width: 109 meters

Orchestra: Diameter 28 meters

Seating Capacity:

8,900 / 11,150

Architectural Drawings:
The Ancient theatre of Taormina ("Teatro antico di Taormina" in Italian) is an ancient Greek theatre in Taormina, southern Italy, built in the third century BCE. The ancient theatre (the teatro greco, or "Greek theatre") is built for the most part of brick, and is therefore probably of Roman date, though the plan and arrangement are in accordance with those of Greek, rather than Roman, theatres; whence it is supposed that the present structure was rebuilt upon the foundations of an older theatre of the Greek period.---- More...
Copyright © 2003 Thomas G. Hines, Department of Theatre, Whitman College. All Rights Reserved.

The Ancient Theatre Archive is a non-profit, educational project, located at Whitman College, USA. Research and Publication Partially Funded Through Grants from Whitman College, The United States Institute for Theatre Technology, The Benson Foundation, and The National Endowment for the Arts