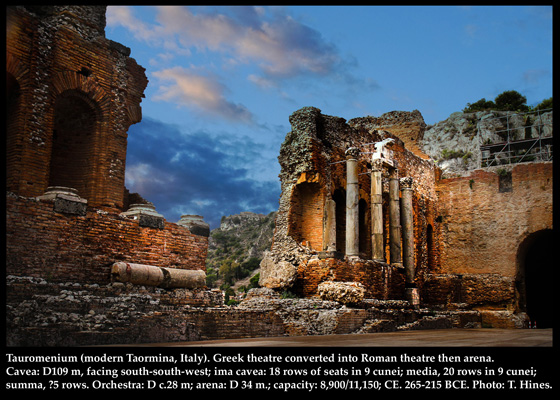 Location:

Modern Taormina, Sicily, Italy

Theatre Type:

Greco-Roman Theatre

Date of Construction:

3rd century BCE

Renovation Dates:

Greek theatre rebuilt in brick by Romans (27 BCE to 68 CE); Major Roman remodel: basilicas added, scene building remodeled, seating recut (98-138 CE); turned into arena for blood sports (end 2nd/early 3rd ct. CE)

GPS Coordinates::

37.85263, 15.29282 or N 37 51.158, E 15 17.569

Dimensions:

Cavea Width: 109 meters

Orchestra: Diameter 28 meters

Seating Capacity:

8,900 / 11,150

Architectural Drawings:
The original Greek theatre at Taormina was carved directly into the living rock of Mount Tauro in the 3rd century BCE. Little of this earlier theatre exists except for a few stone seats with 3rd century inscriptions and the remains of a Hellenistic sanctuary at the top of the cavea. The majority of the ruins we see today are the result of numerous Roman reconstructions and additions that began as early as the Trajanic/Hadrianic period, (98 to 138 CE), with additions in the 3rd century CE when the theatre was transformed into a gladiatorial arena.. .More...
Copyright © 2003 Thomas G. Hines, Department of Theatre, Whitman College. All Rights Reserved.

The Ancient Theatre Archive is a non-profit, educational project, located at Whitman College, USA. Research and Publication Partially Funded Through Grants from Whitman College, The United States Institute for Theatre Technology, The Benson Foundation, and The National Endowment for the Arts