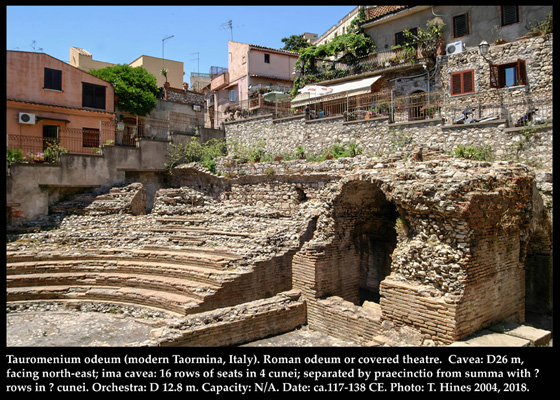 Location:

Modern Taurominia, Sicily, Italy

Theatre Type:

Roman Odeum

Date of Construction:

ca. 117 - 138 CE

Renovation Dates:

GPS Coordinates::

Dimensions:

Cavea Width:26 meters

Orchestra: Diameter 12.8 meters

Seating Capacity:

N/A

Architectural Drawings:
The Roman Odeum at Tauromenium (modernTauromina, Sicily, Italy). An odeum is a small theatre, but unlike the enormous Greek and Roman theatres, it was more intimate and was used for musical presentations, poetry readings, lectures, or debates. The Roman odeum gets its name from the Greek oideion (singing place). Many odea were roofed structures; they were built in two styles; buildings with rectangular outer walls like a bouleuteria (council house) or buildings with a curved cavea like a theatre; both used semicircular seating. Odea were generally smaller than theatres and it is not unusual to find the remains of one not far from its larger cousin: the odeum at Taurmenium is located 400 meters to the northwest of the city's 11,000 seat theatre and probably seated around 1,000...More...
Copyright © 2003 Thomas G. Hines, Department of Theatre, Whitman College. All Rights Reserved.

The Ancient Theatre Archive is a non-profit, educational project, located at Whitman College, USA. Research and Publication Partially Funded Through Grants from Whitman College, The United States Institute for Theatre Technology, The Benson Foundation, and The National Endowment for the Arts