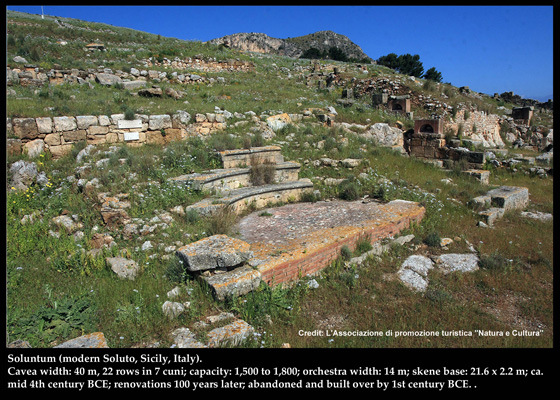 Location:

Modern Solunto, Sicily, Italy

Theatre Type:

Hellenistic Theatre

Date of Construction:

350. BCE

Renovation Dates:

RAlterations in 3rd century BCE. Abandoned and built over by 1st century CE.

GPS Coordinates::

Dimensions:

Cavea Width: 40 meters

Orchestra Diameter:10 meters

Seating Capacity:

1,800

Architectural Drawings:
The partially exposed ruins of Soluntum's small Hellenistic-Roman theatre are located 20 kilometers southeast of Parlermo on the coast of Sicily. The archaeological site is located high above the modern city of Solunto, Italy on the southeastern foothills of Mount Catalfano. The archaeological remains that have survived to this day are related to the 4th century BCE, Hellenistic-Roman city, which replaced the Phoenician settlement that dates back at least to the 7th century BCE. The Punic name of the town was simply Kapara, meaning "Village". The Greek name appears in surviving coins as Solontînos but appears variously in other sources as Solóeis, Soloûs, and Solountînos. More...
Copyright © 2020 Thomas G. Hines, Department of Theatre, Whitman College. All Rights Reserved.

The Ancient Theatre Archive is a non-profit, educational project, located at Whitman College, USA. Research and Publication Partially Funded Through Grants from Whitman College, The United States Institute for Theatre Technology, The Benson Foundation, and The National Endowment for the Arts