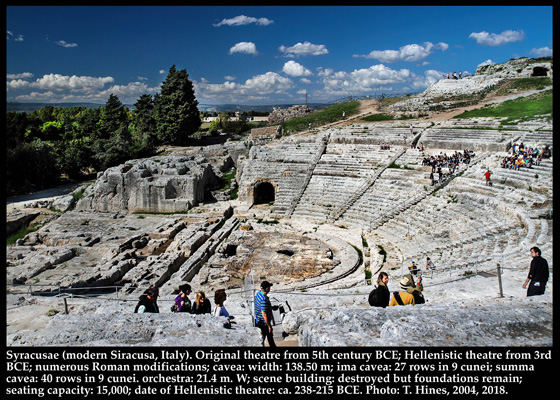 Location:

Modern Siracusa, Sicily, Italy

Theatre Type:

Hellenistic Theatre

Date of Construction:

238 - 215. BCE

Renovation Dates:

Replaced rectiliner, 5th century BCE theatre. Twice restored in Hellenistic period, new Roman stage build 2nd century CE., kolmbethra built 5th century CE.

GPS Coordinates::

Dimensions:

Cavea Width: 138.5 meters

Orchestra Diameter:21.4 meters

Seating Capacity:

15,000

Architectural Drawings:
Syracusae is home to both the oldest and the largest theatre in Sicily. It is fair to say, however, that they are not necessarily one in the same. The earliest theatre in Ancient Siracusae was not the enormous, 15,000 seat, conical theatre we see today. That distinction goes to a simpler, rectilinear theatre that probably seated 1000 spectators or less.nn More...
Copyright © 2020 Thomas G. Hines, Department of Theatre, Whitman College. All Rights Reserved.

The Ancient Theatre Archive is a non-profit, educational project, located at Whitman College, USA. Research and Publication Partially Funded Through Grants from Whitman College, The United States Institute for Theatre Technology, The Benson Foundation, and The National Endowment for the Arts