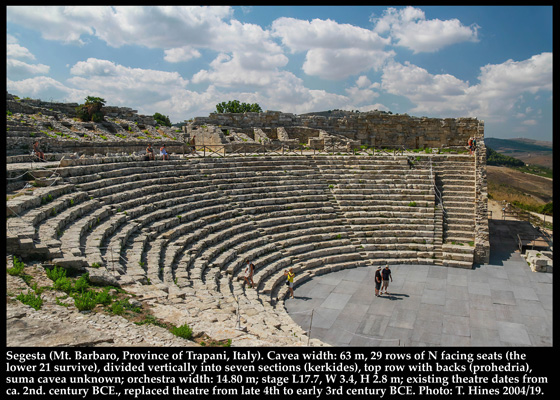 Location:

Mt. Barbaro, Province of Trapani, Sicily, Italy)

Theatre Type:

Greco-Roman Theatre

Date of Construction:

late 4th to early 3rd.centuries BCE

Renovation Dates:

Renovations in 1 c. BCE

GPS Coordinates::

Dimensions:

Cavea Width: 50.6 meters

Orchestra Diameter:16.7 meters

Seating Capacity:

4000

Architectural Drawings:
The Segesta theatre, nestling in the side of Mt. Barbaro, today commands a spectacular view of the Gulf of Castellamare. First built in the late 4th to early 3rd century BCE, the theatre as it is seen today dates to the 2nd century BCE. Originally it had 29 rows of seats (the lower 21 survive) divided vertically into seven sections (kerkides) by access steps. The capacity would, therefore, have been around 4,000 spectators. The theatre is supported by a containing wall (analemmata) constructed of limestone blocks. The orchestra, scene building (once decorated with scenes connected to the pastoral god Pan), and entrances (paradoi) on either side have been lost. The theatre continues to host theatre events and Greek dramas throughout the summer months. ,,,,,,More...
Copyright © 2020 Thomas G. Hines, Department of Theatre, Whitman College. All Rights Reserved.

The Ancient Theatre Archive is a non-profit, educational project, located at Whitman College, USA. Research and Publication Partially Funded Through Grants from Whitman College, The United States Institute for Theatre Technology, The Benson Foundation, and The National Endowment for the Arts