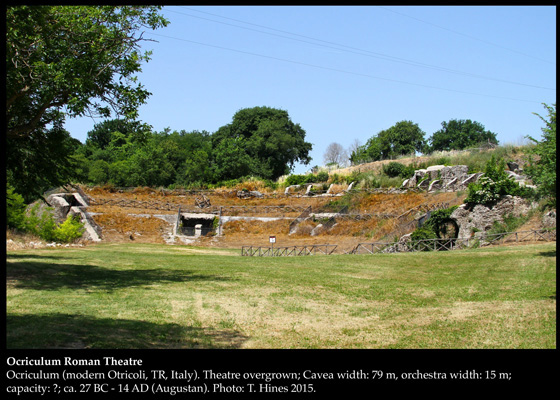 | | |
| --- | --- |
| Location | Otricoli, Italy |
| GPS Coordinates | |
| Theatre Type: | Roman Theatre |
| Date of Construction: | Augustan, 27 BCE - 14 CE |
| Dimensions: | cavea width 79m, orchestra diameter 15m |
| Seating Capacity: | |
| Architectural Drawings: | Plan View |
The Roman Theatre at Oriculum

The roman theatre leans with its back on the slope of the hill, while an artificial levelling supported by substructures now hidden was set before the cavea (stands): one of these, very imposing, decorated with niches on the front, remains on the Tiber's side.

The level ground hides the underground shaft in which the S. Vittore brook flows, coming out openly downhill near the aforesaid substructure. The cavea is 79 m. in diameter, 'it uses the ground behind, only partly leaning on it, and on both ends is built with substructure-rooms, three on the left, one on the right; it is divided in three parts, summa (highest part), media (middle) and ima (lowest). More....
Copyright © 2003 Thomas G. Hines, Department of Theatre, Whitman College. All Rights Reserved. The Ancient Theatre Archive is a non-profit, educational project, located at Whitman College, USA. Research and Publication Partially Funded Through Grants from Whitman College, The United States Institute for Theatre Technology, The Benson Foundation, and The National Endowment for the Humanities.