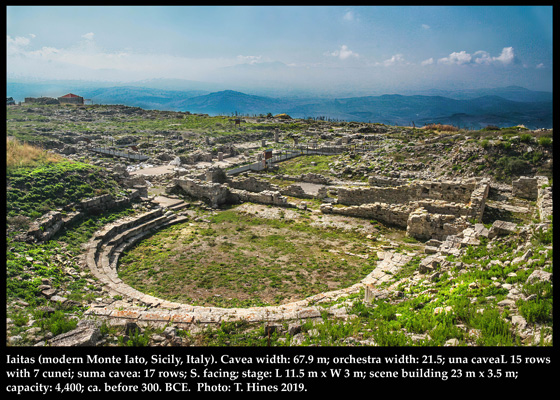 Location:

Modern San Giuseppe Jato, Iato, (Sicilian: San Giuseppi), Sicily, Italy

Theatre Type:

Hellenistic Theatre

Date of Construction:

320. BCE

Renovation Dates:

GPS Coordinates::

Dimensions:

Cavea Width: 67.9 meters

Orchestra Diameter:21.5 meters

Seating Capacity:

4,400

Architectural Drawings:
The Hellenistic Theatre at Iaitas (modern San Giuseppe Jato, Iato, (Sicilian: San Giuseppi)
Ancient Iaitas (which has also gone by the name of Iato, Ietas, Iaeta, Jetae, Giato and Jato) may not be the most impressive or temple-rich archaeological site in Sicily, but it must rank as the most spectacularly positioned and the most panoramic. Perched atop its own mountain at a height of 850m, Iato's immense vistas fan out in all directions taking in Lake Poma and the Gulf of Castellammare to the north and vast swathes of the Sicilian countryside to the south, east, and west. A major feature of the abandoned city is the weathered remnants of a Greek theatre from the 4th century BCE.-More...
Copyright © 2019 Thomas G. Hines, Department of Theatre, Whitman College. All Rights Reserved.

The Ancient Theatre Archive is a non-profit, educational project, located at Whitman College, USA. Research and Publication Partially Funded Through Grants from Whitman College, The United States Institute for Theatre Technology, The Benson Foundation, and The National Endowment for the Arts