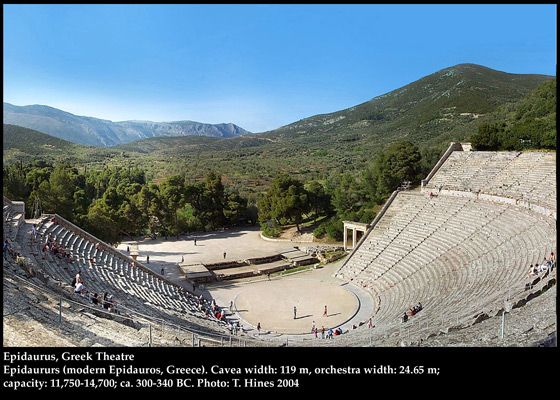 Location:

Epidauros, Greece;

32 km E of Nafplion; 63 km S of Corinth

Theatre Type:

Greek Theatre

Date of Construction:

ca. 300-340 BC.

Renovation Dates:

ca. 150 BC , 1907, 1954 - 1963

Excavations:

1879 - 1926, 1954 - 1963

Dimensions:

cavea width 119 m, orchestra diameter 24.65 m

Seating Capacity:

11,750-14,700

Architectural Drawings:
The Epidaurians have a theatre within the sanctuary, in my opinion very well worth seeing. For while the Roman theatres are far superior to those anywhere else in their splendor, and the Arcadian theater at Megalopolis is unequalled for size, what architect could seriously rival Polycleitus in symmetry and beauty? For it was Polycleitus who built both this theatre and the circular building. (Pausanias 113) -
On the west side of Mt. Kynortion in northeastern Peloponnesus is the Theatre at Epidaurus. In antiquity, the theatre was admired for its excellent acoustics, symmetry and beauty. More....
Copyright © 2003 Thomas G. Hines, Department of Theatre, Whitman College. All Rights Reserved.

The Ancient Theatre Archive is a non-profit, educational project, located at Whitman College, USA. Research and Publication Partially Funded Through Grants from Whitman College, The United States Institute for Theatre Technology, and The National Endowment for the Humanities.