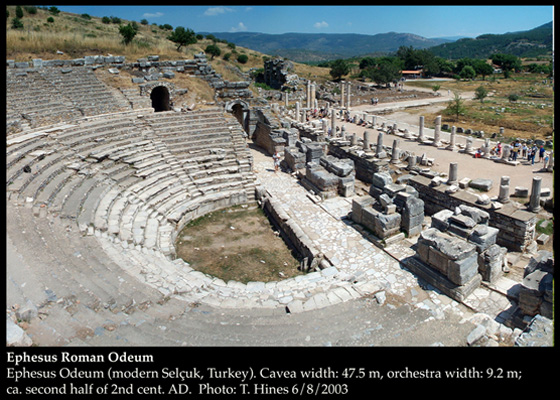 Location:

Modern Selçuk, Turkey)

Theatre Type:

Roman Odeum

Date of Construction:

Second half of 2nd cent. AE

Renovation Dates:

GPS Coordinates:

Dimensions:

Cavea Width: 47.5 meters

Orchestra: Diameter 9.2 meters

Seating Capacity:

1500

Architectural Drawings:
The Roman Odeum at Ephesus, Turkey: There are two theatre structures at Ephesus, the Great Theatre and the smaller Odeum (Bouleuterion). An inscription tells us that the theatre was commissioned around 150 AD by the wealthy benefactor Publius Vedius Antoninus and his wife Flavia Papiane. The building is located at the northern edge of the State Agora in close proximity to the Pryteneion (the town hall), and has been interpreted both as a city council chamber (Bouleuterion) and as a small concert hall (Odeum). The structure, which resembles a small theatre, most likely served both functions. ....More...
Copyright © 2003 Thomas G. Hines, Department of Theatre, Whitman College. All Rights Reserved.

The Ancient Theatre Archive is a non-profit, educational project, located at Whitman College, USA. Research and Publication Partially Funded Through Grants from Whitman College, The United States Institute for Theatre Technology, The Benson Foundation, and The National Endowment for the Arts