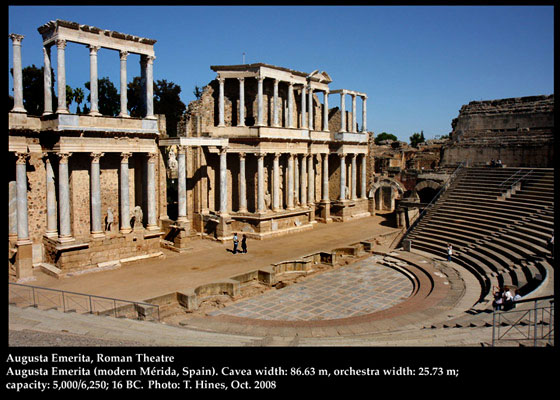 Location:

Spain (Lusitania)

Theatre Type:

Roman Theatre

Date of Construction:

16 BC

Renovation Dates:

GPS Coordinates:

Dimensions:

Cavea Width: 86.63 meters

Orchestra: Diameter 25.73 meters

Seating Capacity:

5,000 / 6,250

Architectural Drawings:
The Roman Theatre of Mérida is a construction promoted by the consul Vipsanius Agrippa in the Roman city of Emerita Augusta, capital of Lusitania (current Mérida, Spain). It was constructed in the years 16 to 15 BCE.The theater has undergone several renovations, notably at the end of the 1st century or early 2nd century BC (possibly during the reign of Emperor Trajan), when the current facade of the scaenae frons was erected, and another in the time of Constantine I (between 330 and 340) which introduced new decorative-architectural elements and a walkway around the monument. Following the theatre's abandonment in Late Antiquity, it was slowly covered with earth, with only the upper tiers of seats (summa cavea) remaining visible. In local folklore the site was referred to as "The Seven Chairs", where, according to tradition, several Moorish kings sat to decide the fate of the city. More...
Copyright © 2003 Thomas G. Hines, Department of Theatre, Whitman College. All Rights Reserved.

The Ancient Theatre Archive is a non-profit, educational project, located at Whitman College, USA. Research and Publication Partially Funded Through Grants from Whitman College, The United States Institute for Theatre Technology, The Benson Foundation, and The National Endowment for the Arts