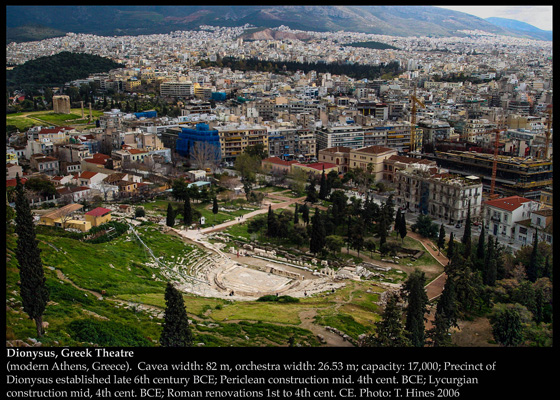 Location
Athens, Greece

GPS Coordinates

Theatre Type:

Greek Theatre

Date of Construction:

Orchestra, early 5th cent., Periclean
construction late 5th cent., Lycurgian construction mid 4th cent. BC, Neronian renovatons mid 1st cent. CE
Dimensions:

Cavea Width: 82 meters
Orchestra: Diameter 26.53 meters

Seating Capacity:

17,000

Architectural Drawings:
If Western Theatre architecture had a holy shrine, the theatre of Dionysos in Athens would be worthy of the title. This ancient theatre on the southern slope of the Acropolis was the home base for Sophocles, Aeschylus, Euripides, and Aristophanes, and embedded within the excavation ruins is the history of Greek and Roman theatre construction.
The Theatre was renovated many times during the course of its 2500-year history. During the Greek period, the constructions reflected the development of Greek drama. Changes made during the Roman period reflected Roman style and the gradual shift from scenic plays to circus games. The ruins we see today are little more than a shadow of a memory but bear witness to the development of Western Drama.
Copyright © 2003 Thomas G. Hines, Department of Theatre, Whitman College. All Rights Reserved. The Ancient Theatre Archive is a non-profit, educational project, located at Whitman College, USA. Research and Publication Partially Funded Through Grants from Whitman College, The United States Institute for Theatre Technology, The Benson Foundation, and The National Endowment for the Humanities.