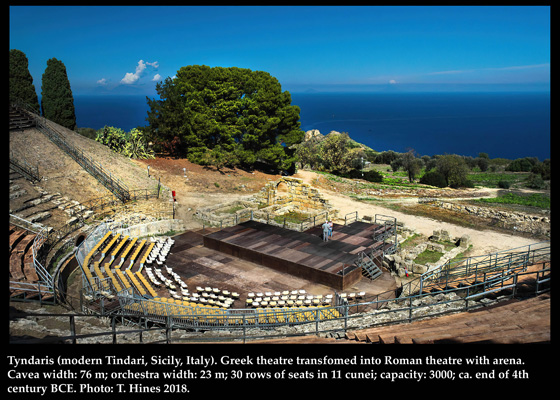 Location:

Modern Tindari, Province of Messina, Sicily, Italy

Theatre Type:

Greek Theatre with Roman Additions

Date of Construction:

4th c. BCE

Renovation Dates:

Roman renovations after 1st c. CE

GPS Coordinates::

Dimensions:

Cavea Width: 76 meters

Orchestra Diameter: 23 meters

Seating Capacity:

Architectural Drawings:
The Ancient Theater at Tyndaris (modern Tindari), Province of Messina, Sicily, Italy. The ruins of the ancient city of Tyndaris can be found on a spectacularly sited promontory, 180 meters above the bay of the Tyrrhenian Sea on the northern coast of Sicily. The city was founded in 396 BCE by the Greeks as a colony for exiles of Messenia, who had been forced out of the Peloponnesian Peninsula. With its location on a rock-face, high above the sea, Tyndaris was an almost impenetrable fortress. The site is 59 km from modern Messina (ancient Messana) and is bounded by the Punta di Milazzo on the east, and the Capo Calavà on the west. Visitors to the site will find the excavated ruins of a 3,000 seat Roman theatre that was built upon the foundations of a Greek theatre dating from the 4th century BCE. - More...
Copyright © 2019 Thomas G. Hines, Department of Theatre, Whitman College. All Rights Reserved.

The Ancient Theatre Archive is a non-profit, educational project, located at Whitman College, USA. Research and Publication Partially Funded Through Grants from Whitman College, The United States Institute for Theatre Technology, The Benson Foundation, and The National Endowment for the Arts