The Buddy Program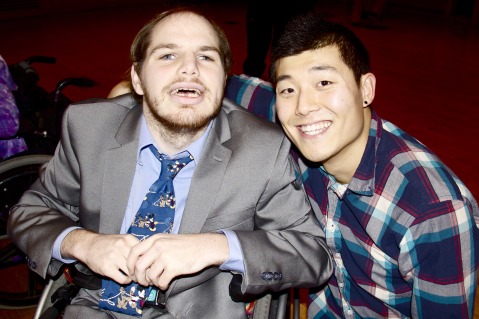 About
Since 2010, the Buddy Program has been connecting Whitman students and adults with intellectually and developmental disabilities in the Walla Walla community. Whitman students meet with their community buddies twice a month on Friday afternoons to take part in a variety of organized activities, including dances, movie nights, arts-and-crafts projects, bowling, and much more. Through these structured interactions, in addition to student-initiated interactions, Whitman students are able to form fun and meaningful one-to-one relationships with their buddies.
You can contact us by calling the Student Engagement Center (527-5183), or by emailing the Buddy Program intern at buddyprogram@whitman.edu.
You can also read the most recent news about the Buddy Program Here.
Frequently Asked Questions
How often do students meet with their buddies?
Students meet with their community buddies twice a month on Friday afternoons for approximately an hour to an hour-and-a-half. During the weeks that the Buddy Program does not have planned programs, students are asked to contact their community buddies by phone, text, Facebook, or in-person to chat and catch up.

What are some things that students do with their buddies?
Bowling, arts-and-crafts, movie nights, walks around Walla Walla, and special olympics are just some of the things that the Buddy Program puts on for students for students and their buddies. Outside of structured time, students will often get together with their buddies to get coffee, go to the park and Humane Society, and just hang out and have fun!
How can I apply to be a Whitman buddy?
Applications for The Buddy Program become available in September, which you can fill out online. Depending on the number of Whitman buddies studying abroad for the spring semester, it is often possible to become a buddy starting in January.
What is my commitment to my buddy?
As a Whitman buddy you are required to meet with your buddy twice a month at The Buddy Program events. Additionally, you will make contact with your buddy on two other separate occasions throughout the month. These contacts can include emails, phone calls, facebook chats, letters, in-person outings, etc. Just as with any other friendship, your relationship with your buddy will become deep and lasting as a result of consistent contacts and "friend dates".
How will I be matched with my buddy?
You will be matched with your buddy based on your responses to the matching survey portion of the online application. We try our best to take into consideration other factors such as location of the community buddy in proximity to campus and your individual schedule.
I am studying abroad in the spring, can I be a buddy for only one semester?
While it is preferable that you stick with your buddy for a full year, we do understand that studying abroad is a valuable aspect of the Whitman experience. If you are studying abroad your buddy will be reassigned to a new buddy the following semester. Although you will no longer be on campus, you are strongly encouraged to stay in contact via email/phone/facebook if possible.
What should I do if I can't make it to a Buddy Program event?
Please contact The Buddy Program intern (buddyproject@whitman.edu) at least 72 hours prior to the event. Additionally, make contact with your buddy to inform him/her that you will not be present also three days before the event.