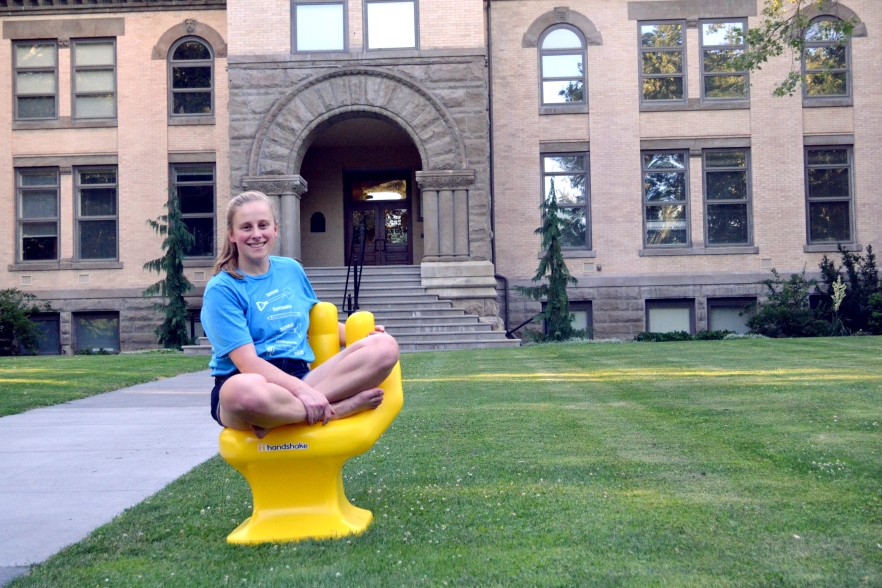 Who We Are
We strive to connect the Whitman College community with meaningful service experiences that encourage volunteers to share their talents, explore their interests, respond to community needs, and become active citizens.
Giving to Community Service
If you believe in our mission and would like to help support our programs, you can give a gift using Whitman's online gift form.
Events & Trips
In addition to our weekly volunteer opportunities, we organize annual events, also led by students. Reach out to the community service program leader organizing the event or trip you are interested in by finding them on our About the Staff page. You can also contact us by calling the Student Engagement Center at (509) 527-5183 or emailing servicetrips@whitman.edu or serviceevents@whitman.edu.
About
Adopt-A-Family works with two local non-profits, Blue Mountain Heart to Heart and the Health Center, to pair groups with families for care packages during the holiday season. All families who qualify for the program live at or below the poverty level.
Steps to Participate
1. Collect money
Find a group of people from your residence hall, office, department, club, Greek group, sports team, etc. to commit to adopting a family and ask your group to donate whatever they can towards making your adopted family's holiday season a bit brighter. To decide what size family your group can afford, figure on $30 per family member ($10 for a food certificate and $20 for gifts). Therefore, you should budget $150 for a family of five.
2. Contact us for a match
After collecting your money and deciding on your family's size, contact Community Service by December 1st at 509.527.5765 or communityservice@whitman.edu to receive your family's information sheet and wish lists.
3. Go shopping
Once you have your information sheet, you can purchase your grocery store gift certificate. We prefer Super One and Grocery Outlet on 9th Street, but you can pick any grocery store in town. Put the certificate in an unsealed envelope and clearly print your family's number on the outside. Place the envelope in the Gift Cards collection manila envelope at the drop-off site. Shop for gifts at stores you think are appropriate for your family. If you get stuck for ideas, remember gift certificates are great for adults and teenagers. Also, you can attach gift receipts to items you are unsure about.
4. Label gifts
Put gifts for each family member in an individual plastic grocery bag and clearly label the bag with the recipient's first name and the family's number. Please do not tie the bag closed too tightly since we'll need to take a peek! Put the bags together in a single container (bag or box) with the family's number clearly marked on the outside. Do not wrap gifts before delivering them. You may include gift bags or wrapping paper if you'd like. All items will be checked and wrapped by Community Service staff and other volunteers.
5. Deliver gifts
The drop-off location is Reid G02.
When you sign up for the Give 20 Challenge, you agree to devote 20 hours in a semester to serving the community. There is no penalty if you do not complete the 20 hours, but we will encourage you with reminders to keep you on track and celebrate your accomplishment if you meet your goal. You might volunteer weekly at one organization, participate in the multitude of volunteer opportunities available through the Student Engagement Center and the Community Service House, or complete one or two full-day shifts of volunteer work. If you already participate in one or more of the community service programs offered at Whitman, the Give 20 Challenge is easy!
Email communityservice@whitman.edu or sign up at the Student Activities Fair to participate.
To keep track of volunteer hours, fill out the Volunteer Hour Tracker and send it to communityservice@whitman.edu at the end of the semester.
About
Make-A-Difference Day is a national event. Each fall Whitman College partners with the Walla Walla community to support service projects for the day. We encourage groups and individuals to sign up to serve on a project. For more information, email communityservice@whitman.edu.
Past Participants' Reflections
"Domestic violence and sexual violence is an issue that is close to home for me, and I feel so humbled and empowered to spread the message in my Walla Walla community."
"The best part of my morning was... being able to be part of something bigger than myself."
"... the elderly woman whose house we improved really benefited from the time we spent there."
"The best part of my morning was... seeing everyone's smiling faces as they served."
About SCORE
Explore Walla Walla before classes start with a Summer Community OutReach Excursion (SCORE) trip! In addition to working with great non-profits and community organizations in town, you'll also see some beautiful sunsets, have a picnic dinner in the wheat fields (a Whitman must), eat the legendary Walla Walla burrito, get to know parks in town, and more, all before other first-years arrive.
The excursions are student-led pre-orientation trips that allow incoming students to contribute to community service projects in the Walla Walla Valley and get to know their fellow teammates through hard work and lots of fun. SCORE participants volunteer at a project each day and go on field trips to non-profits to gain an understanding of the social issues that affect our community. Evening activities provide opportunities for fun and reflection for the new students and leaders. Students are housed at nearby churches and cook most meals together.
Past Participant Reflections
"SCORE was an incredible experience that allowed me to question my own opinions and make new and informed ones. [...] The week was filled with laughter and new understanding." Kate Whittingham, '18
"Having done both [SCORE and Scrambles], I can honestly say that they are equally beneficial to you if you want something pre-orientation. I now have a strong base of friends whom I trust and like." Dan Lovato, '18
"SCORE was an incredible experience that gave me the opportunity to meet new people, explore Walla Walla and learn about various organizations." Lexi Davirro, '18
Engaging students in service beyond Whitman.
About
Spring Break Service Trips are week-long volunteer trips that allow Whitman students to focus on a particular social issue outside of the Walla Walla community. Participants volunteer with a primary social organization throughout the week, in addition to working with other non-profits. Students also have a chance to explore the area they visit. The groups often cook most meals together while housed in local churches.
Destinations
Trip destinations and themes vary from year to year. The spring 2018 locations are Walla Walla, WA, and the Confederated Tribes of the Umatilla Indian Reservation.
Forms
To learn more, download the SBST FAQ sheet here. There are still a few spots left for the spring 2018 trips--click here to apply.
Past Participant Reflections
"Occasionally a person gets to do something that they can remember as monumental, life-changing, revolutionary, and this has been one of those moments. My service trip to New Orleans has been far more than I ever expected, and something I will not soon forget." Nelson Falkenberg '14