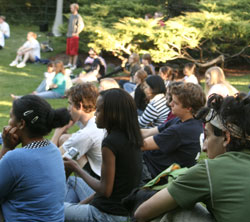 The primary components of the philosophy of Student Affairs include providing excellent services for students, encouraging community development, involving students in life beyond the classroom, and providing leadership opportunities, all in an environment characterized by support and challenge.
Click the links below for more information about the services offered to Whitman students.
Academic Support

The Academic Resource Center (ARC) is the place to go to for academic support, including personalized guidance in study skills, schedule planning, goal definition, concentration, motivation, and test preparation.

Bookstore

The Whitman College Bookstore offers an expansive selection of items, including textbooks, dorm supplies, clothing, and other college essentials.

Community Service

The Community Service office connects the Whitman College community with volunteer opportunities in Walla Walla.

Counseling Center

Personal and psychological counseling by professionally trained counselors is available to all students at no charge.

Health Center

Welty Student Health Center is open 24/7, except during school breaks. Clinic services are offered on a walk-in basis, with nurse triage prior to seeing physician. Emergent Care takes priority.

Intercultural Center

The Intercultural Center works to strengthen Whitman's intercultural community and ensure a positive Whitman experience for those from historically under-represented backgrounds.

Outdoor Program

The Outdoor Program fosters personal growth, facilitates learning and creates recreational opportunities through skills and risk management training, leadership development, and environmentally sound trips in a supportive community.

Campus Post Office

The campus post office is the hub for incoming campus mail and outgoing non-bulk mail from the campus community. This is the home of all student mailboxes.

Reid Campus Center

The Reid Campus Center is where you'll find the campus post office, the Outdoor Program rental shop, the Student Engagement Center, and more.

Residence Life

The residence life program at Whitman College depends upon student involvement at many levels in an attempt to enhance the classroom experience and bring what is learned there to life.

Security

The Office of Security plays an important role in ensuring the safety of students, faculty and staff members, and visitors to campus.

Sober @ Whitman

This group meets weekly on campus to support each other in sobriety.