Delta Gamma
Whitman College
Walla Walla, WA 99362
Faculty Advisor
Barry Balof,
Assistant Professor of Mathemetics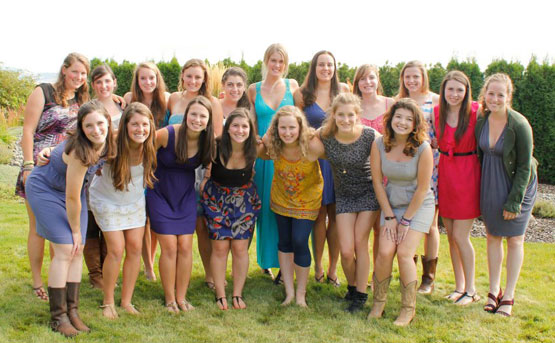 Alpha Eta members exemplify Delta Gamma's motto of "Do Good" in all aspects of collegiate life. To support Service for Sight, our national philanthropy that aids the visually impaired, our members hold fundraising events like leaf raking in the fall. We also sponsor the Varsity Nordic 24-Hour Show and solicit donations to help fund Walla Walla's effort to install audible crosswalks throughout the city. In addition to these special events, we frequently volunteer at the local senior citizen's home, participate in highway clean ups and stream restorations, tutor and volunteer at local schools and daycares and participate in Habitat for Humanity events.
As Delta Gammas at Whitman College, we also pride ourselves on our dedication to scholarship and academic excellence. At least one member is represented in each discipline and DGs are well respected and successful within their individual fields. In 2009, Alpha Eta boasted an impressive average GPA of 3.37.
In addition to volunteering, our members are highly involved in campus life and excel in the organizations, groups, clubs and activities in which they participate. Many members hold leadership positions within their respective extra-curricular groups as well. Our members are involved in student government, a capella groups, the Whitman newspaper, varsity, club and intramural athletics, campus organizations such as Campus Climate Challenge, Young Democrats, Whitman Investment Club and Whitman Christian Fellowship, dance teams, instrumental music groups and theatre, just to name a few.
Quick facts
National organization founded: 1873
Place founded: Lewis School for Girls
Whitman chapter founded: 1916
Colors: Bronze, pink and blue
Nickname: DGs
Symbol: Anchor
Flower: Cream rose
Chapter Grade Point Average:
Fall 2013: 3.530
Spring 2013: 3.544
Fall 2012: 3.467
Spring 2012: 3.464
Fall 2011: 3.510
Spring 2011: 3.487