Alpha Phi's are members of a lifelong sisterhood: a woman's fraternity. In Alpha Phi you will find your place whether you are a leader, scholar, athlete, performer, or more. Alpha Phi is a wonderful group of women with the aim to grow and succeed. In Alpha Phi there is encouragement, understanding, and opportunities that will last a lifetime. You will find that your Alpha Phi friendships develop into lifelong connections.
As members of Alpha Phi, women have opportunities to get involved in chapter leadership from the moment they join. From committees in each of Alpha Phi's programming areas to holding an elected office, there are many ways for new members to get involved. Alpha Phi's are also involved in many on-campus and off-campus clubs and activities. From campus executive boards to local non-profits, we can be seen making a difference on our campus and in our community. Our members are proud to be involved in many groups on campus, including, but not limited to, student government, varsity and club athletics, a capella groups, and more!
Our philanthropic efforts focus on our fraternity's international cause, The Alpha Phi Foundation, which raises awareness and funds research for the No. 1 killer of women in North America - heart disease. The Alpha Phi Foundation empowers women to be generous givers. It raises and awards funds for programs that improve women's heart health, advance leadership development, encourage academic excellence, support sisters in need and educate about the value of philanthropy. Our chapter hosts a Red Dress Gala event every year to raise money for the Alpha Phi Foundation.
We look forward to meeting you and telling you more about our sisterhood!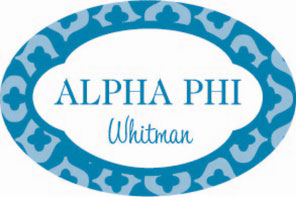 Quick facts: Chapter Grade Point
Average:
National orgainzation founded: 1872 Fall 2013: 3.341
Place founded: Syracuse University Spring 2013: 3.451
Whitman chapter founded: 2011 Fall 2012: 3.341
Colors: Silver and Bordeaux Spring 2012: 3.381
Nickname: A-Phis Fall 2011: 3.284
Symbol: Ive Leaf
Flower: Lily of the Valley

Faculty Advisor:
Bob Carson
Professor of Geology & Env. Studies