In This Issue:
Whitman News
Support the Parents Fund
Send a Care Package
Events
Fall Semester Schedule
New Transcript Delivery Services
Parting Shot
Connect Online:
Events for Parents/Alumni
Student Engagement Center
Change My Address
Whitman Magazine Online
Athletics
Campus Events
---
Your support for Whitman makes a difference.

---

Visit the new web site for the Campus Bookstore.
---

Want to mail or ship something to your favorite student?
---

---
Whitman News
Pioneer website wins "Best in Show"
In addition, two students received individual reporting awards for articles published this year in The Pioneer.
Read more.
Whitman's Community Fellows Program gives students chance to learn outside the classroom
The program increases experiential learning opportunities, provides a pool of skilled, creative and eager students to fill much-needed positions at public agencies and nonprofits that might not otherwise be able to afford to hire employees due to the current economic climate.
Read more.
The Face of a Movement – Cosmetic giant L'Oreal names Whitman student a "Woman of Worth Honoree" for 2012
Sarah Cronk '15, the former cheerleader from the small town of Bettendorf, Iowa, who as a teenager started the non-profit The Sparkle Effect.
Read More.
First Person: Making a Difference
The annual Make A Difference Day effort is a "national day of doing good," according to the project's website. That day, my fellow Whitties and I were among the more than three million volunteers across the country who leant a hand in our communities.
Read more.
Alumni offer career advice through "Real Talk" sessions
When it comes to choosing a major or exploring a career path, Whitman students have access to a broad range of resources. But nothing quite compares to the real thing: face-to-face conversations with working professionals.
Read more.
Visit the Newsroom.
---
Support the Parents Fund



Make a gift to the Student Engagement Center to help students develop skills that both connect with their liberal arts education and prepare them for life after graduation. To learn more about the Student Engagement Center, click here.
You may make a gift online at whitman.edu/give
---
Send Your Student a Care Package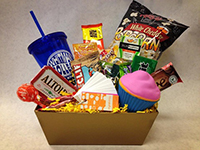 Send your student emotional support and encouragement during finals week with a care package from the Whitman College Bookstore! The Finals Gift Basket is avialable for $35 and can be purchased online.





---
Events
Whitman Basketball in Portland • Portland, OR
January 4, 2013 • 6:00 p.m. • Lewis and Clark College, Pamplin Sports Center
6:00 pm Women's start time and 8:00 pm Men's start time
Read more and RSVP online.

"But I was dead, an hour or more:" Underworld Journeys in British Poetry of the First World War • Portland, OR
January 26, 2013 • 3:00 p.m. • Hilton Portland & Executive Tower, Broadway Rooms
A lecture on Classical Greek and Roman literature by Elizabeth Vandiver, Clement Biddle Penrose Associate Professor of Latin and Classics and the Chair of the Department of Classics at Whitman College.
Read more and RSVP online.


TRIP: Colonial America and the Revolutionary War with David F. Schmitz, Robert Allen Skotheim chair of history • Boston, New York, and Philadelphia
May 20-31, 2013
Join Professor Schmitz on this in-depth study of colonial America, the events leading to the revolution, and the beginnings of the concept of American nationalism.
For details and full itinerary, download the pdf brochure and registration form at Revolutionary War brochure.

---
Fall Semester Schedule
Whitman Schedule

December 7, Friday


Last day of classes, fall semester. Honors theses due in library for December '12 candidates.
December 10-14


Final Examination Period.
December 14, Friday


Fall semester ends. All residence halls close at noon Saturday, December 15.
January 13, Sunday


Residence halls open at 9 a.m. for returning students.
January 14, Monday


Spring semester classes begin.
January 21, Monday


Martin Luther King, Jr. Day; no classes.
---
New Transcript Delivery Services
In partnership with SCRIP-SAFE International, Whitman College has added Transcripts on Demand, an online request service (paper or electronic), and eSCRIP-SAFE, an official electronic transcript delivery service, as resources for alumni and students. See the Registrar's Office web page for complete information, including how to order.

Read more at http://www.whitman.edu/content/registrar/transcripts


---
Parting Shot
Parting Shot by Greg Lehman, Whitman photographer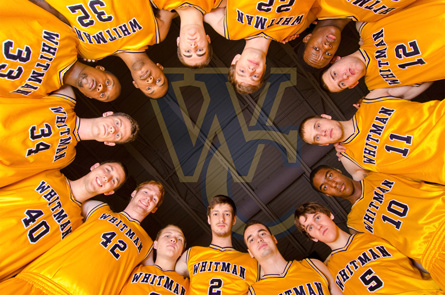 Whitman's men's basketball team huddled during a photo session last week. The men's and women's teams get underway with their seasons.
View full size.
---