---
Presidential Installation
All parents, family members and friends are invited to the Installation ceremony for Dr. Kathleen M. Murray, Whitman's 14th president, at 4:00 p.m. on September 18, 2015.

Dr. Murray is a passionate advocate of the liberal arts and the residential learning experience, and she believes that her undergraduate years in such a setting developed her potential as a scholar and artist, laying the foundation for her rewarding career and life. For more information and to RSVP for the ceremony and events throughout the weekend, go to www.whitman.edu/installation.

Can't make it back to Walla Walla for this historic event? Send your welcoming messages to President Murray using the hashtag #BigWhitmanWelcome! Post your video, photo or text on Facebook, Twitter or Instagram using the hashtag. Visit the installation multimedia page to see how the Whitman community welcomes our 14th President!


---
Whitman News
Remembering Thomas Zbyszewski, Fallen Firefighter
Whitman student, Thomas Zbyszewski, was one of the three firefighters who died in the line of duty while serving on a five-person Forest Service engine crew battling the Twisp Fire in Okanogan County, near his hometown of Carlton, Washington.
Read the tributes.


The Class of 2019 moves in

Move-in day for incoming first-year students took place on August 27, with new Whitties, their parents, and staff and faculty members criss-crossing campus to help Whitman's newest students settle into their college lives.
Here's a visual look at move-in day and the Class of 2019.


Whitman College to host sculpture by internationally renowned artist and activist

The piece, "Refraction," is a large, stainless steel sculpture created to simulate a bird's wing. It is 30 feet long by 12 feet wide and weighs six tons. It's made of Tibetan solar-reflective panels and is a commentary on freedom.
Read more.


---
Save the date for Family Weekend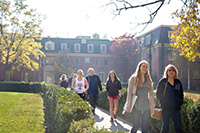 Whitman College's Family Weekend 2015 will begin 3:00 pm Friday, October 23 and will end Sunday, October 25.

Please note: All Family Weekend events are completely optional.
There are no required events. Most activities will occur on Saturday.

Read more.


---
Presidential Receptions Introducing
Dr. Kathleen Murray
Join Whitman College alumni, parents and friends for a series of receptions introducing our 14th President, Dr. Kathleen M. Murray. Hear from Dr. Murray about initial plans to build on the success of the Now Is the Time Campaign and create a shared vision for the College's future. Wine and refreshments will be served.

Read more and register online:
September 29, 2015 - New York City
September 30, 2015 - Washington, D.C.
October 8, 2015 - Seattle, WA
October 18, 2015 - San Francisco, CA


---
2015-2016 Academic Calendar
| | |
| --- | --- |
| October 8-9, Thursday-Friday | Mid-semester break; no classes. |
| October 23-25, Friday-Sunday | Family Weekend |
| November 23-27, Monday-Friday | Thanksgiving break; no classes; residence halls are open |
View the full Academic Calendar.



---
Parting Shot
Photo by Matt Banderas '04, Whitman visual editor/photographer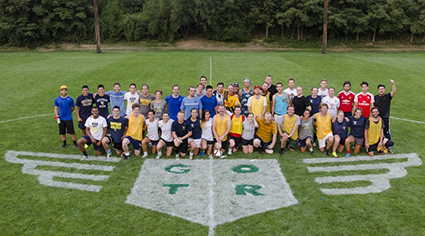 As Mumford & Sons' Gentlemen of the Road tour rolled into town, a group of Whitman soccer players from the men's and women's soccer teams took on Marcus Mumford (back row, far right), the rest of the band and their roadie team in a quick game of pick-up soccer.


---
Support the Parents Fund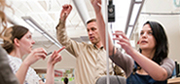 Make an online gift now.
---
Student Engagement Center (SEC)
Learn more about the SEC from their web site.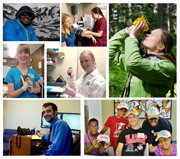 ---
Athletics

Join the excitement
---
Academic Calendar
Academic calendars are produced by the Registrar's Office and contain important academic and registration deadlines. Calendars for the next few years have been provided as a convenience but please be aware that dates are tentative and could change.
Read more

---
College Bookstore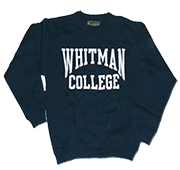 Buy online
---
Whitman Magazine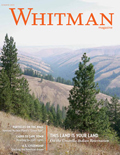 View online
---