---
Whitman News
"Hamilton" Actor Shares Keys to Positivity at MLK Keynote Address
Stage and screen actor Bryan Terrell Clark auditioned seven times before landing the coveted role of George Washington in "Hamilton," the acclaimed Broadway production of Lin Manuel Miranda's hip-hop musical about the Founding Fathers. "We as actors face more rejection than most," he said Jan. 22, 2019, during his keynote address for Whitman College's Martin Luther King Jr. Week activities.
Read more


Beckman Scholars Award Expands Summer Research Focus
Students will benefit from an expanded vision for summer research in the chemistry and life sciences departments at Whitman College, thanks to a Beckman Scholars Award from the Arnold and Mabel Beckman Foundation.
Read more


Inaugural Sophomore Summit Offers Students Career Compass
Faced with the pressure of earning a degree and moving into the working world, how does a student navigate college to ensure they are going in the right direction?
Read more


More from the Newsroom
---
Events
Pianos, History and Musical Style with David Kim • Walla Walla, WA
February 7, 2019, Foundry Vineyards
In this lecture-demonstration, David Hyun-su Kim, Associate Professor of Music, will juxtaposition a 1790s Viennese piano with a modern instrument.
Read more and RSVP by February 4th
W Club Basketball Tailgate vs. University of Puget Sound
February 15, 2019
Whitman College alumni, parents and friends are invited to join members of the W Club to cheer on the Men's and Women's Varsity Basketball teams as they take on the Puget Sound Loggers in Memorial Fieldhouse. The Women start at 6 p.m.; the Men start at 8 p.m. Come early and stay late!
Read more and RSVP by February 14th
W Club Basketball Tailgate vs. Pacific Lutheran University
February 16, 2019
Whitman College alumni, parents and friends are invited to join members of the W Club to cheer on the Men's and Women's Varsity Basketball teams as they take on the Lutes in Olson Auditorium. The Women start at 4 p.m.; the Men start at 6 p.m.
Read more and RSVP by February 14th
Looking under the hood of a cell with Professor Doug Juers


Join Whitman alumni, parents, and friends for a lay person's guide to structural biology with professor Doug Juers.
March 7, 2019, Washington, DC
Read more and RSVP by March 4th
March 10, 2019, New York, NY
Read more and RSVP by March 4th
Environmental Success Stories with Professor Frank Dunnivant • Eugene, OR
March 9, 2019, The Barrow: Stellaria Building
Eugene area alumni, parents and friends are invited to hear Frank M. Dunnivant, Professor of Chemistry, discuss research from his book, Environmental Success Stories: Solving Major Ecological Problems and Confronting Climate Change.
Read more and RSVP by March 6th
More Alumni and Parent Events
---
Host a Whitman student during Spring Break Job Shadow!
This program is designed to pair Whitman students with alumni and parents working in a variety of professional fields and organizations. Coordinated by staff in the Student Engagement Center, shadowing is scheduled during the last two weeks of March to take advantage of time when students are in many of the cities where Whitties work and live. If you would like to consider hosting a student for a half- or full-day experience of "a day on the job", please complete this quick form or contact Kim Rolfe, Director for Career Development.
---
2018-2019 Academic Calendar
| | |
| --- | --- |
| February 18 | Presidents' Day - no classes |
| February 21 | Power and Privilege Symposium - no classes |
| March 11 - 22 | Spring Break (Residence halls close at 9:00 a.m. on Saturday, March 9. Residence halls open at noon on Sunday, March 24.) |
| April 9 | Whitman Undergraduate Conference - no classes |
Important housing dates from Residence Life
Academic Calendar
---
Why We Love Whitman!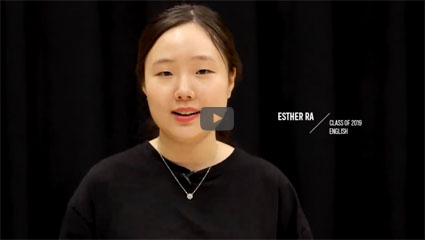 English Major Explores Her Korean Heritage and American Upbringing Through Poetry

English major Esther Ra '19 is the winner of the 2018 Grayson Books Chapbook Contest which granted the publication of her first collection of poems, "book of untranslatable things."

Watch the video


Whitman Magazine

Whitman College gives students, faculty and alumni the freedom to create their own journey. Read their stories in the Winter issue of Whitman Magazine
---
College Bookstore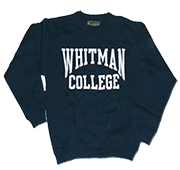 Shop online
---
Student Engagement Center (SEC)
Learn more about the SEC's Four Phase Plan to help Whitman students guide their career and professional development.

And follow the SEC on FB and Instagram!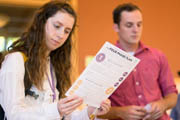 ---
Bon Appetit at Whitman College

Learn more about on-campus meal plans and menus.
---