From Gallery Walls to Hallways to Classrooms, Whitman's Art Collection Expands Its Diversity in Beautiful and Meaningful Ways
Cast in bronze and patinated to a deep burnt umber except for its burnished and polished tips, artist Wangechi Mutu's Underground Hornship at first glance resembles a juvenile deer's shed antlers emerging from a tree stump torn from the ground.
But a closer look at the internationally renowned creator's work, acquired by Whitman College in the fall of 2019, reveals ineffable depth, says Lisa Uddin, associate professor of art history and visual cultural studies—what she calls "an uneasy entanglement of organic and inorganic forms."
Mutu, a Kenyan-American artist, is known for her deeply personal sculptures and collages that fuse the likeness of female figures—typically Black women— with animal, plant and machine elements. Her Underground Hornship is "part bird, part antler shed, part tree stump, part insect, part spaceship, part space traveler," Uddin says.
It's also part of Whitman's ongoing efforts to boost the number of underrepresented artists in the Whitman College Art Collection. Since 2014, the gallery has secured scores of new pieces—from cast glass and bronze, to prints and ceramics—to better reflect artistic diversity in the Walla Walla Valley and beyond.
"There are shifts all over the country right now in terms of collections and museums looking to reevaluate the narrative they're putting forward and looking at whose voices have been represented," says Daniel Forbes '93, the Sheehan Gallery's co-director since 2007. "These are things that we in the gallery want to be a part of. At Whitman, we have increasingly put a focus on the importance of equity, inclusivity and diversity."
It wasn't until 2013 that the gallery acquired and displayed its first work by a Black artist, Io Palmer's "Parted Leisure/Labored Ways." Palmer uses fabric, steel, sound and wood to make not-so-subtle commentaries on racial politics.
Since that acquisition, Forbes and gallery co-director Kynde Kiefel have worked with faculty, alumni and art communities to elevate the art conversation at Whitman by intentionally bringing new works and voices to campus. Nationally, social movements such as Black Lives Matter and #MeToo are giving new urgency to efforts like Whitman's, according to Forbes.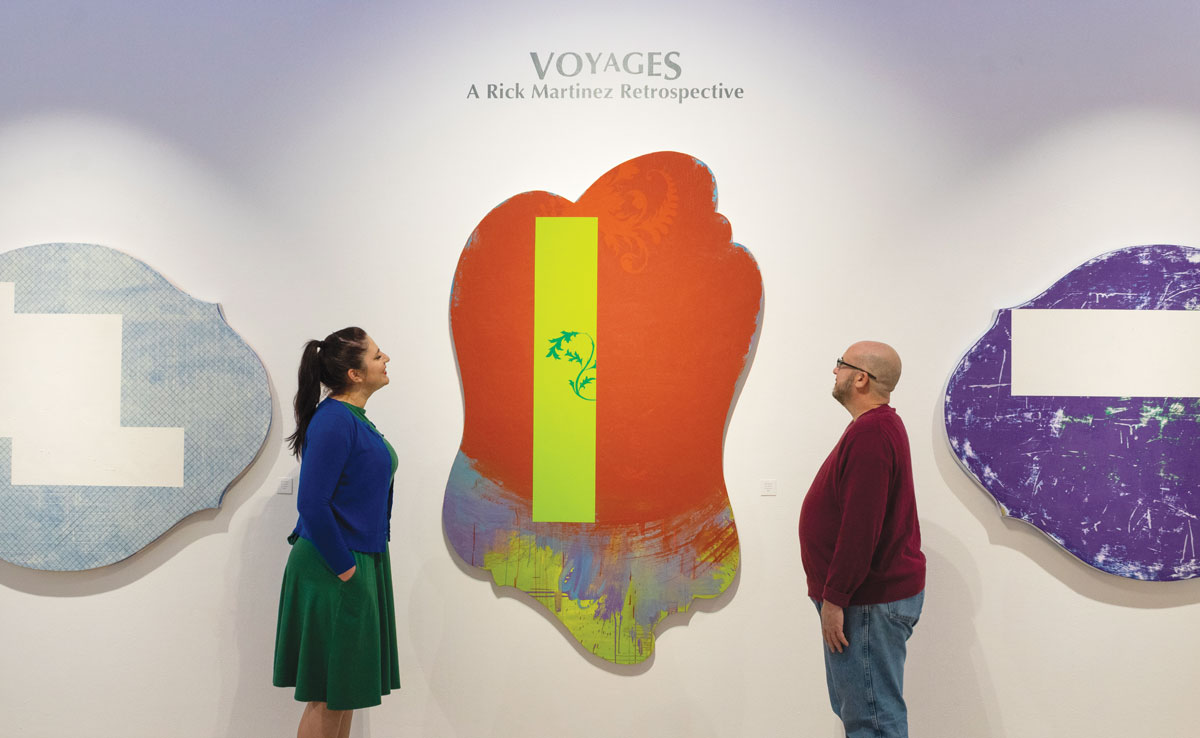 Sheehan Gallery co-directors Kynde Kiefel and Daniel Forbes admire the work of Rick Martinez, a Whitman art professor who passed away in January 2020. Between them is Martinez's "Stop Motion," a 2004 oil and alkyd on canvas. Photo by Tara Graves.
Curating for the Classroom
"The number of different stories that are being represented by our collection has really expanded significantly," Forbes says. "We've been moving, in terms of our programming, toward experiential learning. We're working closely with specific faculty to find out what their interests are. It's been exciting to be able to support them and their classes that way."
For example, faculty from different disciplines across campus have expressed interest in exploring some recently acquired prints by Iranian artist Hamid Rahmanian in their lessons, from art history to studio art to Middle Eastern history. The college acquired nine prints from Rahmanian's "Shahnameh" project, works based on the 10th-century Persian epic poem.
Some recent additions to the Whitman College Art Collection include more than 30 prints from the Crow's Shadow Institute of the Arts in Pendleton, Oregon. The institute is home to the only printmaking studio in the country that supports emerging and established Native American artists. Also new to the collection are contemporary works by women artists of color, including Shahzia Sikander, Ebony G. Patterson, Xaviera Simmons, Favianna Rodriguez and Kara Walker.
Professors are using the various artists' works to reinforce and broaden their lessons through the liberal arts lens. Uddin plans to use the Mutu sculpture in her course on modernism, as well as in her "Blackness in Art" class. Art history classes take a particular interest in the piece due to the role of bronze in the Western European artistic tradition, Uddin notes.
Procuring the Mutu piece is "quite a coup," Forbes says. The New York Times describes her work "as dark as it is dazzling."
Currently based in New York and Nairobi, Mutu has spent time in the Walla Walla Valley. She worked on a commission for the New York Metropolitan Museum of Fine Art at the Walla Walla Foundry, which was founded by the late Whitman alumnus Mark Anderson '78. Underground Hornship, for its part, was cast in 2018 at the Modern Art Foundry in Queens, New York. The sculpture is nearly two feet high and 32 inches wide and will be placed on permanent exhibition on campus in the spring.
Many of the new works have been purchased through the Gaiser Art Endowment and with financial support from alumni.
Preserving, Procuring and Progressing
The Sheehan Gallery was named after Donald H. Sheehan, Whitman's ninth president. It opened in 1973 to support the liberal arts curriculum, while also collecting, preserving and exhibiting historical and contemporary art.
More than half of the college's permanent collection is displayed throughout campus. "Not only does this bring vibrancy to these spaces, but it also provides great access to students and faculty when these works are used in courses," Forbes says. "It's wonderful to be able to say, 'You want to see Jacob Lawrence prints? Well, head over to this building and you'll find them in this hallway.'"
Forbes' Sheehan experience predates his director role. As a studio art major at Whitman, he exhibited his thesis—life-size, mixed-media sculptures, "The Four Horses of the Apocalypse," at the gallery. And Whitman community members are likely familiar with a distinct piece of work by Forbes—the wall of ceramic fish, Upward Mobility—on the first floor of Reid Campus Center.
Kiefel's other art pursuits include drawing comics and graphic novels, and teaching cartooning techniques to elementary and middle-school students in Walla Walla.
And she shares Forbes' passion for evolving the college's holdings. "It's about getting to the core of things, getting to all truths," Kiefel says. "In reality, we're surrounded by a variety of people and experiences, so our visual landscape should reflect that complexity and that every-ness. It gives us all permission to thrive and to continue to create in our own voices, instead of someone else's.
"I hope that Whitman students are surprised, intrigued, inspired, challenged and propelled by the recent acquisitions to the collection. I also hope that these works give viewers permission to grow here."