Professor Ginger Withers Envisions a Place of Study, Support and Opportunity
Whitman's Hall of Science is full of life—and not just because of the many rodents, fish, reptiles and other species that call it home. It's also full of student life.
Pre-pandemic, you'd find students studying, attending classes and working on research throughout the building at many hours of the day. Yet faculty recognized a disconnect between individual students, the many departments, lab spaces, study areas and campus resources.
Ginger Withers, the Dr. Robert F. Welty Professor of Biology, was particularly concerned by the number of students she saw working in isolation or not seeking help. She says she feels a personal connection and responsibility to make sure every student has access to the support and resources they need.
Seeing the Possibilities
Withers grew up in a rural community and was the first person in her family to attend college. She would never have even considered a career in science, doing research or being a college professor if her own professors hadn't asked her questions like: "Have you thought about doing this?" or "I have a project that I need help with; would you be interested?"
"For undergraduates at Whitman, there are so many opportunities, but if you don't know about them, they can be missed," Withers says.
What was missing, Withers thought, was a central location in the building that was visible and upfront for students—magnifying the opportunities, collaboration and support.
During faculty discussions, excitement grew about creating such a gathering place. Withers helped form a faculty team that went on to develop just that kind of space. In the fall of 2019, Whitman's "STEM Hub" officially opened to the campus community.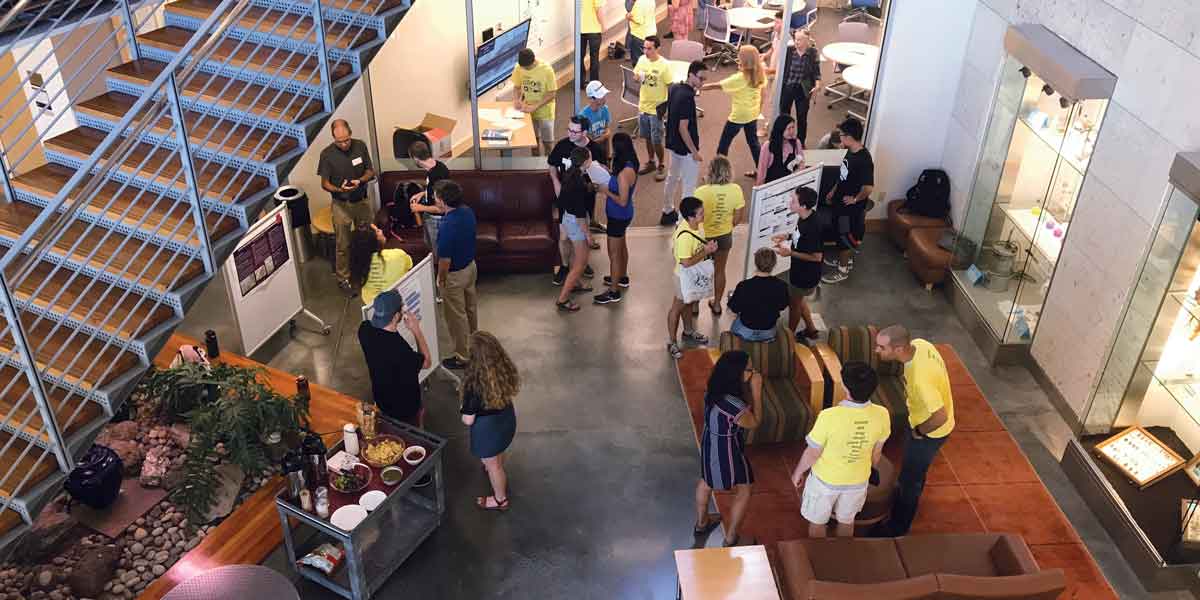 Location, location, location. Intentionally placed in the atrium of the Hall of Science, the STEM Hub is a natural crossroads for interaction. Here, nearly 70 Whitman STEM majors shared their research, in collaboration with Whitman faculty, in a poster session. [Archive image.]
A Lively Hub of Learning
STEM stands for four closely connected areas of study: science, technology, engineering and mathematics. Withers hopes that, through the STEM Hub, students can connect with professors, graduate programs, careers and one another. "The more available we can make these kinds of opportunities, the easier it is for students to break through barriers and find their path."
"We're trying to build a culture that reinforces growth mindsets and gets rid of the notion that successful STEM majors are just born with it." —Ginger Withers, professor of biology
The location has been crucial to the space's success, Withers says. Located on the first floor of the Hall of Science's modern and airy atrium, the STEM Hub has two large entrances and many windows. Students passing by can check a large display screen for upcoming events like study sessions, poster presentations and guest speakers. Faculty and student tutors make themselves available to students for questions or assistance. The space, spilling out into the atrium, often hosts student-faculty research presentations, pre-major advising information sessions and other STEM-related events.
In the evenings, when most faculty and staff have gone home, the STEM Hub comes alive with study group meetings, open tutoring hours and more. "It was really rewarding to walk by, at any hour the building was open, and see as many as 10 or 15 students working collaboratively, or colleagues holding open office hours and review sessions," Withers says.
In response to COVID-19 and the sudden shift to online learning, the space went virtual. A STEM Hub webpage now showcases resources, connects students to tutors and study groups, and has hosted virtual events to highlight opportunities for students to join research teams led by Whitman faculty.
An Early and Lasting Effect
It's especially important to break down barriers for new students or those who don't see science as easy or welcoming, Withers says. "We know that students—especially if they are first-gen (first-generation college students) or from underrepresented groups— are more likely to succeed if they feel like they belong. If you're shy or new to campus, even walking through an open door can feel intimidating. We're trying to build a culture that reinforces growth mindsets and gets rid of the notion that successful STEM majors are just born with it."
Since she joined Whitman in 2002, Withers has watched the science curriculum strengthen and grow. "The opportunities that I've had to collaborate with my colleagues and to share the amazing things they're doing; they've helped me feel more invested and better connected. The Hub is a creative commons, and faculty research amplifies student engagement in STEM."
She can't help but describe it in scientific terms. "In science, we think a lot about catalysts. A catalyst is a chemical agent that doesn't get used up in a reaction, but helps other reactions occur and go faster. I feel like the work we've invested in our programs and in the STEM Hub acts like a catalyst, ensuring that the work we are doing won't go away. We're really building things that will be lasting in terms of contributions to pedagogy and to student success."