Living on the Green Side: Part II
In Portland, tiny house advocate and founder of Niche Consulting Lina Menard '05 is building small, sustainable homes imbued with the sensibilities of their owners. Photos by Matt Banderas '04.
By Sierra Dickey '15
Lina Menard '05 showers with a garden hose, owns a hypoallergenic cat named Raffi and has been featured on a Portlandia episode. She's also probably one of the few Whitman graduates, who, when faced with paying back student loans, decided to build a house instead. But before I explain that one, two pivotal moments:
In 2011, Menard had finished undergrad, held a certificate in sustainable building and design, and was ready to pursue a master's in urban planning at Portland State University. At the time, she was also one of only five tiny house dwellers that she knew of in the city of Portland. By the time she finished her master's and founded her business just four years later, tiny houses had become popular in the city and nearly ubiquitous online.
In 2014, Menard was out of graduate school and fully immersed in the alternative housing scene. It seemed about time to settle down. But, she, like many other Whitman alumni, was working at making a life in Portland at a time when the after effects of the 2008 subprime mortgage crisis had reached some of their sourest extremes. Few were buying homes, and American cities were full of houses made for five or six, while more people than ever were living alone or in pairs. Just as the mortgage bubble had glutted the market, so too were the streets and apartments of Portland glutted with large, unwieldy spaces. Coming of age in this moment pushed Menard toward a career and a lifestyle that encouraged "collaboration and less competition."
Thrilled by the prospect of never having to pay rent again, and enticed by a new way of living that eschewed so many consumer ills of the day, Menard took the $25,000 that had accrued in savings thanks to some careful investing, and built her own tiny home from the ground up. An entry from her blog in January of that year reads: "Now that I've lived in two tiny houses on wheels, a travel trailer, and a yurt, I'm ready to begin building a tiny home of my own."
It's this eclectic mix of experiences and accomplishments that makes Menard's business, Niche Consulting, so unique. A tiny house advocate and expert in sustainable design, Niche helps others fulfill big dreams by building small houses. When I talked with her over the phone, many themes arose, but the most prominent one was home. From the very beginning, ideas of what home means and how one makes it have driven Menard to build sustainable and thriving communities in as many places as she can.
When Menard talks about ideas of home, she's speaking about much more than a familiar dwelling. She uses words like "shelter," "multifunctional," "intentional" and "prelegal." Home to her is at once a design concept, a place of deep significance and an idea with the occasional political implication, hence, "prelegal:" something that is not yet legal and thus incapable of being illegal. Since Menard's work involves new and innovative conceptions of housing and usage of urban space, she often finds herself puzzling out ways to work around municipal regulations. The appearance of tiny houses is still so new to many American cities that they often slip between the cracks of zoning laws: are they basically just trailers, or are they really dwellings? With more than five years under her belt as a tiny houser and sustainable development professional, Menard has seen her way through many a legal roadblock.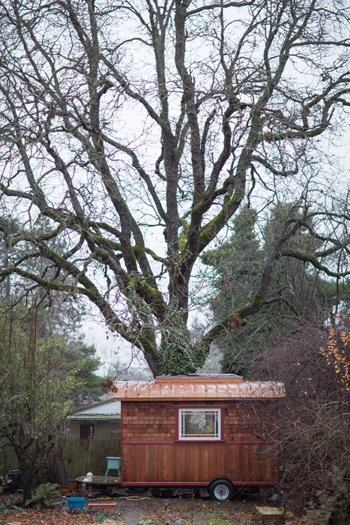 While working with regulations is common, most of her work at Niche is more personal and practical. For instance, a huge part of her business involves reintroducing people to richer ideas of what home means. She's continually surprised by how many Americans are divorced from the "vocabulary of home building," and sees it as her job to bring them the words and tools they need to build their own shelters. When clients come to her with a project or idea, Menard puts them through a series of design exercises to identify their wants and needs. These, she says, are "a chance for them to really think through how they live and how they want to live," as well as valuable background knowledge for her. They involve questions that are joyful to answer but not often raised in the typical consideration of housing: how do you like to live, work and play? What sensory experiences do you absolutely love? Perhaps the sound of rain, or the smell of woodsmoke? Thinking through these prompts assists us in learning "how to describe a space that you want to inhabit when you're creating a home," Menard explains.
As a consultant rather than part of a more traditional design-build company, Menard gets to work alongside her clients as they divine their own answers to these questions. She's deeply invested in getting people to "own" their homes through great involvement in the design and build process. When building small, customization is very important, as Menard told me: "when you're living in a small space, that space has to work really hard."
For example, Dee Williams (another highly prominent woman in the tiny house movement) uses one whole chapter of her memoir The Big Tiny recalling the litany of objective facts she noticed about her living habits when she was collecting information to build. "I started examining the way I draped clothes over the chair in my bedroom as I undressed at night, and how I automatically reached for the light switch just below shoulder height on the right, no matter what room or building I entered." All of these minute movements would be crucial to designing a space that worked precisely the way she worked. Menard often gets to this level with her clients—shining light on traits that most of us are seldom conscious of, and then building a home around them.
Growing out of customization is another important part of Menard's mission with Niche: a new kind of inhabitation. When you see her in her own house, The Lucky Penny, or tour it virtually via a video feature, you're witnessing a form of connection between a maker and an object that's rare in this era. I think of master cellists—Eugene Friesen, perhaps—and how one cannot look upon his instrument without seeing the musician himself. That thing (cello or house) has been made a physical extension of its owner by way of deep thought and endless practice. The homes that Menard facilitates are not possessions, but are possessed with the personalities of their owners.
Much of this commitment to self-sufficient building came from her time at Yestermorrow Design/Build School in Waitsfield, Vermont, where she got her certificate in sustainable building before heading onto her master's at Portland State University. Yestermorrow is one of the only schools of its kind in the U.S. that teaches designing and building as two parts of one process, as opposed to the more regular yet bifurcated system of architecture and construction as two separate industries. With its emphasis on holism and intuition, Yestermorrow served as a natural extension of the ideas Menard had been exploring at Whitman, a place she calls "serendipitously fabulous."
The years she spent at Whitman and the great love she developed for Walla Walla colored her ideas of home as community. Indeed, years after leaving campus it was a fellow Whitman graduate who gave her the book that would in part kick-start her professional path (the grad: Matt Eppelsheimer '05; the book: The House That Jill Built: A Woman's Guide to Home Building by Judy Ostrow)—demonstrating that the best communities stretch out beyond their origins in time and space. But even before that fateful present came her way, Menard was busy gestating on the message of her Whitman education, a directive she interpreted as: take your informed questions out into the world and engage. Right off the bat, Menard realized that if she were going to follow that instruction and make a living at the same time, she would have to be writing her own job description. And so she did.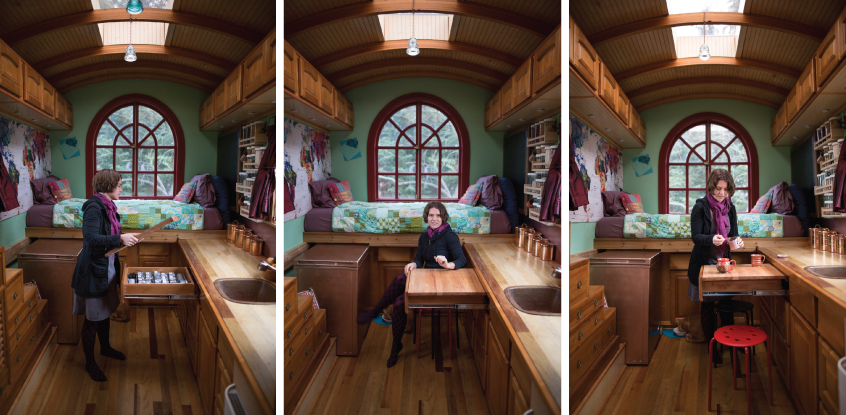 This is how Menard recalls her journey into entrepreneurship—a term she was eager to complicate, stating her apparent privilege as a white middle class woman who had room to risk certain failures that not all are afforded. This room being namely: "time and financial freedom to create something." However, Menard explained that entrepreneurism is useful to her as a guiding ideology more than anything else. She's used it as a way to visualize all the potential paths to successful sustainable communities. Working for Habitat for Humanity, assisting in property development, and studying urban and regional planning were all ways in which she picked away at her task before coming into the tiny house movement. "I've got a big life goal with lots of little paths," she said, when I noted how all those different ways of working for community were not always direct.
And this indirectness was somewhat of a blessing, because it allowed tiny houses to find her. Menard had been watching with excitement as the tiny house movement gained ground around her, and founded Niche in 2013, during her final year of graduate school. The decision to go in this direction was another serendipitous moment for Menard. Tiny houses had never been her career plan, although she had loved living in one. And yet, she had always been interested in manners of housing that were "small space, community-oriented and sustainable." When tiny houses appeared to be a viable area of work, a project appeared that rolled all of her long-held interests and accumulated skills into one.
When you see her in her own house, The Lucky Penny, you're witnessing a form of connection between a maker and an object that's rare in this era. In this way, the homes that Menard facilitates are not possessions, but are possessed with the personalities and utterly unique living tendencies of their owners.
Thanks to her dedicated blogging habits, there is a record of these formative moments, a kind of trail to the moving and shaking Menard did to position herself in the center of it all. For fellow Whitman graduates fresh out of the bubble, her chronological musings are a great resource—a blueprint for how to navigate that shaky post-graduation time with sharp decisions. And it is important to note that Menard already "had been doing this work on the side for fun." Tiny houses were a passionate interest she maintained outside of formal schooling and other employment. In the current economic climate, most young innovators are expected to have these so-called "side hustles," and already be doing the thing they want to be paid to do.
On October 12, 2011, she signed off a post with this: "Dee Williams of PAD Tiny Houses has been trying to rally tiny housers in Portland since there are quite a few of us now and we haven't had a chance to meet each other. I hope that when these two worlds come crashing together something amazing happens!" It's safe to say that the amazing did happen and is still happening.
Frequently featured online and in print, Menard's blog, This Is the Little Life, allows her to create her own content by posting frequently and often in depth. There, she chronicles her travels to workshops, meet-ups with other tiny house dwellers, and records in detail the processes of downsizing toward ever more efficient living. Her blog is quite personal but doesn't bedraggle the reader with any emotional itemizing or heavy introspection. Those who may have grown tired of the now-common personal blog will find hers refreshing. I have been receiving her posts through email for a few years, and am always surprised by the amount of intensely practical information she shares. If you have ever desired to de-clutter, or thin out your wardrobe, or devise and stick to a more suitable daily tidying routine, you'll find friendly and concrete instructions there.
Now nearly six years old, This Is the Little Life is like a virtual workshop and archive of tiny house research and development. Menard started it when she moved into the first tiny house she ever rented to reflect on what was different about living small. It now contains half a decade of notes on what's interesting, good and bad about learning, living, teaching and collaborating in the tiny house world and the wider quest for sustainable communities in the United States.
What are her tiny living takeaways? "A tiny house can't make you happy but it can make you focus." If you've ever wondered why "a conventional home today is about three times as big as they were a century ago," or how your stuff and your space figure into your wider life, Menard's musings may have answers, or at least new and fertile directions.
But back to Portlandia. Although Menard doesn't have a speaking part in the web clip where Kumail Nanjiani tours a tiny house community, she is an obvious character. I was curious what it was like to have your lifestyle and career area be the subject of the show's joke. In The New Yorker, Margaret Talbot explains Portlandia's humor as "an extended joke about what Freud called the narcissism of small differences: the need to distinguish oneself by minute shadings and to insist, with outsized militancy, on the importance of those shadings." Not everyone would be comfortable with this kind of attention. However, Menard told me that tiny housers "gotta have a sense of humor," and within the community there's endless wisecracking and playfulness about everything. All of this plays into an aspect of Portland that Portlandia has obviously borrowed from: a willingness to try new things. The quite entrepreneurial gist being, as Menard told me: "if it works, great; if it doesn't, we'll laugh about it later."
Sierra Dickey '15 was an environmental humanities major at Whitman, and now works as a copywriter for a digital marketing agency, a poetry editor for an environmental publishing company and a freelance journalist for herself in Brattleboro, Vermont. She writes a weekly missive called Stay Fluent about life outside, internet feminisms and a few things she likes about popular culture.
Related Story
Living on the Green Side: Part I

Sloan Ritchie '93, owner of Cascade Built, endeavors to bring more energy-efficient homes to Seattle without sacrificing comfort and style