Freedom Songs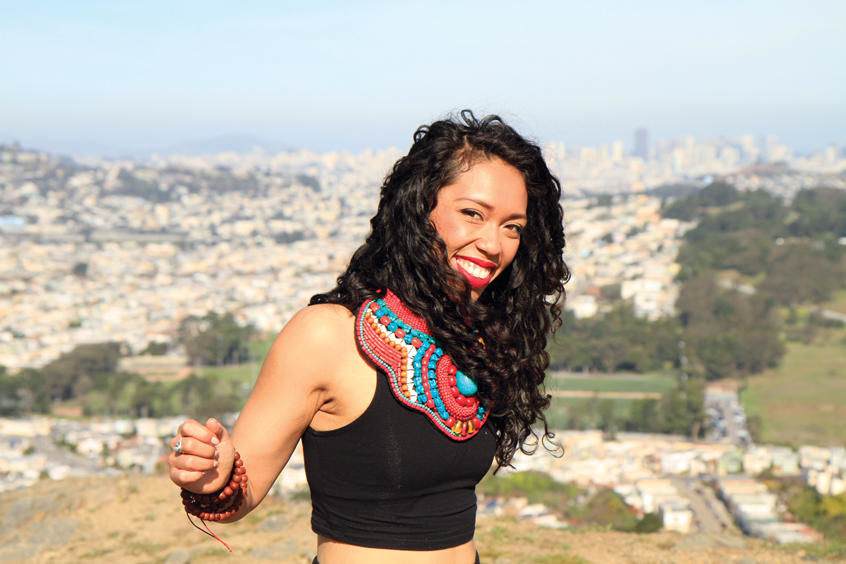 Aisha Fukushima '09 channels the global language of hip-hop to bring RAPtivism to the world.
By Jenny Lewis
It is summer in Belarus—landlocked, Eastern European, questionable-human-rights-records Belarus. Nighttime. A dimly lit club; a stage. Posters lining the walls: The Doors, Queen, Pink Floyd. A four-piece band behind an empty mic. A hip-hop beat.
Aisha Fukushima '09 struts onto the stage.
The air is immediately saturated by her voice, which channels Lauryn Hill, Adele, Lupe Fiasco. The beat is hot. Pale Belarusian B-boys drift across the dance floor on their hands. Fukushima's face is elastic and expressive; even if you couldn't hear the music, you would get the drift: the possibility of action amid pain, happiness amid fog. The possibility of hope.
Fukushima has traveled a long way from her home base in Seattle to deliver the unique gift of her music—it is joy wrapped in social justice, then wrapped in music so upbeat that even the armed guards in the back of the club will be dancing along by the end of the show.
This is RAPtivism: rap + activism, Fukushima's global hip-hop project, in which she, a multiracial African American-Japanese woman, travels from country to country exploring intersections of culture and freedom, harnessing the power of performance to spread a message of empowerment and awareness through music, speaking engagements and social media community-building.
"Don't try to be/ Just be," she sings, "inhale, exhale…" She turns the mic toward the audience, a pulsing white mass of Belarusian teens, and they know the words, together shouting the end of the lyric:
"BREATHE!"
Everyone smiles.
Fukushima's voice has tremendous range and a honeyed, soulful tone; over the course of this performance, the audience will be treated to dramatic tosses of a truly magnificent mane of hair; the ecstatic laser of her 10,000-watt grin; a rap performed entirely in French; ballads so sweetly sung that the audience couples up and clings to each other tearfully. The lyrics confront discrimination and oppression directly and challenge the listener to think about received wisdom.
She has come to Belarus, a country labeled by Condoleezza Rice as one of the world's six "outposts of tyranny," as a guest of the Department of State.
"Hip-hop is a global language, a protest language," she explained recently from a holiday stopover in the Pacific Northwest. "At a time when we're seeing so many social movements around the world, there's a need to understand our common humanity. Hip-hop is a vehicle for that. We're all bopping our heads to the same beat."
Fukushima is the child of two music industry booking agents, which means she spent her formative years shuttling back and forth between Japan and Seattle to hang out behind the scenes with a dizzying array of talents—James Brown, Funkadelic, Bootsy Collins—internalizing any number of different beats and rhymes.
She was seven when her parents divorced. The international travel stopped, but the music didn't. Fukushima and her mother settled down in the Seattle area and Fukushima was eventually enrolled in an after-school musical, which is when she first understood the special power of her voice.
"I loved my Ella Fitzgerald, I was jamming out to Lauryn Hill. Especially strong women, MCs, they inspired me."
Can't let go, can't go home/Can't move on without my community/ I will find/Piece of mind/In the alchemy of history
-"Believe in Reality"
In a neighborhood populated by very few other people of color, Fukushima and her mother, who is African American, needed all the inspiration they could get. The tires on the family car were slashed more than 15 times, she remembered. Math tests were handed back with inexplicable failing grades despite correct answers. One teacher even accused Fukushima's mother of completing an assignment for her because "little girls who look like that don't write like this."
"I could either shut down, or try to find a different way," she said. "Transforming challenging circumstances using creativity kind of came to me."
By high school, Fukushima had long since been writing raps, poetry and stories to express herself. But something shifted one day when a classmate interrupted a lesson on Native American history with a crude "rain dance," and the teacher laughed along with the other students. This was an activating moment for Fukushima, whose art began to turn more political.
"[After that], I would read my stories to the class and they would become more open to hearing about [my experience]," she said, realizing that "through arts, I could help start to change the culture of my community."
Fukushima emanates an unflappable serenity, even when recounting episodes of discrimination or flat-out racism. She has an uncommon ability to point out that something is unfair without complaining, to take a strong stance without communicating anger, to frame a distressing event in terms of its potential for learning.
"[As a teenager] I had to find creative ways of transforming my environment, not letting circumstances that tried to reduce me, reduce me." Add in an intense work ethic, and you have the beginnings of a career in RAPtivism.
The community organizing started when Fukushima was around 15. During her senior year of high school, she created a project called "Turn Off the Stereotypes," in which she arranged performing arts workshops in the community to get difficult conversations started. When she couldn't get a call back for jobs waiting tables—one might suspect the name "Aisha Fukushima" could have been a difficult hire in her neck of the woods—her mother drove her to downtown Seattle, set her up in an office and told her she would be starting her own business.
"She said, 'Good luck. Figure out your business plan,'" and that was it, Fukushima recalled.
Fukushima says she loves to watch people play; aptly, for her business, she chose to sell toys. She sold them at local fairs, eventually growing the business enough to hire some cousins. So successful was the venture, in fact, that the Seattle Center asked her to open a store with them. Fukushima, though she says she was honored and proud, had to decline; she had by this point been selected as a finalist for a Claire Sherwood Memorial Scholarship at Whitman College. She was headed to Walla Walla.
The plane ride over the wheat fields for the Sherwood interview was a shaky one. "I didn't know what to anticipate," she said. "But the students I met were really supportive—they wanted each other to succeed. I loved the academic rigor, that it's such a small school, that you can't really hide."
As impressed as she was with Whitman, Whitman was equally impressed with her; she was offered and accepted the scholarship and matriculated that fall.
"I was pleasantly surprised that Whitman was a place where I could totally carve out a niche and push limits and be heard," she said, commenting on her natural impulse to get involved in activism on campus. "It was a way to expand my interest in global solidarity."
Fukushima was, for example, among the students who saw a need for and organized the first iteration of Whitman's Power and Privilege Symposium.
"There was a lot lacking in the dialogue about race that we needed to confront as a campus," she said of that time. "We needed to start educating ourselves and each other." She stood with other Whitman students in a line handing out fliers to professors attending a faculty meeting, helped organize discussion with the administration and trustees, and worked to answer the question, "how can we change the culture on campus?"
The first symposium was wildly successful, and Fukushima and others made it a priority to add it to Whitman's annual traditions. Years later, she is currently in talks with the organizers of the now-institutionalized symposium to return as a speaker.
The rhetoric and film studies major also worked in the president's office at Whitman, designed the WISE (Whitman Institute for Scholastic Enrichment) program to introduce local low-income or first-generation middle school students to college life, participated in the nonprofit student activism organization Whitman Direct Action and was involved in student government. 
In addition to her growth as an activist, Fukushima knew she wanted to study abroad. Having studied French for years, she chose that country; in hindsight, she says her time there was a pivotal moment for the development of her RAPtivism.
In France, she was exposed to hip-hop outside the "American-centric ear-zone"—lyrics glorifying violence and gangsters, topics she couldn't really get behind.
"France enlivened my ear," Fukushima said. The music she heard on the radio had positive messages that she could relate to; before long, she was making connections within the world of French hip-hop, collaborating for the first time with artists she'd see again over the years.
Once she was back in Walla Walla, it was time to write her thesis. The topic? Hip-hop, of course.
"I got to write about my passion, to develop a theoretical lens for it. Because of that thesis, I didn't give up on hip-hop—it's not just about booty, bling and bullets. It can be empowering," she said.
She recalled as particularly useful an independent study with Baker Ferguson Chair of Politics and Leadership Tim Kaufman-Osborn (known by many as TK-O).
"Independent study with TK-O was amazing. I'd come into his office once a week and we'd go deep on hip-hop and nationalism and imperialism. I would stream my dialogue with song. He would really challenge me—he emphasized the power of a question."
Kaufman-Osborn remembered their meetings fondly as well, commenting in an email that, "as a student, Aisha displayed a rare combination of intense intellectual curiosity, exceptional artistic ability and a very real passion for social and political justice.
"I should also note," Kaufman-Osborn continued, "that I'm pretty sure that I learned as much from working with Aisha as she learned from me."
Fukushima left a similarly deep impression on other Whitman faculty members, including Melissa Wilcox, associate professor of religion, gender studies and general studies. Wilcox said that what she remembered most of Fukushima was "the great deal of time, energy and effort that we and several others… put into forming a grassroots bias response and prevention team to fill that major gap in Whitman's support of its students, staff and faculty from under-represented groups. The students who were drawn to take part in that effort were all justice educators, and it's there that I first saw Aisha's passion and talent for this kind of work in the world."
The full advantage Fukushima took of the resources of a Whitman education manifested itself most obviously during her final year of college, when she applied for a Watson Fellowship. The Watson is a prestigious, nationally competitive post-college grant that provides a year of financial support to 40 students who submit innovative projects based outside of the United States.
Fukushima's Watson proposal involved travel to India, Morocco, Senegal, South Africa and the United Kingdom. In each country, she would connect with local hip-hop traditions, study the culture and ultimately record a rap album with socially conscious rappers from all over the world.
In a previous issue of Whitman Magazine, Director of Fellowships and Grants Keith Raether was quoted as saying: "Of all the major national fellowships and scholarships, the Watson recognizes imagination, independence, resourcefulness and courage. If I were to try to define Aisha, those are the qualities I would cite."
The Watson Foundation agreed. It awarded $28,000 for the project. Fukushima followed through, and the resulting album, RAPtivism, is the product of collaborations with 20 political hip-hop artists rapping together in solidarity against injustice worldwide.
Since her Watson year, Fukushima has continued to build up the three major branches of RAPtivism: education, performance and social media/online community building.
Her commitment to education through workshops—"interactive, curated experiences"—has seen her speak or perform at TEDx conferences (including TEDx Whitman), institutions including Stanford University, Michigan State University and Osaka University, and events like the Bay Area's White Privilege Symposium.
The unique blend of global citizenship and culture that Fukushima raps about has received coverage in O, The Oprah Magazine and The Seattle Times, among many other press outlets. She lives in the Bay Area but spends a great deal of time in Denmark, where the hip-hop scene is lively, and continues to travel and collaborate with artists as committed to social change as she is.
They are out there, even permeating academia with their influences.
"[In the U.S.,] we're seeing curricula centered on critical race theory; I have a friend making core curricula based on Nas's Illmatic—and Harvard has the Nassir Fellowship, named after Nas; NYU has a hip-hop [education center]; we're seeing hip-hop archives. It's becoming a part of higher education," Fukushima said. "Hip-hop scholarship is definitely growing."
Fukushima has recently finished an analog-recorded EP called The Cypher. The title has undertones of code-cracking and infinitude, but ultimately refers to the circle made by an informal gathering of rappers and dancers riffing off each other.
"In hip-hop, [the cypher] is a space where we give and receive energy," Fukushima explained. "Everyone's involved, everyone participates, everyone supports. I anticipate continuing to build off that idea."
When asked what she's up to next, Fukushima gives her extraordinary, musical laugh and says that the most pertinent question growing out of her work is… well… And suddenly, her mouth opens and out comes Nina Simone:
I wish I knew how
It would feel to be free
I wish I could break
All the chains holding me
I wish I could say
All the things that I should say
Say 'em loud say 'em clear
For the whole round world to
hear…
"What does it feel like to be free?" she asks. "I'm writing that into existence through my music.
"Culture is often the blueprint for where we're going politically, socially. To have a deeper understanding of what freedom looks like for me—not just protest music but freedom songs—that's where my heart is at. It's very urgent."