A Life in Balance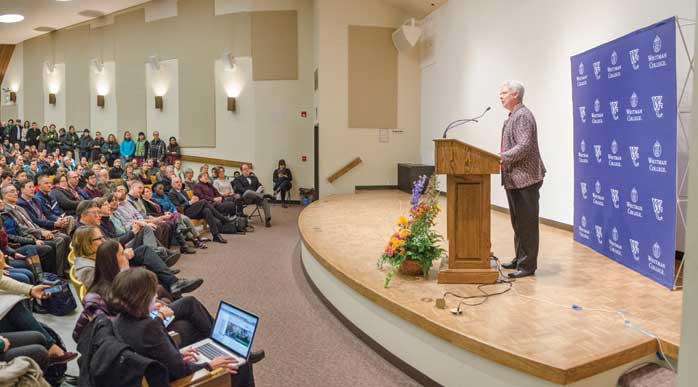 Whitman's new president Dr. Kathleen Murray is an accomplished pianist and says Aaron Copland's "Piano Sonata" is the perfect metaphor for her move to Walla Walla.
Edward Weinman: As the incoming president of Whitman College, what is your vision?
Kathleen Murray: I think it's presumptuous of me to say I have the vision for Whitman College, given I have only spent a few days on the Whitman campus. But Whitman is in a great place right now. President Bridges has done a fabulous job setting Whitman up for the next president. My hope is that I can help shape a vision, but it has to be done with the campus community as a whole if we are going to be successful. To do this, I will be listening to as many different people on the Whitman campus as I can to learn about the culture and the ethos of the college, and then build a planning process that accurately reflects this culture.
EW: Why were you attracted to Whitman and to Walla Walla?
KM: I first came to Whitman in 2009, I think, when Tim Kaufman-Osborn first took over as provost. He asked me to come out and talk about the structure of the provost's office. I had not been in Walla Walla, but had known of Whitman. I was immediately taken with the beauty of the campus and the surrounding area. I spent some time with faculty members who would come out for conversations about the structure of the provost's office. That the faculty would make time to talk about this was remarkable. So I had a favorable impression right from there. When the search committee reached out over the summer, I dug deeper. Whitman has high-quality faculty, the admissions process is selective and it has a remarkable student body. The more I learn about Whitman, the more excited I am about joining the community.
EW: You're coming to us from Macalester, a prominent peer college in St. Paul, Minnesota, to which we often compare ourselves. How do you think Whitman is similar or different?
KM: Your weather is better. I'm fine without having the polar vortex that we have here [laughs]. The setting is different. Macalester is in the middle of an urban environment. Whitman has that small-town feel. In some ways I think this ought to make it easier to navigate the city bureaucracies and get to know more people than is possible in a big place [like the Twin Cities]. While the people in Minnesota are friendly, there is a warmth about the people in the West. I find that inviting. For example, when I came to Walla Walla, I stopped in a couple of coffee shops and everyone looked right at me and said hello. The staff in the coffee shops chatted me up because I was alone and they wanted me to feel at home. I enjoy that open atmosphere.
EW: What do you want faculty, students, staff and alumni to know about you that they might not already know?
KM: I climbed Mount Kilimanjaro in 2005, but I don't plan to climb any more mountains if anyone is wondering.
EW: Why Kilimanjaro? Because it was there?
KM: A little bit. I was approaching a milestone birthday, which I won't reveal. A friend was thinking about middle age and I became intrigued. My partner and I did some research. We thought if we were ever going to do something like this, now was the time. In more general terms, my partner and I love to travel. People ask me how I find a balance between work and personal life. I really believe in taking vacations.
EW: Let me just say, you're going to be one popular president.
KM: [Laughs.] There are lots of provosts who say, "I never take all my vacation days." I say, "I do." I think we are all better people for taking care of ourselves that way.
EW: You were a professor of music. What motivated you to leave the classroom and focus on leadership roles within a college, first as provost and now Whitman's next president?
KM: I was on sabbatical living in Amsterdam having a fabulous time. The dean of the conservatory at Lawrence University [where I worked at the time] resigned late. The president of Lawrence somehow found me. (I thought I was hiding better than that.) He talked me into being the dean [on a temporary basis]. I thought it was an interesting middle-of-career type of job, so I accepted. My first year I didn't really like the job, but the college did a search and it failed. As I started doing things for the second time I felt steadier. I started to feel I had the skill set that was appropriate for this type of work. They asked me to stay. I thought, "I liked this gig; I'll keep doing it."
EW: What do you enjoy about these leadership roles?
KM: I like thinking about the entire academic enterprise of a college, but at no point in my life did I think I was going to become a dean or a president of a college. I thought I was enormously lucky to get a job teaching piano. Doing the thing I love and somebody actually paid me to do it.
EW: How has music shaped your life and how does it fit into your current professional career?
KM: It's been a struggle for me. When I was dean of the conservatory at Lawrence it was fine. They knew me as a pianist. I collaborated and kept playing. But now, if I don't have the looming deadline about what I'm supposed to play, it's harder and harder to practice. I haven't found a good balance yet. I have other balance in my life, but not with the piano. I've been a pianist since I was seven and feeling like I'm not really one now is strange, but once I move to Whitman I'll try to figure out how to make it all work.
EW: Your doctoral thesis was titled, "A Study of Aaron Copland's 'Piano Sonata.'" What can you tell readers about this sonata?
KM: It's a big piece. Copland's "Piano Sonata" is Americana, the wide-open spaces of the West written for the piano. It's about the sense of space on the piano and time. It's a great piece to ask about because it fits southeastern Washington State.
-Edward Weinman