President's Letter: Whitman's Commitment to Public Service
Over many years, the energy of our students and faculty, the dedicated work of staff and the thoughtful oversight of our governing boards have produced inspiring accomplishments for Whitman. This academic year is no different and this issue of Whitman Magazine features stories about progress on our Now Is the Time Campaign, outstanding graduates who have won 2014 Alumni Recognition Awards and the impressive volunteer service of our current students. The issue includes an article written by a national expert, who spoke to campus in the fall, on how to best enhance financial aid and access for our students, as well as an engaging interview with Kathy Murray, Whitman's president designate.
Thanks to the exceptional generosity of many Whitman alumni and friends we have raised substantial support for stronger academic programs and experiences for our students, a much stronger endowment for supporting the operations of the College and considerable endowed scholarship support for students. But much work remains. As noted in our summary of the campaign's progress, we have yet to reach the goal of $50 million in endowed scholarship support. Achieving this goal is critical to the success of our students, particularly as we seek to support those whose families have few financial resources to cover the costs of the very personal and intensive education Whitman offers.
Our governing board members, campus leaders and many alumni share concerns about how to ensure that the College meets the financial aid needs of our students as fully as possible. Beginning last spring, Board Chair Brad McMurchie '84 and I, along with other governing board members and senior leaders on campus, launched an in-depth conversation and study of the level of financial aid available at Whitman particularly for those students from low-income families. Our collective concerns were these: How well do we serve these students? Can we do more?
Starting on page ten, Dr. Sandy Baum, a published author and national expert on college pricing and financial aid who visited campus in the fall, describes how Whitman's scholarship support fares with that provided by other colleges and some of the challenges we face in meeting all of the scholarship needs of our students.
This spring semester began with a very busy week of community service, reflection and celebration of the ideas of Martin Luther King, Jr. Many of our students participated in the National Day of Service on January 19, working closely with our community organizations and nonprofits including the Children's Home Society, SonBridge, the United Way and many others. This is also the fourth year for our innovative program, Whitman Teaches the Movement, wherein Whitman student volunteers receive training in the civil rights history of our country and then lead discussions of the civil rights movement in our local elementary, middle and high school classes. You can read more about Whitman Teaches the Movement—how it came to be and why it is so important—in an essay in this issue of our magazine by Whitman's Associate Dean of Students, Student Engagement Noah Leavitt.
Finally, many of you will meet Dr. Kathleen (Kathy) Murray for the first time. She is a talented and accomplished concert pianist, current provost at Macalester College and (soon) Whitman's 14th president. Our interview with her provides a perfect introduction to Kathy, her background in the liberal arts and her reasons for taking on the challenge of leading Whitman in the coming years. One of her major responsibilities will be to develop a strategic planning process that will chart Whitman's future. This will include a detailed look at our admission policies and practices, college finance, communications strategies and diversity goals. We are looking forward to getting to know her better when she joins the Walla Walla community.
As always, none of the accomplishments we describe, support we offer and impressive people we continue to recruit would be possible without your continuing commitment to our mission. Thank you. In this last year of my presidency, Kari and I feel deeply grateful for the opportunity and privilege of sharing this chapter of our lives and careers with Whitman and you.
Sincerely,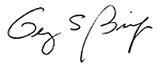 George S. Bridges
blogs.whitman.edu/ByGeorge