"Hoy voy a hablar sobre cómo empezar un encuentro de interpretación. (Today, I am going to talk about how to begin an interpreting encounter.)"
In a sun-filled classroom in Olin Hall, Whitney Rich '20 spent spring semester guiding her fellow Whitman College students as they explore the subject matter that has already become her career: medical translation.
Rich, a Spanish major and geology and politics minor from McMinnville, Oregon, served as the student consultant for the course Translation: Healthcare and Language, led by Associate Professor of Hispanic Studies Nico Parmley.
It's not her first time in the course: She took it as a first-year student and discovered a passion for the work.
"I knew I wanted to study Spanish at Whitman, but I had no idea where it would take me and the translation course was the start to it all," Rich said.
Rich continued to hone her interpretation skills by volunteering in the evenings at the College Place SOS Health Services clinic, which provides health care to individuals without health insurance. She's also worked closely with the Department of Hispanic Studies, serving as a writing fellow for two courses and screening films for the department, before becoming Parmley's student consultant this spring.
The student consultant program connects students with faculty seeking to improve their courses.
"I picked Whitney because she is just a responsible and amazing human being, one of my brightest and most engaged students," said Parmley, who is also chair of Hispanic Studies. "She completely immersed herself in the department and really went for it."
This spring, Rich also worked as a medical interpreter at the Family Medical Center in Walla Walla, a position funded through the Student Engagement Center's Whitman Internship Grant. She is working toward her official certification in medical translation. The work feeds her interest in patient advocacy and patient rights.
"She had a career before even graduating," Parmley said.
The Department of Hispanic Studies isn't the only place where Rich will leave her mark on Whitman when she graduates this spring: She also made headlines as a cross country runner, placing fourth in the nation in 2019 despite running on a broken foot. She also helped bring an NCAA-recognized distance track program to the college, and is proud of her experience as a "Westie," the unofficial title given to participants in the Semester in the West Program.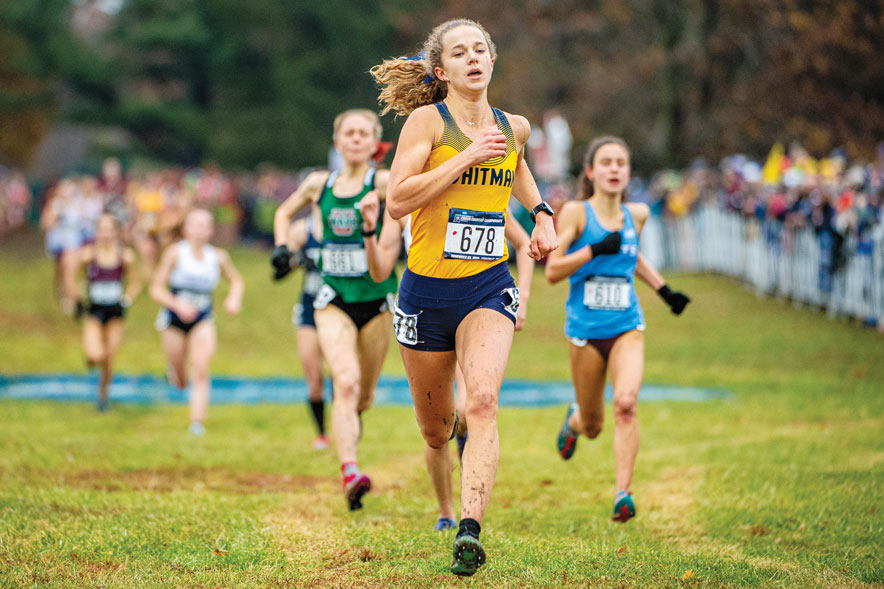 Coming to Whitman
Rich knew she wanted to pursue a liberal arts education at a small college, but as a high school track and cross country star, Whitman wasn't on her list.
"I immediately thought no way because there wasn't a track team," Rich said. But her aunt encouraged her to take a closer look, and she finally agreed to visit. "I met the cross country team, and I was sold. Everyone was so excited that I was visiting and just so happy about their school," Rich said.
It helped that the Walla Walla community is reminiscent of McMinnville.
"I just felt at home," she said.
In the end, Whitman was the only college she applied to. In addition to the strong cross county program, led by head coach Scott Shields '91 and assistant coach Neil Christopherson, another major draw was the Semester in the West program, directed by Miles C. Moore Professor of Politics Phil Brick, who also teaches in environmental studies.
"I went to an information session as a prospective student and knew that's what I wanted to do," Rich said. "I've always been drawn to experiential learning and that's what Semester in the West is all about — learning from people who are actually doing what they are teaching."
The competition was stiff, but in the end, Rich was one of 21 students selected and she spent over 90 days camping in the field and traveling over 8,000 miles to learn from the people who are shaping the American West.
Rich was so taken by her time in the program that she will serve as field manager for the Fall 2020 trip, where she'll be responsible for managing the field kitchen and teaching students to cook from recipes she has compiled.
"It's a once-in-a-lifetime experience that I get to do again," she said.
Rich has kept a strong passion for environmental studies, and added as many related courses as she could to her curriculum. Her interest led to an internship at the Walla Walla Watershed Management Partnership.
"I feel like at some schools, you get fast-tracked into one thing, but at Whitman, I was able to combine environmental studies and Spanish, interpreting and water management. You'd think 'how do those go together?'" Rich said. "I had the chance to explore it all."