—Staff report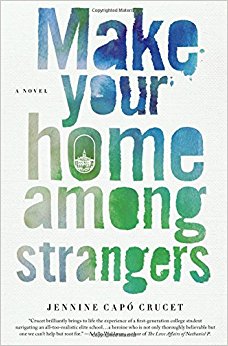 Immigration continues to dominate headlines, and one way Whitman weighs in on the topic is by selecting the acclaimed novel Make Your Home Among Strangers, by Jennine Capó Crucet, as the Summer Read Program title for the Class of 2021. The story, filled with what The New York Times calls "sharp cultural observations," centers on Lizet, the daughter of Cuban immigrants and the first in her family to graduate from high school.
"The book highlights the complexities that come with attending a college like Whitman for many of our students, especially first-generation students," said Whitman President Kathleen Murray. "Many are trying to navigate cultural, generational and political differences, all while being away from home and trying to perform academically. Discussion surrounding this book will give us all a chance to think critically about how we can be the most welcoming community for students of all backgrounds."
Crucet chronicles Lizet's difficult transition to college against the backdrop of family issues, including her parents' divorce. Her Thanksgiving visit home to Miami is overshadowed by the arrival of Ariel Hernandez, a young boy whose mother died fleeing with him from Cuba on a raft, and the ensuing immigration battle (echoing the real-life case of Elián González from 2000) captivates the nation and entangles Lizet's family. School Library Journal praises the coming-of-age saga as "beautifully written and compulsively readable." The New York Times raves: "Being caught between two cultures is a usefully troubling condition for the writer intent on dramatizing the confusion, pain and humor of having what Crucet calls 'double vision,' and Crucet, the award-winning author of a story collection, delivers on all three."
The novel, her debut in the genre, won the International Latino Book Award for Best Latino-themed Fiction. And publications ranging from Cosmopolitan to Vanity Fair, Harper's Bazaar to Redbook, and NBC Latino to Men's Journal named it a best book of the season.
"My writing has been shaped by South Florida, its people and its landscape, and by the stories of Cuba repeated to me almost daily by my parents and abuelos," observes Crucet, who teaches at the University of Nebraska-Lincoln, on her website. "My own stories are informed by my experiences as a Cuban-American woman living within and without her community."
The annual Summer Read Program asks each new cohort of students to read a selected book in advance of their arrival and be prepared to discuss it during their first week on campus. Previous selections have included Leslie Jamison's essays The Empathy Exams (2016); Edwidge Danticat's memoir Brother, I'm Dying (2015); Sherman Alexie's novel Reservation Blues (2014); Dave Eggers' narrative nonfiction Zeitoun (2010); and Marjane Satrapi's comic-strip autobiography The Complete Persepolis (2008).
The Summer Read Program features several events, including a visit by the author, who attends classes, has lunch with students and speaks to the campus community. Crucet's free public lecture is at 7 p.m. on Sept. 7 in Cordiner Hall.