Sculpture garden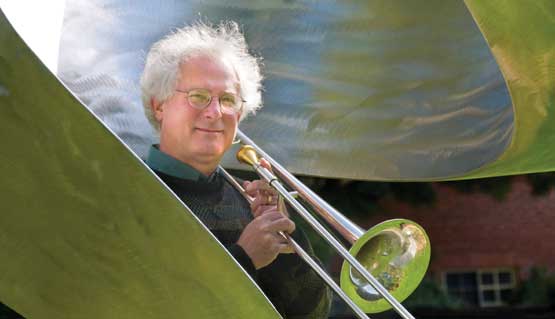 David Glenn, professor of music, and "Pirouette."
By David Glenn, professor of music
In August 2008 Tim Christie, the executive director of the Walla Walla Chamber Music Festival, asked if I would accept a commission. I was working on two other commissions and had already booked studio time in New York City for a jazz CD, so I was somewhat reluctant to take on another project. However, I had been greatly impressed with the musicians involved with this festival and ultimately just couldn't pass up such a good opportunity.
Web Extra:
Hear a selection from "Sculpture Garden" as performed by the Walla Walla Chamber Music Festival musicians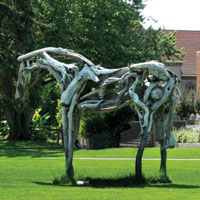 "Styx"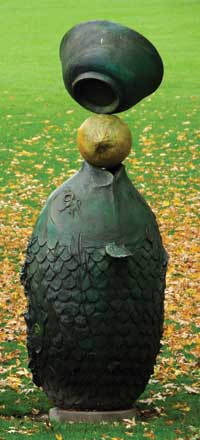 "Three Stories"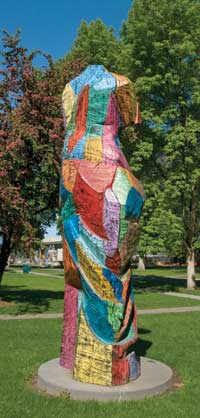 "Carnival"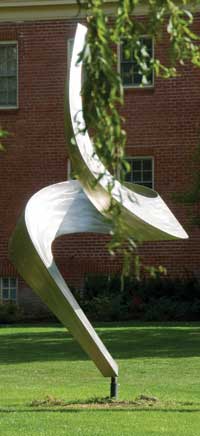 "Pirouette"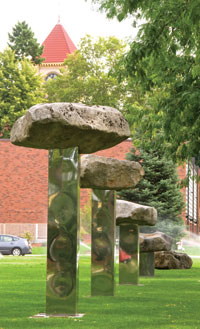 "Soaring Stones #4"
The guidelines for the commission were to compose a 10-12 minute piece for the opening concert of the festival in June 2009. The piece could either be for piano quintet (piano and string quartet) or clarinet quintet (clarinet and string quartet), and Tim wanted the piece to have something to do with either Walla Walla or Whitman College. I decided to write for piano quintet and went to work figuring out what my Walla Walla/Whitman theme would be.
One thing I try to do every day is walk around the beautiful campus of Whitman College. Not only do I get exercise, but the walk also reminds me how lucky I am to work in such an inspiring environment. Sometimes I run into colleagues and eliminate the need to e-mail them on some issue, sometimes the walk relieves stress and, on occasion, I'm able to work through a problem that's been nagging at me. It was on one of those walks in September 2008 that the idea of "Sculpture Garden for Piano Quintet" came to me. The Whitman theme had been right in front of me every time I walked through campus or looked out of my office window at the sculpture "Pirouette."
As I thought about what sculptures would offer the most intriguing musical themes, my first choice was "Three Stories" by Walla Walla native Squire Broel. Some of you know it as the fish, the lemon and the bowl, located on the southwest corner of Ankeny Field. I love the whimsical nature of "Three Stories" and contacted Squire to find out more about his work and ask his permission to use it in my piece. I quickly decided on four other works: "Styx" by Deborah Butterfield, "Carnival" by Jim Dine, "Pirouette" by Micajah Bienvenu '86 and "Soaring Stones #4" by John Young. Each piece has such a different personality; I soon considered them friends helping complete my piece.
My "Sculpture Garden" opens with "Styx," a horse seemingly made out of driftwood (actually bronze). I imagined this horse to be from the Nez Perce people and used a noble-yet-sad theme built on a pentatonic (five-note) scale to convey that image. The movement also starts out with a minimalistic repetitive figure to portray the "sticks."
Next came "Three Stories." Here, I pictured the fish juggling the lemon and the bowl and, ultimately, all three dancing in the air. Musically, I used the number three by setting the movement in 3/4 time, featuring three groups within the piano quintet (piano trio, solo piano and string quartet), basing the melody and harmony on three triads and modulating to three different keys. This all happens with funky dance rhythms that give it a whimsical, playful spirit.
After "Three Stories" we walk to "Carnival," the giant multicolored sculpture by Baker Faculty Center. I imagined this sculpture to be an older Cuban woman dancing in her living room by herself thinking back on her glory days dancing in the salsa clubs of Havana. With this vision in mind I based this movement on a Cuban dance rhythm (2/3 son clave) and fluctuated between major and minor sections to try and recreate the feeling of reminiscence.
"Pirouette" is the subject of the next movement. Here I thought of representing the refracted sunlight on the silver metal surface of the sculpture. To do that, I used the Lydian mode, the brightest of the modes of the major scale. The sculpture "Pirouette" is constructed in such a way that it can be slowly spun, so the tempo of the piece starts very slowly, gradually increases in speed to a middle section that's meant to sound like twirling and then gradually slows back down to a stop.
The final movement is based on the powerful "Soaring Stones #4" on the south side of Cordiner Hall. This sculpture is composed of four boulders on pedestals, one boulder on top of the ground and another boulder embedded in the ground. Since there are six boulders used in the sculpture, I based this movement in the time signature of 6/4, with a sub-division of four and two (four on pedestals; two on ground). I also used a six-note melodic theme that rises six times, descends six times and then rises again six times. The rising and falling represent different perspectives the viewer of the sculpture can have — either looking from right to left or left to right.
When I finished the piece I showed the score and played the MIDI (Musical Instrument Digital Interface) version for John David Earnest, the wonderful composition teacher at Whitman and a terrific mentor. He thought the piece would benefit from interludes between the movements to achieve a better balance in textures. That suggestion greatly improved the piece and further tied the scheme to a particular walk through campus that would take you from one sculpture/movement to the next.
I sent the piece off to Tim Christie, and in June 2009 the Chamber Music Festival musicians gathered in Walla Walla. After one rehearsal I was invited in to work with the group, and the piece came to life. It's hard to describe how exciting that is for me, especially because of the superlative musicianship of this particular group. "Sculpture Garden for Piano Quintet" premiered June 9.
This fall, I spoke at Faculty Forum about the process I've just described, and as part of that presentation my colleague Pete Crawford shot a movie to illustrate the music. That was so successful that I'm making plans in the future to record the piece in a Seattle studio and have Pete direct a professional quality video to accompany the studio recording.
I would be remiss if I didn't send out a heartfelt thanks to the sculptors — Deborah Butterfield, Squire Broel, Jim Dine, Micajah Bienvenu and John Young — for creating such inspirational works of art. "Sculpture Garden for Piano Quintet" was truly a collaborative effort.
David Glenn, professor of music, earned his bachelor's degree in music at North Texas State University and his master's degree in music at University of Northern Colorado. He joined the Whitman faculty in 1989. John David Earnest is an adjunct assistant professor of music, and Peter Crawford is a senior lecturer of music.