From the President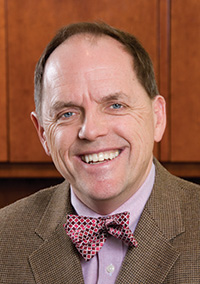 With the passing of beloved Prof. George Ball, I began reflecting on the many Whitman faculty, staff and alumni influenced by his long presence here on campus. George will always be an institution at Whitman and within the Walla Walla community because he transformed lives.
At the heart of every student's decision to study at our campus is the knowledge that a four-year journey at Whitman will change the trajectory of his or her life course. George Ball believed a Whitman education could do that. He played a major role in mentoring and inspiring these students, which is one reason why so many alumni cherish their memories of the former religion professor.
After the touching celebration of life held for George on Jan. 28 at Cordiner Hall, I thought about the students whose lives Whitman has shaped. The names of two remarkable alumni and one current student came to my mind because their stories epitomize the profound impact that Whitman has on our students.
Like many first-years, Gabriella "Ellie" Sterne '10 arrived at Whitman unsure about where she would head, but she had a passion for neuroscience and wanted to create her own academic route. When I spoke to her recently, she expressed gratitude that Whitman helped steer her toward biology, which introduced her to professors Ginger Withers and Chris Wallace, who also mentored her.
If not for the mentoring she received at Whitman, Ellie said she never would have found her direction. She insisted her Whitman experience embedded in her the confidence to pursue her dream. That dream led Ellie to the University of Michigan, where she's currently working toward her Ph.D. in neuroscience.
Every student's backstory is different. Having grown up in San Francisco, Adam Maldonado '06 came to Whitman because he wanted to experience life at a small liberal arts college. Law school wasn't on his radar, but in Jim Hanson's rhetoric classes, Adam acquired the intellectual self-confidence to stand and speak his mind and discovered that focusing on oral advocacy was something at which he excelled. Bob Withycombe's Constitutional Law class taught Adam that many important changes in society had roots in law. After taking advantage of Whitman's Semester in Washington program, he discovered the legal arena was one way in which he could effect change.
At Whitman, Adam became intellectually inspired to study and practice law. Now a deputy district attorney for Alameda County, he's grateful to have experienced the challenging and supportive approach taken at Whitman because it required him to consider other perspectives and points of view in developing and making arguments. Today, his ability to grasp the many sides of arguments empowers him in litigating cases and in appreciating the complexity of law and its role in the larger society.
Like George Ball, I believe a liberal arts education encourages students to look at subjects from many different angles. This steady inquiry teaches them how to learn, which in turn helps illuminate their paths through the world.
Jon Walters, professor of religion, shakes George Ball's hand after being named the George Hudson Ball Endowed Chair in the Humanities on Sept. 1, 2011.
After he graduates in May with a degree in politics, Associated Students of Whitman College President Matt Dittrich '12 will head to London, where he will work for Bain & Company, a prestigious consulting firm that prefers recruiting talented graduates from liberal arts colleges. Matt and I recently shared a laugh over the fact that before starting at Whitman, he had never left the state of Washington let alone flown to London for multiple job interviews.
Coming to Whitman from humble beginnings in Camas, Wash., Matt believes that his college experience completely reshaped his life. His transformation was made possible not only by the Paul Garrett Scholarship, which paid for his education, but because Whitman inspired Matt to challenge himself. For example, he took a risk by choosing to run for student office, first serving as finance chair and eventually becoming ASWC president.
Whitman provided Matt with a safe environment in which to take risks. As a result, his future now holds great promise. Because Whitman and its people invested so heavily in him, Matt told me that he is inspired to give back even more, and plans to spend the rest of his life paying it forward by following the example of George Ball.
The stories of Ellie, Adam and Matt exemplify the life-changing power of a liberal arts education at Whitman. Knowing that these types of students and alumni routinely pass through our campus reinforces my conviction that George Ball's legacy and belief about Whitman will live in perpetuity.
Most sincerely,
George S. Bridges