Remembering Dr. George Ball
Dr. George Ball, the venerable professor of religion and standard-bearer for ethics and justice, whose pastoral personality made him a beloved and exceptional teacher, adviser and mentor to generations of Whitman students, passed away Jan. 1, 2012. He was 96.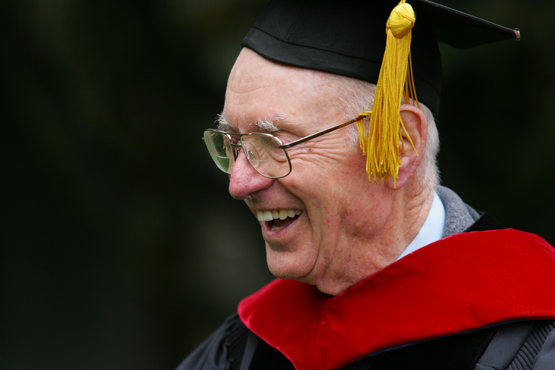 George Ball Weyerhaeuser Professor of Biblical Literature, Emeritus, and Stuart Religious Counselor 1915– 2012
By Edward Weinman
A Celebration of the Life of George Ball was held Jan. 28, 2012, in Cordiner Hall.
Tributes
The following excerpts are from comments by five former students of George Ball, delivered at the Jan. 28 Celebration of Life event.
"Probing beliefs, bringing abstract principles into everyday life, demanding rigorous analysis, and encouraging boldness and clarity, he left each of us to discover our own spiritual paths. His spirited teachings have withstood the test of time. He did not publish them. Instead, he deeply lived them."
– Steve Ronfeldt '64
"I truly believe that we all have been so blessed to have had George for all these many years as a husband, a father, a teacher, a colleague, and most importantly, as a very, very dear friend. Thank you so much, George. The journey has been wonderful – with much more to come."
– Randy Jacobs '66
"I can picture him – now. I imagine his bicycle traded for a hang-glider from which he waves and smiles wide and calls out what a glorious day it is. Because we know, where George is going, all days are glorious!"
– Kari Glover '72
"We do not know why one human being is so strangely essential to the fulfillment of another; we only know that it is so, and the name for that fulfillment is friendship and love."
– Joe Davis '80
"His smile was a warm welcome in itself, and the sight of him peddling his bike around campus was a reminder that life remained fulfilling and active long beyond the arrogance of youth if one only made the effort. For my classmates and me, Dr. Ball was simply a constant at Whitman, just as much as the chiming of the Mem clock – something that had always been at the college and we assumed always would be. It just wouldn't be Whitman without either."
– Abigail St. Lawrence '00
During the emotional service, five former students, colleagues and family members gave heartfelt remembrances, reciting colorful stories about the man known as much for riding his bicycle, recycling, delivering fresh vegetables and flowers from his garden, and making comments on love as he was for being a scholar and professor who embraced intellectual curiosity.
Adam Kirtley, Stuart Coordinator of Religious and Spiritual Life, presided over the service. In opening the event, he said: "There are too many teachings, too many memories, too many smiles, too many friendships to fully tell the story of the man. … He fundamentally was a man defined by the relationships in his life; relationships not simply as a casual byproduct of where one works or lives, but relationships as the intentional and essential measure of what it means to be human."
Ball cultivated so many relationships during his decades at Whitman that when Kirtley asked attendees to raise their hand if married by Ball, scores of hands went up. An extraordinarily decent and caring person, Ball not only married hundreds of Whitman couples, but he presided over numerous memorial services when asked by former students, faculty or staff, and he advised countless students on life, love and faith.
Ball was born in Australia on May 23, 1915. Raised on a small farm in upstate New York, he earned a law degree from Cornell University but switched paths to earn a doctorate in religion from Yale University. He was an ordained Methodist minister and served as an Army chaplain in World War II.
The former professor lived life with a sturdy devotion to his moral code. His value system was severely tested in 1951 when he held an appointment as the chaplain of the University of Denver. At that time, Colorado had in place a statute requiring all educators to sign a loyalty oath. The law had been in place for 30 years. Yet, according to newspaper accounts, no one to that date had refused to sign it. George Ball refused.
To explain his opposition to the anti-communist oath, Ball composed and submitted an 11-page letter to the vice-chancellor. In the first passage of his letter, he wrote: "It seems to me that requiring a test oath is not an illustration of American tradition but a denial of that tradition. The uniqueness and center of the American political philosophy is that ours is a government, which does not coerce the loyalty of its citizens …"
After submitting his letter, Ball resigned his position as chaplain. This peaceful protest was the act of a man who knew he could not bend without compromising the moral beliefs stitched inside him. And it was no isolated act.
While teaching at Oberlin College, Ball refused to censor a student letter speaking out against the Vietnam War, and as a result the college declined to renew Ball's contract due to what were called anti-war activities.
His dismissals were Whitman's gain. Ball began teaching religion at Whitman in 1960. His teaching career was filled with many highlights, including establishing Whitman's religious studies department and delivering the Baccalaureate address when his daughter, Sarah Ball Teslik, graduated in 1974.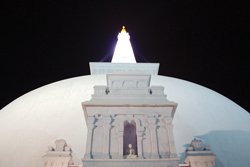 Prof. Jonathan Walters, the George Hudson Ball Endowed Chair in the Humanities, led an alumni trip to Sri Lanka on Jan. 7. Walters and those who traveled with him made a money offering at the Buddhist temple Ruwanwelisaeya in Anuradhapura. The offering allowed the "stupa" to be illuminated for one week in honor of George Ball. Walters writes, "This was an especially appropriate 'dana' (pious gift) because light/illumination is an important symbol of wisdom and enlightenment in Buddhism, as indeed it is in Christianity and many religions …"
(Photo courtesy of Kesara Rathnayake)
Ball retired from teaching in 1980. He then joined the staff as Stuart Religious Counselor and remained a presence on campus. In March 2002, a meeting room in Reid Campus Center was named after him. Still a passionate and consoling speaker, Ball was again asked to deliver the Baccalaureate address in 2006.
An avid tennis player, Ball had a sportsmanship award named after him, and the first George Ball Sportsmanship Award was given to men's tennis in May 2007. Ball was inducted as an honorary member into the Whitman Athletics Hall of Fame in October 2009. One month later, the main gym in Sherwood Athletic Center was named George Ball Court.
Honoring Ball's incredible tenure in teaching, President George Bridges marked the professor's 95th birthday in May 2010 by announcing an endowment for the George Ball Chair in the Humanities, to which 450 alumni, staff, faculty and friends of the college gave more than $1.7 million.
The community's response to fund the endowment underlines Whitman's, and Walla Walla's, affection for the man who taught us much about "the art of living," of how to live a human life fully and well.
Ball taught and lived his life according to a simple, poetic philosophy that he was often heard saying: "Always do what love requires."