From the President
Commencement is a time to reflect on our successes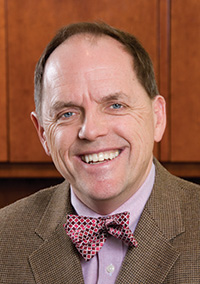 Commencement is one of the most joyous days on Whitman's campus. It's a celebration for families, proud to see their sons and daughters reach this milestone; a day for faculty and staff to recount and savor the results of their contributions to student success; and a chance for the young graduates to revel in their accomplishments.
It's also a day to reflect upon graduates of years past, so many of whom have become alumni as devoted to their alma mater as they were devoted to their studies.
Among them is Colleen Seidelhuber Willoughby '55, who received an honorary Doctor of Humane Letters at Commencement 2012, Whitman's 126th such ceremony. Willoughby served on Whitman's Board of Trustees and remains an active Trustee Emerita.
"Voluntarism and civic engagement are honorable work," Willoughby told graduates in her acceptance speech. She also urged students in the Class of 2012 to share their talent and expertise and become engaged in voluntarism.
Willoughby's life exemplifies how a liberal arts education can shape the endeavors of alumni. Known as "Seattle's superwoman of voluntarism," she organizes and hosts "Women's Education: For Living and Leadership," an annual symposium bringing inspirational female leaders to Whitman since 1981.
I believe a liberal arts education gives our graduates a deep understanding of the world they inherit, and it encourages them to look at issues from many different perspectives. It enables alumni who answer calls such as Willoughby's to use their analytical skills to develop fitting solutions to the challenges they face.
Joseph Bornstein '08 is one such alumnus. He graduated Phi Beta Kappa and received a $30,000 Truman Scholarship for his graduate studies. Currently he's pursuing a master's degree in public administration through Columbia University's School of International Public Affairs. While at Whitman, Joseph discovered a problem and then embraced and addressed it with energy and creativity. After a trip to Nicaragua, where he befriended a widow and her son who had just lost a husband and father in a fishing accident, he raised more than $6,000 for them. But he didn't stop there. He and a group of friends built them a house.
While working on the house, Joseph witnessed the devastating impacts of petroleum dependence in Central America, so he and fellow student Curt Bowen '09 founded Whitman Direct Action, with the mission of aiding "marginalized communities by … creating a Central American biodiesel network in support of sustainable, community-based growth and independence." Joseph and Curt are two of numerous members of the Whitman community devoted to sustainability and environmental issues, and this issue of Whitman Magazine shares a number of their stories.
Commencement Day, of course, also honors our newly minted alumni as they look forward to a future of opportunity. ASWC president Matt Dittrich '12, who attended Whitman thanks to the Paul Garrett Scholarship, gave a humorous and moving Commencement speech urging his 2012 class to join him in the "mud-wrestle of our lives."
"Rather than distract ourselves with what was, let's address progress – the grapple, the struggle, the mud-wrestle for positive change," Matt said.
This fall, Matt is moving to London to work for Bain & Company, a top consulting firm. Like Colleen, Joseph and Curt, Matt has qualities typical of Whitman alumni: He is academically talented, intellectually curious and socially conscious. I'm going to miss Matt's leadership on campus, but I'm excited to welcome the Class of 2016 as they follow in the footsteps of generations of Whitman graduates.
And with the support of alumni and friends of the college, the Now Is the Time Campaign will help to ensure that our graduates can set shining examples as they serve as leaders in their communities and respective careers. Thank you for supporting Whitman through the campaign and for your many efforts in assisting us to advance the mission of the college that we hold dear.
Most sincerely,
George S. Bridges