Focus on Faculty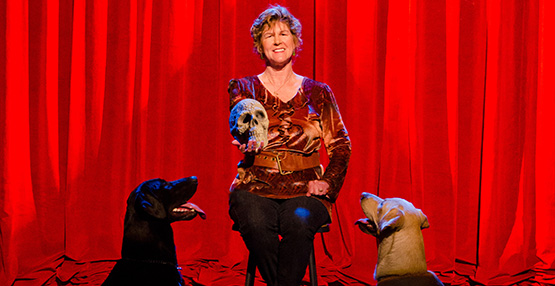 Roberta Davidson met her husband in a maximum-security prison. The specialist in medieval literature later co-wrote a book with him, "Macbeth for Murderers," about her experiences teaching Shakespeare to inmates at the Washington State Penitentiary in Walla Walla.
Whitman Magazine: Let's get one thing straight: Your husband, John Kerwin, wasn't serving time when you met him?
Roberta Davidson: Oh, no. He was volunteering, like me. He was teaching communications classes and ran the closed-circuit TV station, where the inmates were responsible for much of their own programming. The prison was the only place in Walla Walla with a TV studio. The inmates saved their money to build one.
How did you decide to teach the finer points of Shakespeare to inmates?
I wrote my dissertation on Sir Thomas Malory. He wrote "Le Morte D'Arthur" ("The Death of Arthur") while in prison. That probably got me interested in prison. "Le Morte D'Arthur" is the book from which nearly every adaptation and film about King Arthur is based. Writing from prison affected Malory. It shifted his thinking about what it means to be a hero from someone who is stronger than anyone else to one who can endure more than anyone else.
How would you compare your students at Whitman to your students at the Penitentiary?
Well, Whitman students are very nice people, and tend to be a little too deferential to one another in classroom discussions, where they are hesitant to critique one another's ideas. In maximum security at the pen, my classes were comprised of white separatists and black Muslims, good ol' boys and Native Americans, gang bangers from rival gangs, rapists and men incarcerated for a range of violent crimes, most often murder. Excessive deference was not their problem.
What is your favorite class to teach at Whitman?
One thing I like about teaching at a liberal arts school like Whitman is that I'm able to explore new ideas and ask new questions. So I love teaching medieval topics, teaching about chivalry. I also like teaching Chaucer, which I do every other year. Chaucer is so hard that it's fun. He's the medieval James Joyce.
What are the biggest misconceptions Whitman students have about what it's like to be a professor?
Students don't realize what terrible memories we have. They assume we've absorbed every fact we've ever read and that our brains are like a database we can access at any time. I know that I, and most of my colleagues, have to re-read every text we teach every time we teach it in order to remember the things you talk about in a classroom as opposed to the general feeling you have about a text.
Other than your office, where do you like to go on campus to relax?
When I'm not teaching or talking to students, especially now that I can do so much research online, I usually go home. I have two one-year-old Labrador retrievers who feel like it's their mission to destroy the house if they're left alone. I like to climb on my couch with my laptop, and 200 pounds of dog, and research right there.
As a lover of literature, what books do you go back to over and over again?
To relax I read murder mysteries. There's this weird affinity that medievalists have for murder mysteries. I can't explain it. But I like to read about murder to help me fall asleep.
— Edward Weinman